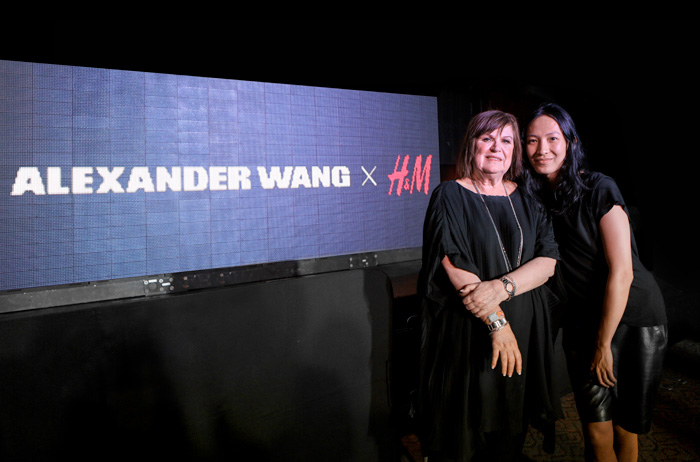 I'm sure by now most of you guys heard the exciting news that H&M tapped New York based designer Alexander Wang to be their next guest designer collaboration. I'm so excited, I LOVE Alexander Wang and H&M, so this is the perfect marriage! Are you excited?!
The Alexander Wang x H&M collection will feature apparel and accessories for women and men. Typical for his irreverent approach, Wang will propose a new take on the lifestyle product offering that goes beyond fashion. The full collection will be available in 250 H&M stores worldwide, and online starting November 6, 2014.
Alexander Wang says, "I am honoured to be a part of H&M's designer collaborations. The work with their team is an exciting, fun process. They are very open to pushing boundaries and to setting a platform for creativity. This will be a great way for a wider audience to experience elements of the Alexander Wang brand and lifestyle."

"Alexander Wang is one of the most important voices in fashion today. He understands exactly what people want to wear and does it with an energy and passion that's infectious. It feels incredible to be collaborating with him this year," says Margareta van den Bosch, H&M's Creative Advisor.
I am counting down the days till I get a sneak peek of the collection and also be sure to mark your calendars! Stay tuned for more updates!
$165.0 0 bids 0hr 18mins

$65.0 0 bids 0hr 18mins

$110.0 0 bids 0hr 18mins

$44.0 BUY IT NOW 0hr 19mins

$39.56 BUY IT NOW 0hr 22mins

$49.99 BUY IT NOW 0hr 22mins

$74.95 BUY IT NOW 0hr 36mins

$153.0 BUY IT NOW 0hr 36mins
disclaimer