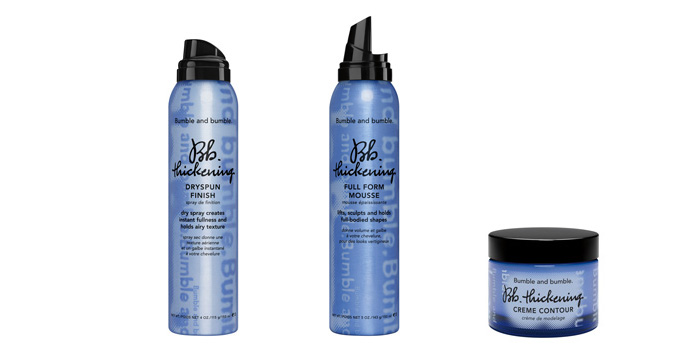 Bumble and Bumble is adding three soon-to-be iconic styling products to their Thickening family: Thickening Full Form Mousse, Thickening Creme Contour, and Thickening Dryspun Finish. The collection originated with a Thickening Hairspray in 1989 which has become a must-have styling product for stylists because of its ability to add volume and thickness to hair while lending grip. Since then, the collection has expanded to a full range of products including shampoo and conditioner, serum, and a leave-in hair treatment. Lush, full locks are always a coveted look each season. Big, sexy, ultra-feminine styles can be achieved with the help of the Thickening-family and the three new shape-makers that give fullness a new dimension.
These products will be available at Bumble and bumble Salons, Sephora, Bluemercury, Space.NK and bumbleandbumble.com.
Start with the Thickening Full Form Mousse for a great foundation for full locks. This creamy mousse lifts and inflates styles, while providing better round brush traction with shaping polymers that provide strong grip. Not to mention, leaving your hair with a great shine and healthy bounce!
Next shape your style with the Thickening Creme Contour, a pliable shaping creme that melts in your hands into a delicate texture that contours and shapes all hair types (even fine hair), creating hi-definition silhouettes with natural restructuring agents.
The third addition to the family will arrive this July, but it's worth the wait! The Thickening Dryspun Finish is a unique, lightweight texturizer that amplifies or revives styles that have lost it's oomph. All hair styles will love this translucent dry spray that provides such airy volume and texture.
The collection includes:
Full Form Mousse 4.4 oz. SRP $29
Creme Contour 1.5 oz. SRP $28
Dryspun Finish 4 oz. SRP $29
Photos courtesy of Bumble and bumble.
Categories: beauty
Tags: bumble and bumble