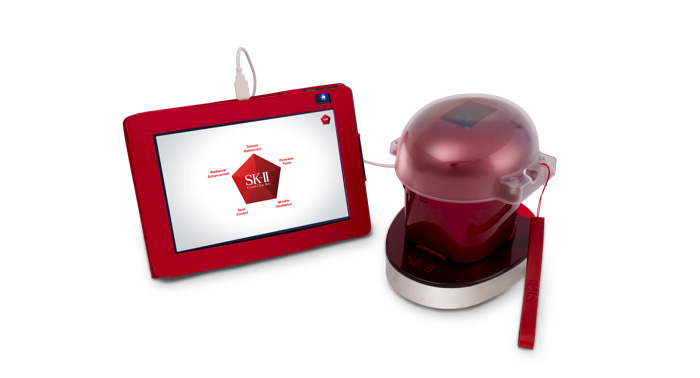 One of my favorite beauty brand, SK-II launched their first pop up shops in New York City and San Francisco for a limited time, April 4th – May 23rd, just in time for the spring season. At the SK-II Pop Ups, consumers will discover their skin's potential to achieve an ageless, radiant complexion through one-on-one personalized consultations with SK-II's new skin analysis technology – the Beauty Imaging System™.
The Beauty Imaging System™ is the latest breakthrough in beauty innovation. This unique analysis device predicts the skin's visible age to help determine a SK-II product ritual designed exclusively for an individual's skin concerns. It works by capturing close-up images of the face using a digital camera and then analyzes the images based on the five dimensions of crystal clear, ageless skin: Texture Refinement, Firmness Power, Wrinkle Resilience, Radiance and Tone. Used over time, SK-II users can track their improvement and how their skin fares with age.
SK-II Pop Up Studio Locations:
New York City:                                                          San Francisco:
468 Broome Street                                                     117 Post Street
New York, NY 10013                                                  San Francisco, CA 94108
Neighborhood: Soho                                                  Neighborhood: Union Square
Date: April 4 – May 23, 2014; 10:00am to 7:00pm Monday – Saturday; 11:00am to 6:00pm on Sunday
More info after the  jump…
The SK-II Pop Up Studios will showcase the brand's rich history and 'Secret Key' ingredient found in all of the products, Pitera™ – an exclusive extract from a unique strain of yeast, produced only in Japan. This singular blend of vitamins, amino acids, minerals, and organic acids allows the skin's natural surface rejuvenation process to function at its prime. The hero of the SK-II skincare collection is Facial Treatment Essence, with 90% pure Pitera™ in every bottle.
SK-II Skin Counselors will be on hand at the studios to provide consumers with:
Information on the brand and products
Complimentary Beauty Imaging System™ skin consultations
Interactive product testing
Takeaway SK-II products samples
Photos courtesy of SK-II
$149.0 BUY IT NOW 0hr 40mins

$20.89 BUY IT NOW 0hr 58mins

$154.0 BUY IT NOW 0hr 58mins

$111.0 BUY IT NOW 1hr 6mins

$65.06 BUY IT NOW 1hr 11mins

$295.95 BUY IT NOW 1hr 14mins

$70.0 BUY IT NOW 1hr 28mins

$92.23 BUY IT NOW 2hr 19mins
disclaimer
Tags: SK-II