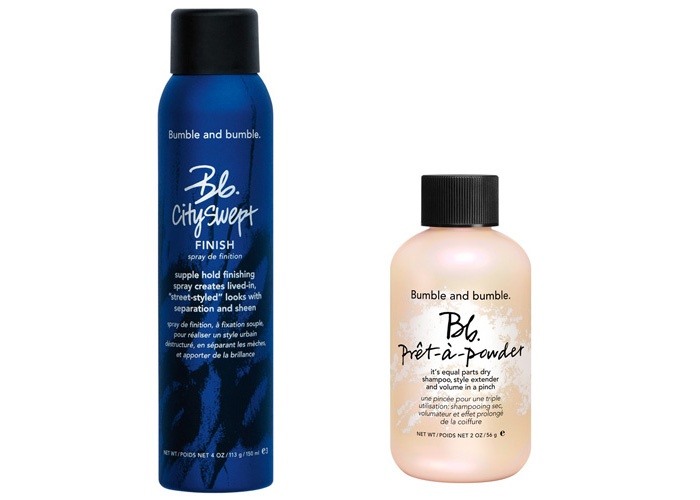 Ever wonder how some girls just appear to have that model-off-duty, "I just rolled out of bed but my hair looks amazing", look? It's often seen on the runways and the Bumble and Bumble Backstage team did some digging to make the look achievable for the rest of us. They took some cues from the streets of NYC, crafting lived-in looks with street-styled texture and delivered their best "swept" secret, the Cityswept Finish ($29) and Prêt-à-powder ($26).
Cityswept Finish and Prêt-à-powder are available at Bumble and Bumble Salons, Sephora, Bluemercury, Space.NK and bumbleandbumble.com.
More info and styling tips after the jump…
The Cityswept Finish is a unique hybrid product that sprays like a hairspray, defines like a wax and softens like a cream without ever feeling weighty or crunchy. An ultrafine mist creates buildable texture and separation while enhancing and defining all hair types and textures (especially wavy and curly types), while adding moisture, softness and taming fly-a-ways.
To freshen and revive a lived-in look, add the Cityswept Finish to Bumble and Bumble's new hair powder, Prêt-à-powder. For some, washing frequently can leave your hair dry and hard to manipulate. Prêt-à-powder is a reimagining of the classic Hair Powder in a new, modern formula. Bb.'s new hair powder is a loose, translucent powder that's equal parts dry shampoo and style extender that adds a sexy va-va-voluminous style to any type of hair.
Cityswept Finish
To use: shake well, then spray through dry hair to add texture and definition. Lift longer hair and allow strands to fall
through the mist. Or, try one of these Bb.Stylist tips:
Use after a blow dry to break it down and make it your own. Twist, turn and twirl hair, misting as you go.
For an easy updo, sweep hair into carefree twists, casual knots or spontaneous buns, then mist Cityswept Finish over hair and loosen the look with your fingers.
After heat styling with a flat or curling iron, mist through hair then rake fingers through to break apart the style and play down perfection.
For a focused application, spray into hands then apply to dry, styled hair for detailing and finishing.
Prêt-à-powder
To use: shake, tousle, and roll! Great for all hair types.
Photos courtesy of Bumble and bumble.
Categories: beauty
Tags: bumble and bumblehair