Celebrating their latest inspiration, OPI launches eight limited edition nail lacquers for Disney's Muppets Most Wanted. The family comedy features an all-star cast including Kermit the Frog, Constantine, Ricky Gervais, Miss Piggy, Ty Burrell, Tina Fey and the whole Muppet gang. Muppets Most Wanted, directed by James Bobin and written by Bobin and Nicholas Stoller, opens in theaters March 21, 2014. The limited edition Muppets Most Wanted nail lacquers will be available March 2014 for $9.00.
Check out the rest of the shades after the jump…
"The Muppets are a fun-loving, colorful cast of characters. These eight new nail lacquers were inspired by their latest adventures in Disney'sMuppets Most Wanted, which include a glamorous international stage tour – and lots of surprises," explains Suzi Weiss-Fischmann, OPI Co-Founder & Executive VP. "Fashionable Miss Piggy is represented through soft pink, peach and pearlescent hues, as well as a frosty sapphire blue – Miss Piggy's Big Number – to match her fabulous tour gown. The remaining four shades highlight the film's unexpected elements and include a color-shifting mauve and three sparkle-packed lacquers – including my personal favorite Gaining Mole-mentum, a gold and rose chunky shredded glitter."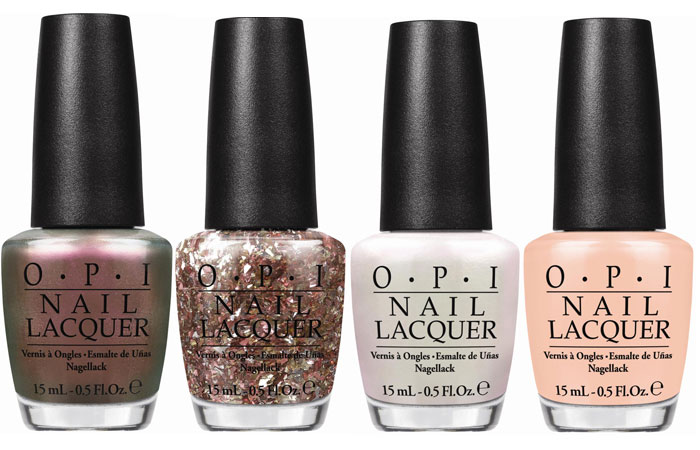 Muppets Most Wanted by OPI includes the following shades:
Muppets World Tour – This white quartz with colorful sparkle is a global sensation.
Miss Piggy's Big Number – Stand back… Miss Piggy's on sapphire!
I Love Applause – This sheer, sweet pink deserves a standing ovation.
Let's Do Anything We Want! – There's no holding back this rose gold glitter with white confetti.
Kermit Me to Speak – Listen up… I've got lots to say about this rosy mauve.
Gaining Mole-mentum – Make your beauty mark with this shredded gold and chunky pink glitter.
Int'l Crime Caper – To miss this opalescent pearl would be the crime of the century.
Chillin' Like a Villain – My evil plan… to get away with this precious, sheer nude.
Photos courtesy of OPI
Shop OPI products…
Categories: beauty