John Frieda launched a new collection, Colour Refreshing Gloss, a breakthrough at-home version of a coveted salon treatment. Salon glosses are an integral part of maintaining first-day, flawless colour, now you can experience the expert effects of a salon gloss at home.
Available in six colour-prescriptive shades—warm and cool blonde, brunette, and red tones—the weekly in shower treatment restores vibrancy and tonal dimension between colouring, while counteracting fading, neutralizing colour change, and correcting the appearance of dull, washed out colour. The glosses work by adding back the specific colour pigments lost during fading for true to tone salon-fresh colour in-between colourings.
Perfect for the gurls like me that have dyed hair, definitely going to give this a try!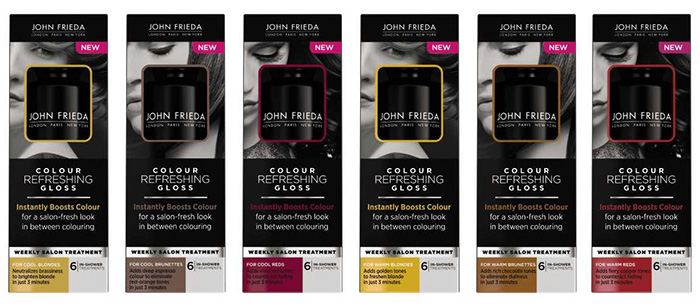 • For Warm Blondes: Restores golden tones and elimates dullness for fresh blonde colour
• For Warm Brunettes: Restores rich chocolate tones and eliminates dullness for multi-dimensional brunette colour
• For Warm Reds: Restores fiery copper tones and counteracts fading for rich, vibrant red colour
• For Cool Blondes: Neutralizes brassiness for brighter blonde colour
• For Cool Brunettes: Restores deep espresso colour and eliminates red-orange tones for rich brunette colour
• For Cool Reds: Restores vivid red tones and counteracts fading for intensified, vibrant red colour
Retail price: $12.99
HOW TO USE: Use weekly, applying to wet hair in shower after shampooing and conditioning. Leave on for 3-5 minutes and rinse.
Photos courtesy of John Freida
Categories: beauty
Tags: beautyhairJohn Frieda