This year, David Yurman is celebrating its 30th Anniversary of the signature Renaissance Cable Bracelet, which revolutionized the American jewelry industry and will release special limited-edition designs, ranging from colorful aluminum Renaissance bracelets to full pavé pieces in white, black and cognac diamonds—the crown jewels of the design celebration.
These new pieces highlight David's hallmark of bold, sculptural design, while reflecting a modern blend of ancient and contemporary sensibilities. To create the aluminum bracelets, Evan Yurman looks at the original Renaissance bracelet from a new perspective. As architect Philippe Starck did with his translucent Louis XVI Ghost Chair, Evan has reinvented a classic design by giving an abstract wink to the traditional form. Made of anodized aluminum, the bracelets capture the essence of the Renaissance Bracelet in a brilliant array of pop colors. To create the full pavé bracelet, David and Evan, challenged their master gem setter to cover every millimeter of the surface with pavé diamonds, meticulously hand- plotting and setting over 28 carats to create a high jewelry masterpiece.
These bracelets are definitely a work of art, so amazing. I absolutely love it, the aluminum Renaissance bracelets would look amazing worn alone or stacked! And one word for the pavé bracelet, magnificent! And if you're still looking for a luxury gift for your loved one for Valentine's Day, this may be a good choice!
You can read more about David Yurman's 30 Years of Cable here.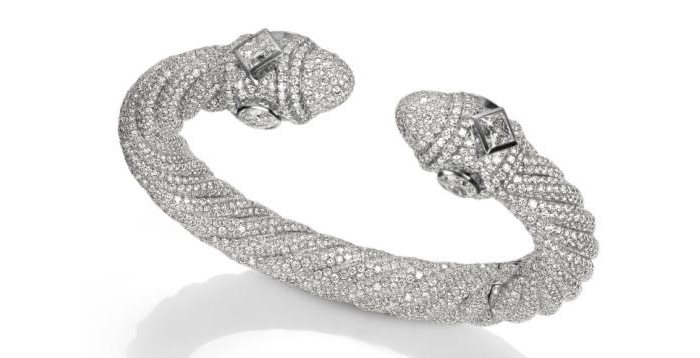 Photos courtesy of David Yurman
$289.99 BUY IT NOW 0hr 0mins

$795.0 BUY IT NOW 0hr 20mins

$1508.99 BUY IT NOW 0hr 43mins

$243.99 BUY IT NOW 0hr 43mins

$220.0 7 bids 1hr 0mins

$199.0 0 bids 1hr 22mins

$99.0 0 bids 1hr 27mins

$326.25 BUY IT NOW 1hr 29mins
disclaimer
Categories: fashion jewelry/accessories
Tags: david yurmanjewelry