Just in time for award season comes the ravishing new REVLON by MARCHESA collaboration, "The Red Carpet Collection." As a third run from the highly successful collaboration, the two have come together once again to introduce a beauty line that takes the elegance and charm from the dazzling red carpet, and makes it available for all women to enjoy. You can expect an alluring color-pallet filled with dramatic jewel tones, and soft luxurious nail lacquers to make up the spectrum of the full collaboration, while Marchesa's lace detail is displayed as an intricate motif along the classic Revlon packaging.
Not only does this collaboration represent the elegance that REVLON and MARCHESA both reflect, but in honor of the third collection, the two have funded $15,000 towards The Half the Sky: Turning Oppression into Opportunity for Women Worldwide. This inspiring philanthropic program helps build awareness to the ever-growing issue of women and children facing oppression world-wide, and helps provide steps towards fighting these issues and empower women.
"It was very important to us, on a personal level, that this collection have an added philanthropic element," adds Georgina Chapman, co-founder and designer for Marchesa.  "In fact, Revlon's dedication to charity was a driving force behind our decision to work with the company, as Keren and I both value and incorporate philanthropy into our work as much as we can. We are thrilled that The Red Carpet Collection will benefit a worthy cause."
You can grab the limited run of The Revlon by Marchesa Red Carpet Collection in early February.
See the full collection after the jump…

Daring Look (pictured above):
Revlon Super Lustrous® Lipstick in Love that Red, $7.99
Revlon Nail Enamel in Chameleon, $4.99
Revlon ColorStay® Liquid Eye Pen in Blackest Black, $8.99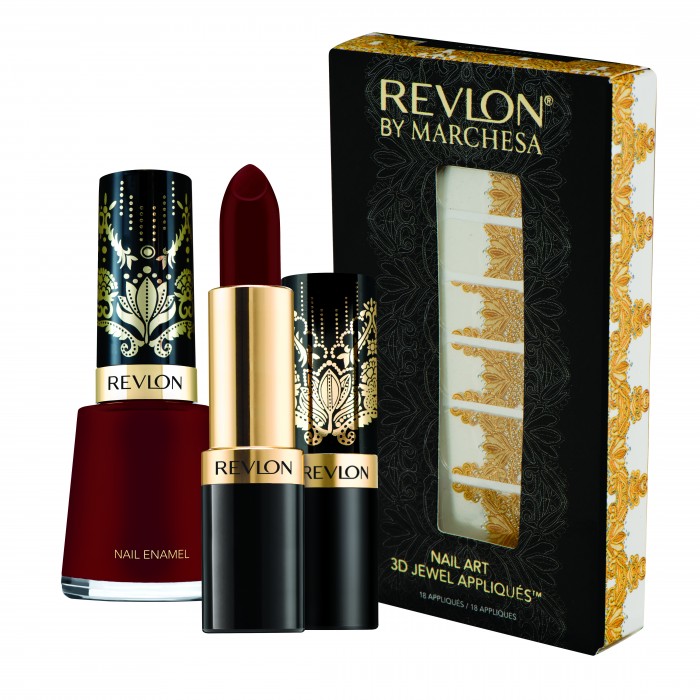 Opulent Look:
Revlon Super Lustrous® Lipstick in Black Cherry, $7.99
Revlon Nail Enamel in Valentine, $4.99
Revlon by Marchesa Nail Appliques in Crown Jewels, $9.99
Romantic Look:
Revlon Super Lustrous® Lipstick in Pink Cognito, $7.99
Revlon Nail Enamel in Gray Suede, $4.99
Revlon PhotoReady™ Translucent Finisher,  $12.99
Photos courtesy of Revlon
$479.2 BUY IT NOW 0hr 2mins

$25.0 BUY IT NOW 0hr 6mins

$59.99 0 bids 0hr 9mins

$59.99 0 bids 0hr 9mins

$33.98 BUY IT NOW 0hr 9mins

$24.99 BUY IT NOW 0hr 12mins

$599.0 BUY IT NOW 0hr 26mins

$7.95 BUY IT NOW 0hr 28mins
disclaimer
Categories: beauty