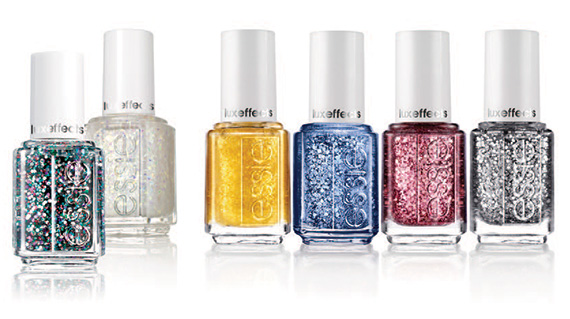 essie launched a new collection of nail polishes that will jazz up your hands for the holidays. The luxeffects collection creates a creating multi-dimensional color and sparkle that top off your favorite essie shades to perfection. This collection of nail polish lays evenly over nail color and features 4 to 5 different shaped glitters to get your favorite look. The finished look is unparalleled depth and dimension for a stunning effect. luxeffects makes it easy to customize your look, create your own signature look with these one-of-a-kind attention-getters. Love it!
The luxeffects collection consists of:
jazzy jubilant – chromatic confetti-like glitter
sparkle on top –luminescent and holographic sparkle
as gold as it gets – gilded lamé sparkles
stroke of brilliance – sparkly platinum glitter explosion
a cut above – shattered pink diamond
set in stones – disco mirror ball chaos
essie's luxeffects collection retails at $8.50 per bottle and is available on essie.com, zappos.com and at fine salons and beauty destinations nationwide.
Shop the post…
Categories: beauty
Tags: essienail polish