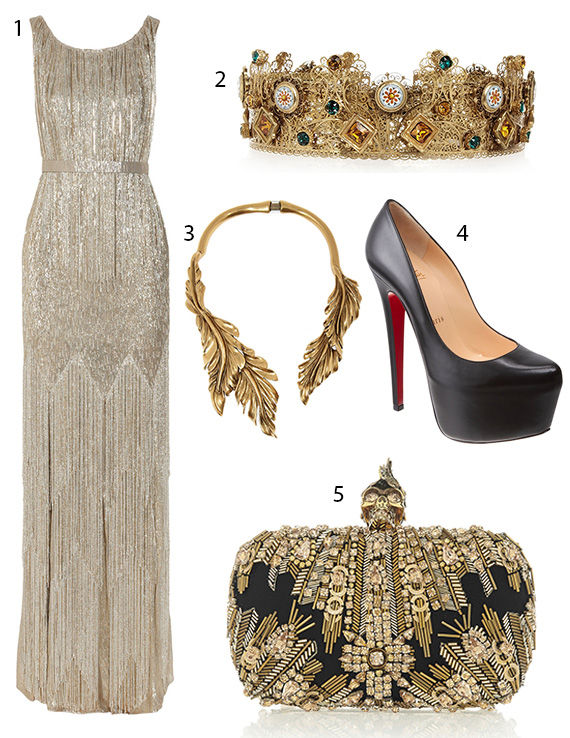 I'm sure a lot of you can agree that your guilty pleasures may include watching reality shows — don't lie, we've all watched it once or twice before. One of the shows that caught my attention is Shahs of Sunset, and its new season premieres TONIGHT, Tuesday, November 5th at 10/9c only on Bravo. I remember first watching it when I was flying from LA back to NYC and I was immediately drawn to it because of the extravagant Shah lifestyle and the cast's flare for over-the-top everything. As you know, I'm a big fan of gold and the overall theme is gold for them as well.
"Understated is Overrated" is the tagline for this season, emphasizing the luxurious and over-the-top lifestyles of the Shahs. I'm sure we all wish we have unlimited funds to shop and buy all the high-end fashion pieces that the cast members are all about. They each have their own unique personal styles complete with over-the-top accessories — everything is blinged out, in leopard prints and dripping in gold. We can all live vicariously through them on the show, plus it's quite funny to watch.
If you're a fan of the show or the Shah lifestyle, here's my style guide a la "How to Indulge like a Shah" with all gold everything! Be sure to tune-in to the Shahs of Sunset premiere and of course on every Tuesday at 10/9c only on Bravo!
1. Oscar de la Renta Beaded metallic silk-blend gown
2. Dolce & Gabbana Gold-plated Swarovski crystal crown
3. Oscar de la Renta Gold-plated leaf necklace
4. Christian Louboutin Daffodil Leather Platform Pump
5. Alexander McQueen The Skull Swarovski crystal-embellished box clutch
Check out Season 3's trailer:

TV Spot:

Like A Persian:

Check out Lilly talking about Persian-esque Fashion:

Follow the show on social media here:
Official Show Hashtag: #Shahs
Official Show Facebook page: https://www.facebook.com/ShahsOfSunset
Official Twitter: https://twitter.com/bravotv
Official Instagram: http://instagram.com/bravotv
Disclosure: This post is sponsored by Bravo and Style Coalition
Categories: celebrities fashion shopping
Tags: bravo tvfashionshahsshahs of sunsetshoppingsponsored post