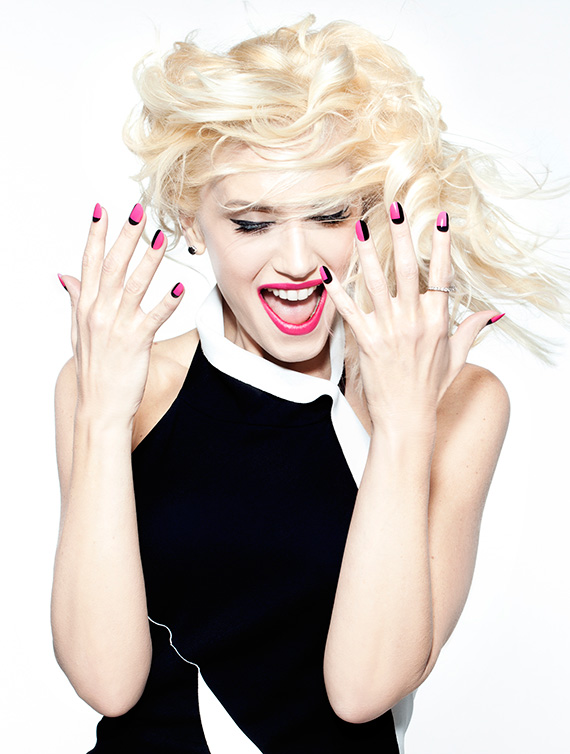 So excited that Gwen Stefani and OPI teamed up to launch a limited edition collection inspired by the 2013 Metropolitan Museum Costume Institute Gala that featured the theme "Punk: Chaos to Couture." The collection consists of seven new limited edition nail lacquers for 2014, highlights from the collection include a bold red lacquer that pays homage to Gwen's signature lipstick, a new semi-matte satin finish in shades of gold and black, and a mirrored chrome paired with a special base coat.
Gwen's signature red OPI hue – Over & Over A-Gwen – is available in a boxed set, which includes Swarovski black crystals and silver, gold and pewter studs in bar, square, diamond and circle shapes for creating unique nail designs, as well as nail glue for easy application. Love.Angel.Music.Baby. and 4 in the Morning feature a new, semi-matte satin finish designed to be worn without top coat. Push and Shove, a bold chrome hue, is also worn without top coat but requires a special complimentary base coat – Lay Down that Base. One thin coat of Lay Down that Base topped with two thin coats of Push and Shove yields an intense, mirrored finish. The collection is rounded out with two glossy crème lacquers and one sparkly glitter shade: Hey Baby, I Sing in Color, and In True Stefani Fashion.
Gwen Stefani by OPI nail lacquers will be available beginning January 2014 for $9.00 ($10.95 CAN) suggested retail for each nail lacquer. The boxed set including Over & Over A-Gwen and SWAROVSKI ELEMENTS will retail for $14.95 ($18.95 CAN). Can't wait!
Categories: beauty celebrities
Tags: celebritiescollaborationgwen stefanigwen stefani by opilimited editionnail lacquernail polishopi