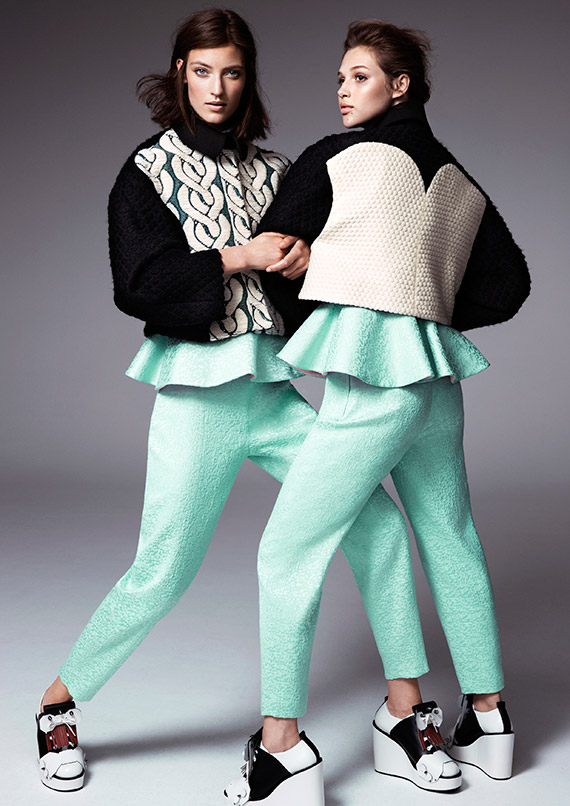 H&M just released lookbook photos from their H&M Design Awards 2013 winning collection by Minju Kim. The annual competition launched in 2012 to encourage and support young fashion design graduates as they embark on their careers, will now include students from the Fashion Institute of Technology and Parsons the New School for Design. Minju Kim, a 27 year-old graduate from the Royal Academy of Fine Arts in Antwerp, was selected by a jury of international fashion experts, as part of her overall prize, nine women's pieces and two accessories have been developed with the H&M design team.
The collection will launch on October 17th at selected H&M stores in Sweden, Denmark, UK, Japan, South Korea, Italy, France, the Netherlands, Belgium and Germany and the US. It will also be available at Opening Ceremony in New York, Los Angeles and London, marking the first time an H&M collection will be sold at Opening Ceremony stores in the US.
Minju's collection was inspired by Japanese Manga cartoonist Junji Ito featuring pieces with unique cuts and clever fabric combinations. The collection consists of a coat, cropped jacket, cape, knit, sweatshirt, minidress, trousers, leather collar and a pair of wedge platform lace-up which is my favorite.
Really unique collection for H&M, I can see why it would be sold at Opening Ceremony as well. More photos after the jump…