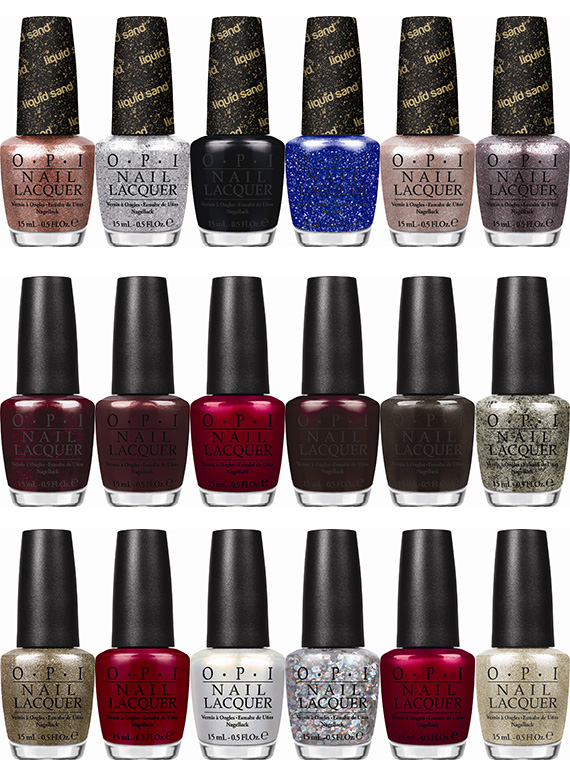 OPI launches 18 new limited edition holiday nail lacquers inspired by recording artist and international superstar Mariah Carey. Just in time for the holidays, the nail lacquer assortment will get you ready for any party, colors includes an assortment of red, burgundy, maroon and chocolate brown hues, along with glitter-packed gold, bronze and pearl shades. Mariah Carey Holiday also features six new Liquid Sand™ lacquers, ranging from icy blue to frosted pink to sparkling graphite. Each of the Liquid Sand shades showcases OPI's groundbreaking technology for a textured, matte finish infused with reflective sparkle. Mariah Carey x OPI Holiday Collection will be available October 2013 for $9 each.
Mariah Carey Holiday includes the following (*Liquid Sand shade):
My Favorite Ornament – Make this champagne glitter your new personal favorite.
All I Want for Christmas (is OPI) – This marvelous maroon is present-ly my top choice.
Cute Little Vixen – This deep red violet has foxy written all over it.
Underneath the Mistletoe – Is my kiss as spicy-sweet as this candy-apple red?
In My Santa Suit – This generously pigmented red is worth staying on the "nice" list.
Visions of Love – I see this rich burgundy in my immediate future.
Warm Me Up – This spiced coffee hits all the cold spots.
Wonderous Star – This gold-flecked shimmer has heavenly shine.
All Sparkly and Gold – What more can we say…the name says it all.
Sleigh Ride for Two – There's only room left for this dark hot chocolate.
Ski Slope Sweetie – This golden pearl is everybunny's favorite.
I Snow You Love Me – Just like I snow you love this disco light confetti.
Silent Stars Go By* – This blush of textured pink has parades of sparkle.
Baby Please Come Home* – Can't wait to see you…in this textured and sparkling lilac.
Make Him Mine* – But make this textured glistening rose mine first!
It's Frosty Outside* – This frosted silver is so icy it's hot.
Emotions* – This dramatic sparkling coal has got me feeling fine.
Kiss Me at Midnight* – It's time to fall in love with this frosted ice blue.
Categories: beauty celebrities
Tags: celebritiescollaborationlimited editionmariah careynail lacquernail polishopi