Dolce&Gabbana launches its Summer nail lacquer collection, Love in Taormina. Inspired by the native, exotic flowers of Taormina, Italy, the collection creates a palette of vivid colors that radiate Sicilian summer beauty.
The Love in Taormina collection underlines the always existent connection between Dolce&Gabbana's beauty and fashion worlds.  Pat McGrath, Dolce&Gabbana Creative Advisor, took inspiration from the Dolce&Gabbana SS'13 beauty look while creating Love in Taormina; a collection of rich, feminine shades for the perfect choice for summer manicures.
In addition to the colorful new shades in the collection, Dolce&Gabbana is also introducing the Nail Care Line – Base lacquer, High Shine top lacquer and Matte top lacquer.  The new trio of products combine fashion and technology by strengthening and dressing the nails for the complete Dolce&Gabbana Manicure.
The collection is available at dolcegabbanamakeup.com for $24 each.

Dolce&Gabbana Intense Nail Lacquer in Ibisco – Dark pink with coral undertones
Dolce&Gabbana Intense Nail Lacquer in Bouganville – Rich fuchsia with a touch of purple
Dolce&Gabbana Intense Nail Lacquer in Oleandro – Soft, pearlescent pink
Dolce&Gabbana Intense Nail Lacquer in Iris – Deep violet
Dolce&Gabbana Intense Nail Lacquer in Camelia – Fluorescent coral
Dolce&Gabbana Intense Nail Lacquer in Fire
Dolce&Gabbana Intense Nail Lacquer in True White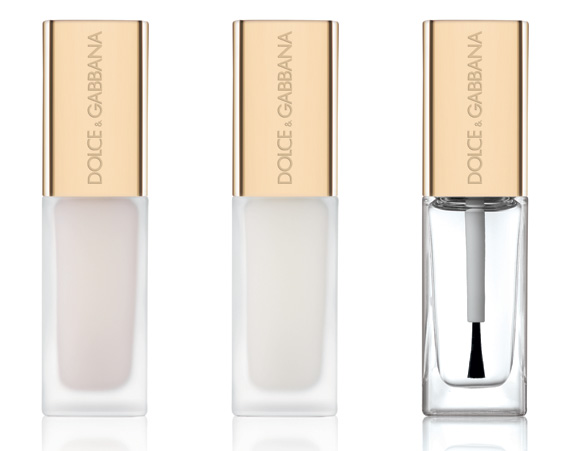 Dolce&Gabbana Protective Base Nail Coat – Nourishes and preps the nails, creating a smooth canvas
Dolce&Gabbana High Shine Nail Coat – Contains diamond powder to infuse strength into the nails and achieve mirror-like shine
Dolce&Gabbana Matte Nail Coat – Dries to a velvety matte effect, while preserving the color and wear
Categories: beauty