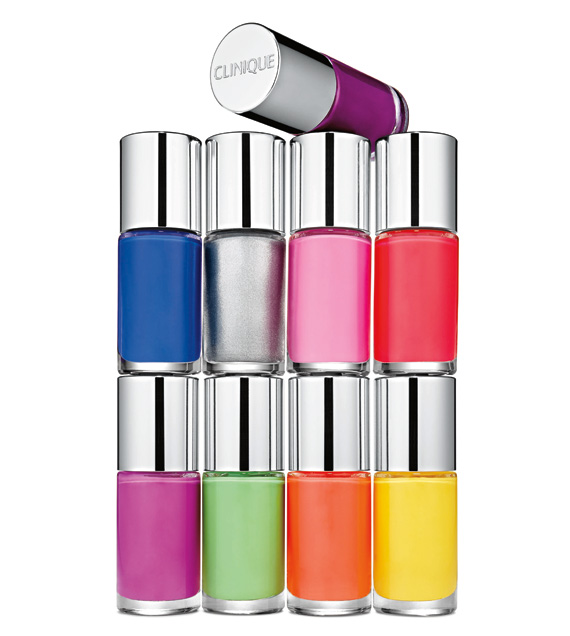 Clinique is one of my fave beauty brands, love their products. Clinique launched two new collections, A Different Nail Enamel for Sensitive Skins Collection and Moisture Surge CC Cream Hydrating Colour Corrector Broad Spectrum SPF 30. Both of which I'm looking forward to trying, have you tried the CC Cream?
How many of you guys rub or touch your eyes all the time? I for one always rub my eyes and did you know a person touches their eyes on average 200 times a day? I had no clue! Sometimes our eye area gets irritated, amongst the dermotological community, nail enamel is also considered a significant allergen source for periorbital dermatitis—a facial rash that develops around the lower and upper eyelids. People who suffer from these conditions often-times do not realize the connection between touching and rubbing the eye area, and fresh manicures. I never thought of this till now.
Clinique is launching A Different Nail Enamel for Sensitive Skins this May, it is formulated to minimize skin sensitivity. The collection consists of 12 shades with 9 limited edition shades that will be offered for Summer 2013. As per the press release, the high gloss finish is chip resistant for seven days of wear when used in tandem with A Different Nail Enamel Base and Top Coat for Sensitive Skins. The collection will be available Clinique counters nationwide and online at www.clinique.com for $16.
Read below about Clinique's CC Cream…
The collection:
• Black Honey: Clinique's iconic, fan favourite Almost Lipstick shade is now for nails and richer than ever.
• Red Red Red & Party Red: two of Clinique's most beloved shades of red lipstick now exist for nails.
• Concrete Jungle, Indie Rock & Made of Steel: an array of metallic greys reflect modern, edgy and contemporary style.
Limited edition shades:
• Splish Splash, Summer in the City, Pinkini, 70° and Sunny: popsicles, warm weather and beach time…all in a nail colour.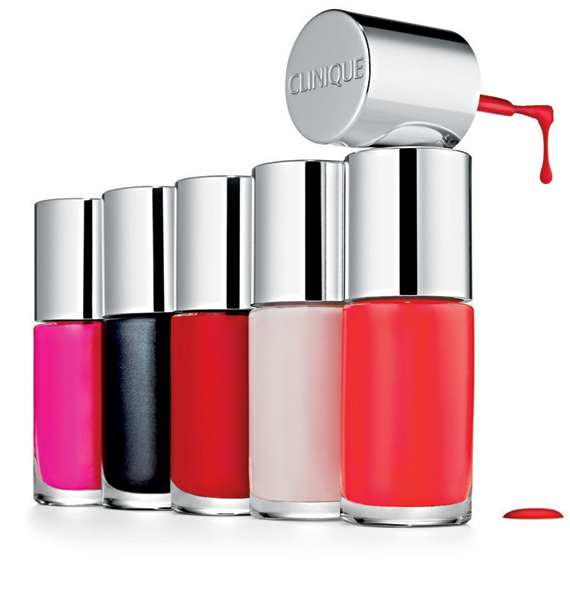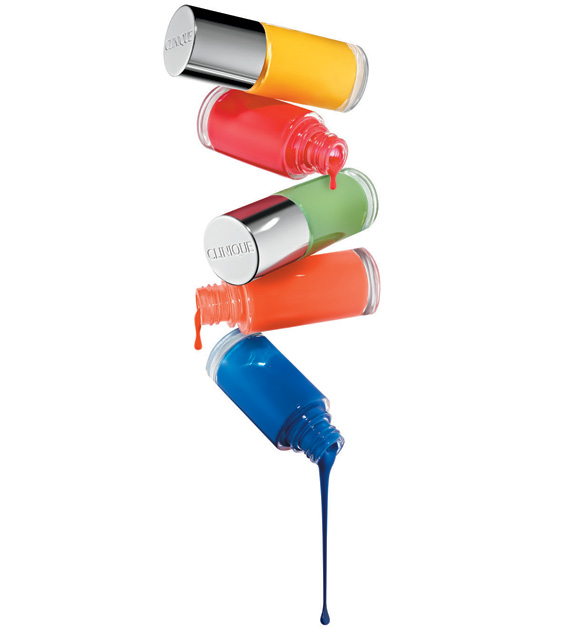 —-
Moisture Surge CC Cream Hydrating Colour Corrector Broad Spectrum SPF 30
I'm considered pretty lazy when it comes to beauty, for me it is best to minimize the steps to achieve the look. Today, women want a multi-tasking product they can easily incorporate into their busy lifestyle for skin to look its best, instantly. Clinique introduces a new, lightweight formula that immediately creates natural, glowing skin. The Moisture Surge CC Cream Hydrating Colour Corrector Broad Spectrum SPF 30 is an instant complexion perfector designed to enhance skin's natural radiance while leaving it hydrated and protected. In fact, clinical tests prove Clinique's new CC Cream formula provides immediate and all day hydration, while renewing skin's natural radiance.
The CC Cream is available in six shades to reach a broad range of skin tones and provide moderate coverage for a natural and radiant finish. Colour stays true throughout the day. It can be worn alone or applied under foundation. Appropriate for all skin types, the formula is oil-free, non-acnegenic, Dermatologist tested and Ophthalmologist tested. Available at Clinique counters nationwide and at www.clinique.com for $35. Have you tried?
$46.7 BUY IT NOW 0hr 1mins

$17.99 BUY IT NOW 0hr 2mins

$88.35 BUY IT NOW 0hr 3mins

$59.59 BUY IT NOW 0hr 3mins

$74.4 BUY IT NOW 0hr 3mins

$9.99 BUY IT NOW 0hr 18mins

$29.99 BUY IT NOW 0hr 18mins

$9.99 BUY IT NOW 0hr 29mins
disclaimer
Categories: beauty