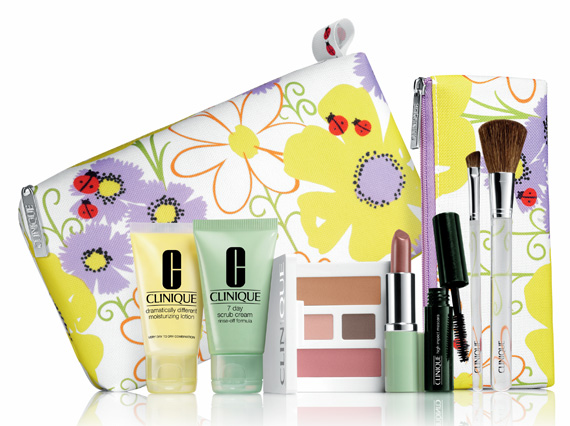 I'm all for beauty products, especially new and improved products that can help make my skin better. It's always fun trying new products and it's a plus if the packaging is cute like this new Clinique Spring gift package. Clinique introduces a limited edition 6-piece skincare and makeup gift plus exclusive Brush Set, packaged in colorful, spring inspired cosmetics bags.
The gift package feature favorite items including:
· Dramatically Different Moisturizing Lotion
· 7 Day Scrub
· Choice of pink pairings: Eye Shadow Duo in Pink Slate, Soft-Pressed Powder Blusher in New Clover, and True Bronze Pressed Powder Bronzer in Sunkissed
· OR choice of violet pairings: Eye Shadow Duo in Twilight Mauve, Soft-Pressed Powder Blusher in Pink Blush, and True Bronze Pressed Powder Bronzer in Sunkissed.
· Lipsticks in choice of Long Last Lipstick in Bamboo Pink or Different Lipstick in Shy
· High Impact Mascara
· Exclusive Brush Set
The exclusive, one-of-a-kind Clinique springtime beauty essentials gift is available free with your Clinique purchase of $25.00 or more with a value of $65.00. Available exclusively at Macy's and Macys.com from March 25 through April 14, 2013.
Check out the other beauty products that I'm going to try after the jump…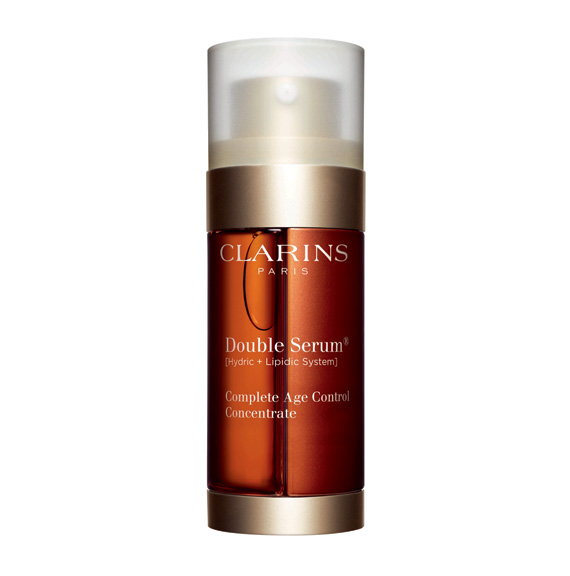 Clarins Double Serum Complete Age Control Concentrate
I personally never really thought of using serum in my regimen till I came back from Hong Kong. My friends over there rage about using serum and says it makes a big difference. So now I'm going to try out this new Clarins Double Serum Complete Age Control Concentrate which sounds pretty promising. Do you use serums?
Harnessing the Power of Nature and Science. It all started at the Clarins Research and Development laboratories in Paris and never stopped until this day. It took 27 years of plant science experience and 200 screened plants to find 20 of the most powerful plant extracts that would make the cut. The chosen few, including 8 organic plants and 5 extracts exclusive to Clarins, were put through 300 formulation tests in order to find the one formula that would create the most powerful anti-aging Clarins serum to date.

The Five Vital Functions of the Skin Reactivated. Double Serum is, indeed, the only treatment that reactivates skin's five vital functions, as proven in a series of unprecedented clinical and consumer tests. Hydration, nutrition, oxygenation, protection and regeneration: the vitality of the skin – and of all living organisms- depends on theses five functions.

One with the power of Two. Last, but not least, Double Serum is made possible by the unique hydric and lipidic system. Two separate phases – one hydric, the other lipidic – presented in side by side chambers enable the otherwise impossible combination of water and oil soluble ingredients with no risk of incompatibility or instability, without the use of emulsifiers. A double pump system allows, each time you use Double Serum, for highly precise dosage. The two formulas are mixed only on application and guarantee you a supercharged anti-aging serum each and every time.

Jurlique Purely Bright Spot Treatment
One of the things I hate most is getting dark spots or acne scars on my skin especially during that special time of the month. Plus Asian skin is more prone to due to higher levels of melanin. I try a lot of products to help reduce dark spots, acne scars and uneven skin tone to brighten skin.
Jurlique Purely Bright Spot Treatment is a concentrated spot treatment that naturally and precisely targets areas of hyperpigmentation that require extra lightening such as dark spots, acne scars and freckles. Available at jurlique.com for $42.

Murad Intensive-C Radiance Peel
I personally never used peels before but I've tested my friend's and thought it was really good with the dead skin peeling off. After using the peel my skin felt a lot smoother and brighter immediately. Peels also help reduce hyperpigmentation to restore skin clarity, which is perfect for my dark spots and acne scars. Intensive-C Radiance Peel is part of Murad's Environmental Shield line which was created to help restore and renew sun and environmentally damaged and aging skin, while protecting it from new damage. I've used Murad products before I quite like their products, definitely going to get this- anything to get rid of the stubborn acne scars! Available at murad.com $49.50.
Have you tried any of these products? Do you like? Any good recommendations?
$16.5 BUY IT NOW 0hr 0mins

$18.99 BUY IT NOW 0hr 0mins

$18.99 BUY IT NOW 0hr 0mins

$20.0 BUY IT NOW 0hr 1mins

$14.88 BUY IT NOW 0hr 1mins

$10.75 BUY IT NOW 0hr 1mins

$2.5 BUY IT NOW 0hr 1mins

$18.0 BUY IT NOW 0hr 2mins
disclaimer
Categories: beauty