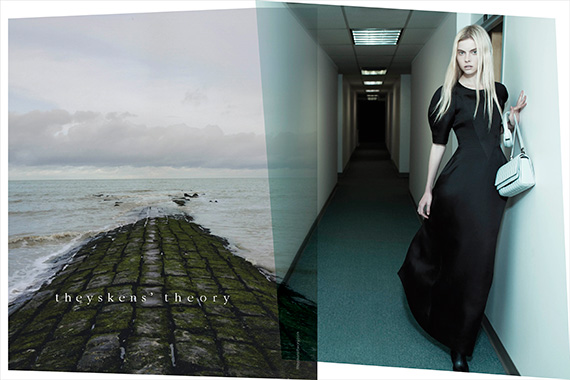 It's the time of the year when new ad campaigns are releasing for designers, I've received a few so here's a look at the Spring/Summer 2013 ad campaigns for Theyskens' Theory, Belstaff, ICB and Guess.
First up, the Theyskens' Theory Spring/Summer 2013 ad campaign featuring model Wylie Hays, photographed by Willy Vanderperre at Hunters Point Plaza, Long Island City in NYC and styled by Olivier Rizzo. The sea picture shots were by Olivier Theyskens in Knokke Le Zoutte, Belgium.
More ad campaigns after the jump…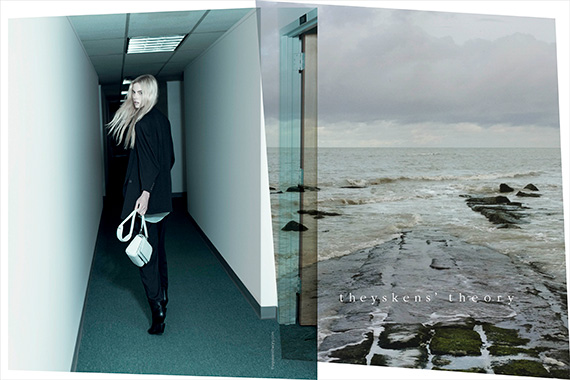 Photos courtesy of Theyskens' Theory
—-
To create the Spring/Summer 2013 ad Campaign, ICB turned to Berger and Wild, the same agency responsible for directing the ICB SS13 Digital Fashion Show. The resulting imagery employs the juxtaposition of a full-length color image with an intimate black and white portrait to celebrate the depth and versatility of the ICB girl.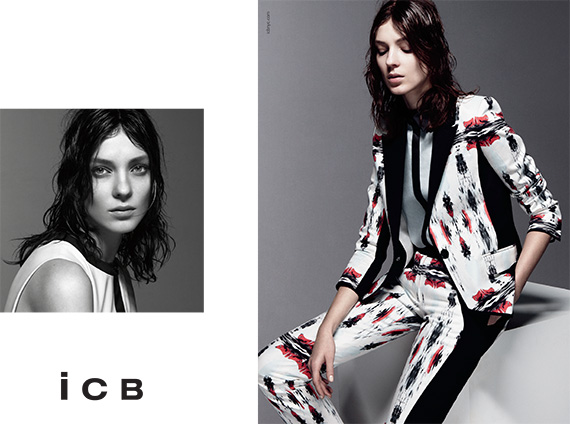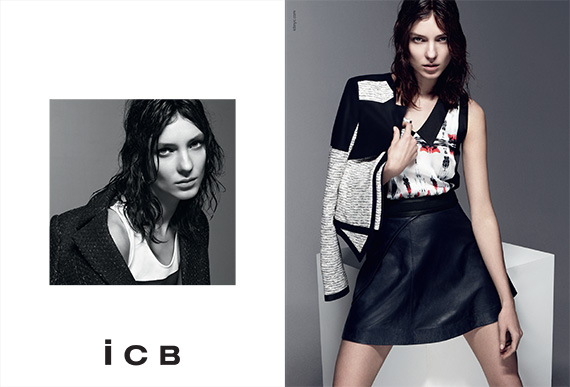 Photos courtesy of ICB
—-
Belstaff releases its first Spring/Summer 2013 collection advertising campaign under the direction of Belstaff chief creative officer, Martin Cooper and industry leaders Craig McDean (photographer), Karl Templer (stylist) and Trey Laird of Laird + Partners (creative direction). The campaign was shot in Barbados, which offers a perfect backdrop for the natural color palette of the collection. Models Maud Welzen, Janiz Ancesns, Ben Hill, Daria Strokous and Jac Jagaciak appear in the campaign.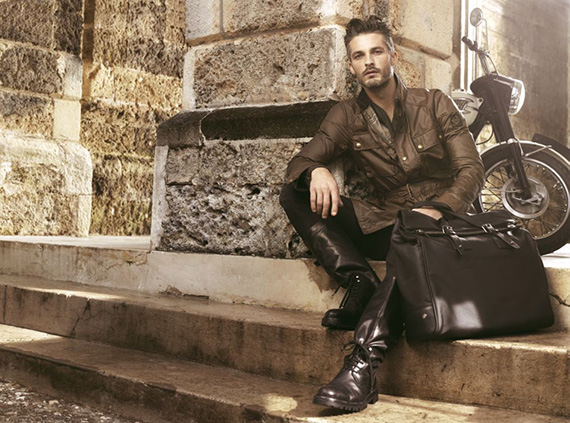 Photos courtesy of Belstaff
—–
This spring, the GUESS advertising campaign follows models Gigi Hadid, Natasha Barnard and Goncalo Teixeira as they enjoy an effortlessly sexy holiday on the beach. Shot against the breathtaking backdrop of Bora Bora, the vibrant colors and sensual poses transport the viewer to paradise.
Guided by Paul Marciano, Creative Director for Guess?, Inc., and shot by Yu Tsai, the Spring 2013 campaign captures the confidence and healthy sensuality that embody the spirit of the collection. The crystal blue sky, clear water, and soft white sand blur sea and the horizon, creating a timeless place. Distant hills and breezy palm trees paired with minimal styling imbue a sense of ease as the weather warms. Pops of turquoise, coral, and peach punctuate the images, reflecting the palette for a new season.
The campaign features some of the season's most anticipated looks, including breezy dresses and blouses with a Bohemian influence in soft tonal washes. Geometric tribal motifs, iconic leopard prints, and powdered multicolor dyes add interest to spring essentials. Dresses and sweaters with exaggerated hi-low hemlines add a feminine touch. For men, cotton blazers and trousers in modern silhouettes create an updated, sexy look. Button-down shirts and shorts with layered color and abstract prints are sure to stand out this season.
$249.97 BUY IT NOW 0hr 53mins

$39.0 BUY IT NOW 2hr 14mins

$69.99 BUY IT NOW 2hr 42mins

$65.44 BUY IT NOW 2hr 43mins

$74.99 BUY IT NOW 3hr 8mins

$74.99 BUY IT NOW 3hr 8mins

$44.99 BUY IT NOW 3hr 8mins

$49.99 BUY IT NOW 3hr 8mins
disclaimer
Categories: fashion