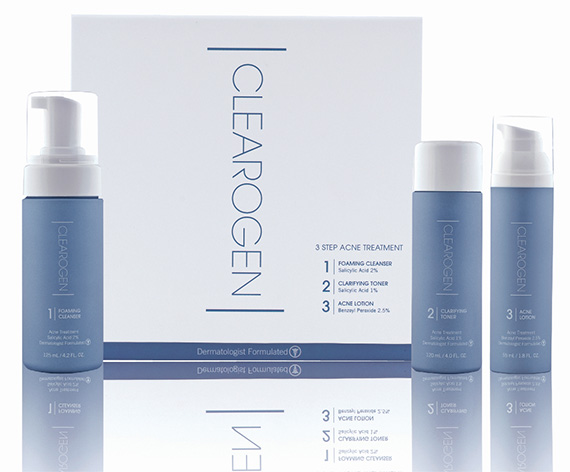 It seems like every time I travel or when it's that time of the month (ahem), I breakout. I've been trying to find a resolution to keep my skin under control during those times but nothing seems to be working so far. And then I get frustrated and start picking on it and results in scars!! I've been introduced to an acne treatment developed by board-certified dermatologist Dr. Alex Khadavi called Clearogen, a 3-step acne treatment. The package includes: foaming cleanser, clarifying toner and acne lotion.
According to the press release, Clearogen is a highly effective acne medication designed to clear skin and eliminate symptoms before they even start. Like other acne treatments, Clearogen uses FDA approved medications to clear existing acne but also incorporates natural anti-DHT ingredients to reduce skin's oil production to normal levels and break the cycle of acne formation. Clearogen is a three-step acne solution that cleans skin, reduces pore size, and lessens DHT production. This leads to healthy skin free of the damage wrought by acne. Clearogen also keeps acne from returning.
"Acne isn't caused by dirt, makeup, or dietary factors, although any of these may aggravate an existing condition," says Dr. Khadavi. "The real culprit is DHT (dihydrotestosterone), a testosterone byproduct found in both males and females. DHT triggers excessive stimulation of oil glands, causing clogged pores. This in turn promotes the growth of bacteria on the skin."
Sounds pretty promising. Have any of you guys tried it? I'm going to give it a try and see if works on my skin. You can order at clearogen.com and amazon.com, the package retails for $75.
More info after the jump…
CLEAROGEN FOAMING CLEANSER gently removes dirt, excess oil, make-up and bacteria that can cause acne.
CLEAROGEN CLARIFYING TONER eliminates pore-clogging impurities allowing balanced oil production, while reducing redness, and irritation. Botanical extracts increase skin renewal for smoother skin.
CLEAROGEN ACNE LOTION is a light- weight; shine free moisturizer that protects the skin by quickly reducing redness & irritation while clarifying the pore. Fatty Acids immediately penetrate the pore to deliver active ingredients that help regulate oil production.
$22.99 0 bids 0hr 44mins

$46.0 BUY IT NOW 1hr 0mins

$39.99 BUY IT NOW 1hr 44mins

$40.0 BUY IT NOW 1hr 53mins

$42.0 BUY IT NOW 1hr 54mins

$55.0 BUY IT NOW 1hr 54mins

$34.99 0 bids 1hr 58mins

$46.4 BUY IT NOW 2hr 2mins
disclaimer
Categories: beauty
Tags: clearogen