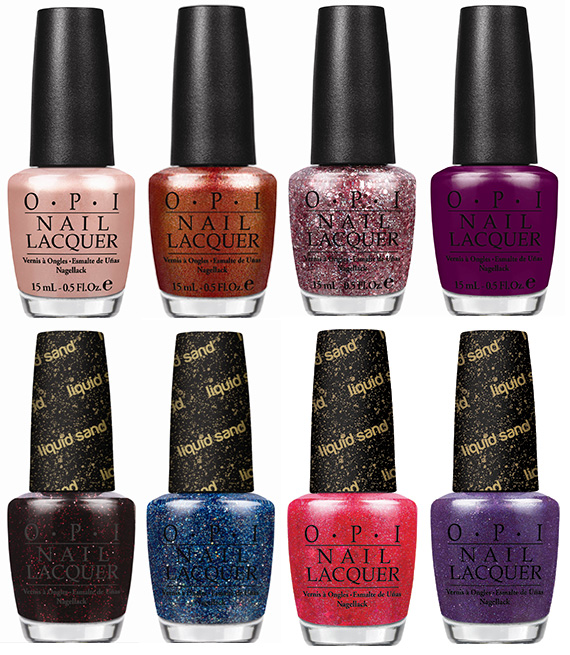 OPI announces the launch of eight new limited edition shades inspired and hand-selected by Mariah Carey. These shades include four new OPI Liquid Sand™ lacquers featuring a textured, matte finish infused with reflective sparkle. Liquid Sand creates a pebbled finish that lightly shimmers with fine glitter particles. Mariah Carey by OPI will be available beginning January 2013 for $9.00 ($10.95 CAN) each. I'm quite excited to try Liquid Sand, sounds pretty cool.
Mariah Carey by OPI includes four Studio Shades – ranging from pink glitter to rich plum crème – and four Stage Shades – each featuring the new textured finish. Studio Shades include: A Butterfly Moment (This sophisticated and frosty tan nude has us all a-flutter), Sprung (Fall hopelessly in love with this shimmery copper), Pink Yet Lavender (This pink glitter with lavender shimmer has superstar shine!), and Anti-bleak (This deep, creamy purple will lift your spirits).
Stage Shades include: Stay the Night (Make it last in this matte black with red glints), Get Your Number (Wearing this matte blue with sparkles is a great call), Can't Let Go (Hold onto this matte purple with dazzling sparkle), and The Impossible (This matte fuchsia with star confetti will never give up). OPI Liquid Sand lacquers should always be worn without top coat.
Categories: beauty celebrities
Tags: mariah careyopi