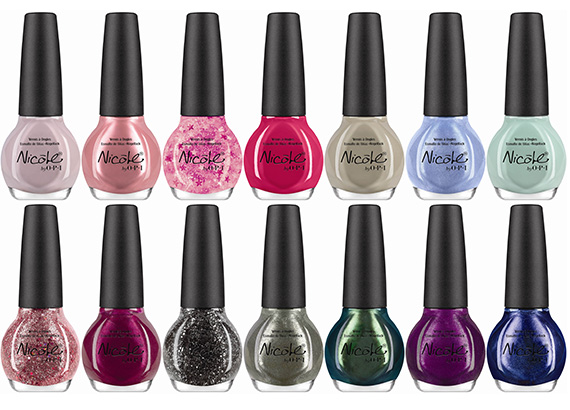 Nicole by OPI announces a new partnership with Twentieth Century Fox Consumer Products, inspired by ABC's award-winning comedy, Modern Family. The collection features 14 new lacquers from soft pink and peach hues to bright glitter and confetti lacquers. The nail line features shades created to capture the show's colorful personalities, from a classic taupe named after family patriarch Jay, to a sparkly pink hue fitting for toddler Lily. Modern Family lacquers will be available beginning January 2013 for $7.99 each. Super cute!
The Modern Family Collection includes:
Am I Making Myself Claire? Make no mistake…I'm liking this lilac.
I Do De-Claire! Let me just say how frosty cool this soft rose is!
She's Lily Something Pink, sparkly stars…so Daddies' Little Girl-y!
A Like-Haley Story… Typical teenagers (and their moms!) will love this not-so-typical fuchsia.
My Jay or the Highway! This trendy taupe is inflexibly cool. Period.
Stand by Your Manny Be loyal to this periwinkle blue.
Alex by the Books Look smart in this seafoam green.
Haley Good Lookin'… She's cookin' up plans for this pink super-glitter.
Basking in Gloria This red-violet is the color of passion.
Luke of the Draw Chances are you'll love this gunmetal glitter.
A Phil's Paradise No fooling…this pewter is the real deal.
Candid Cameron Call this teal just like you see it…gorgeous!
Back in My Gloria Days… This voluptuous violet has still got it goin' on!
What's the Mitch-uation? This cobalt blue demands an update.
Categories: beauty