Got some info on some of the sample sales happening this month and in November. Mark your calendars!
Hanky Panky Annual Sample Sale
Dates: November 12 – 14, 2012
Location: Chelsea Market 410 West 16th Street (between 9th and 10th Avenues) (212) 206-8338
Times: Monday, November 12th: 11:00 AM- 9:00 PM | Tuesday, November 13th: 8:30 AM- 8:30 PM | Wednesday, November 14th: 8:30 AM- 8:30 PM
Prices: Up to 75% off retail prices
Thongs for $11.00 (buy 12 get one free):  regular retail $18-$23
Boyshorts for $12.00:  regular retail $29-$40
Babydolls & Chemises for $25.00:  regular retail $70-$110
More info after the jump…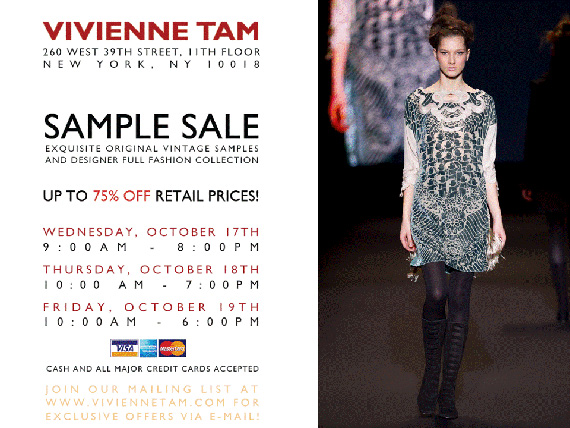 Vivienne Tam – Fall and Vintage Samples up to 75% off
Dates: Wednesday, 10/17: 9AM – 8PM | Thursday, 10/18: 10AM – 7PM | Friday, 10/19: 10AM – 6PM
Location: Vivienne Tam Showroom 260 West 39th Street, 11th Floor (between 7th & 8th Avenue)
—-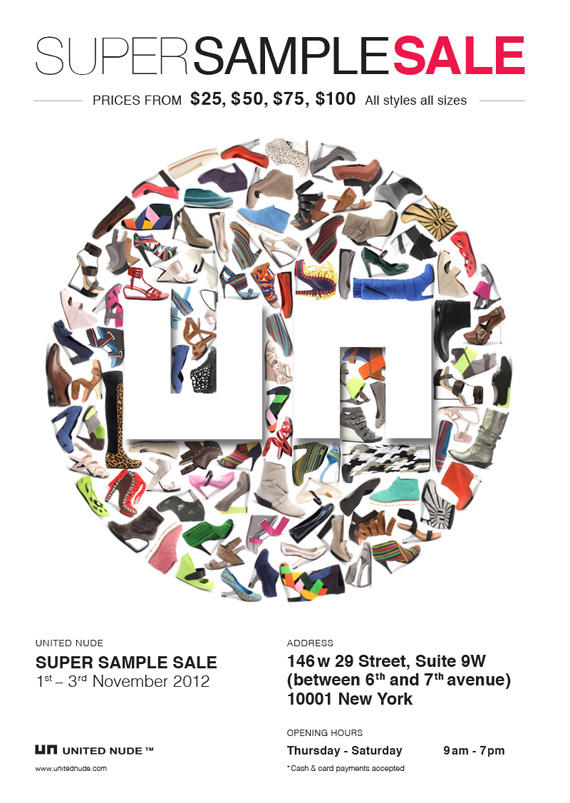 United Nude has announced their upcoming fall/winter Super Sample Sale with past styles, including fall/winter 2011 and spring/summer 2012 footwear.
What: United Nude Super Sample Sale (Past styles, all sizes)
When: Thursday, November 1st – Saturday, November 3rd 2012
Hours: 9AM – 7PM
Prices: from $25, $50, $75 & $100
Where: United Nude Showroom, 146 West 29 Street (between 6th and 7th avenue) #9W, 10001, New York.
Notes: Cash & credit card payments accepted
—-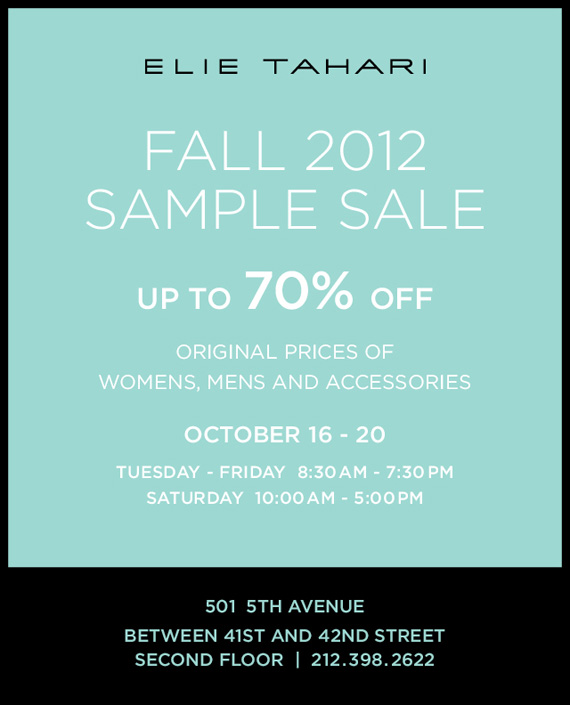 ELIE TAHARI HOSTS FALL 2012 SAMPLE SALE
WHO: ELIE TAHARI
WHAT: FALL 2012 SAMPLE SALE
WHEN: TUESDAY, OCTOBER 16TH –SATURDAY, OCTOBER 20TH
WHERE: 501 5th AVENUE (Between 41st and 42nd Street at 5th Avenue – 2nd Floor)
PHONE: 212-398-2622
PAYMENT: All major credit cards, cash, NO checks
Deals and Steals… 70% off Women's, Men's, Shoes and Handbags!
—-
What: Sonia Rykiel
Why: Get 80 percent off current-season work dresses, party frocks, and luxe suiting.
When: Sun.-Tues., 10 a.m.-6 p.m.
Where: 37 W. 57th St., b/t Fifth & Sixth Aves., 9th flr.
—-
What: YSL
Why: Bags, heels, flats, small leather accessories and women's collection, plus a small batch of clothing for dudes.
When: Oct. 23-25. Tues. & Wed., 9 a.m.-6:30 p.m.; Thurs., 9 a.m.-3 p.m.
Where: Soiffer Haskin, 317 W. 33rd St., b/t Eighth & Ninth Aves.
—-
What: Zadig & Voltaire
Why: Score up to 80 percent off the latest spring/summer and fall/winter sweaters, shirts, separates, and accessories for women, men, and kids.
When: Oct. 25-28. Thurs., 9 a.m.-8 p.m.; Fri. & Sat., 10 a.m.-7 p.m.; Sun., 11 a.m.-6 p.m.
Where: 260 Fifth Ave., b/t 28th & 29th Sts.
$45.0 BUY IT NOW 0hr 2mins

$24.92 BUY IT NOW 0hr 29mins

$32.99 BUY IT NOW 0hr 30mins

$7.99 BUY IT NOW 1hr 9mins

$31.08 BUY IT NOW 1hr 17mins

$31.08 BUY IT NOW 1hr 18mins

$2.99 BUY IT NOW 1hr 33mins

$21.0 0 bids 1hr 47mins
disclaimer
Categories: fashion sample sales shopping
Tags: