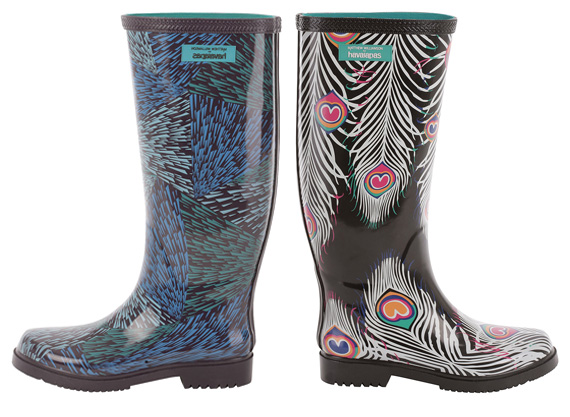 Havaianas released its first-ever collection of rain boots with a special collaboration with Matthew Williamson to celebrate their respective anniversaries. The joint project will mark the celebrations of Havaianas' 50th anniversary and Matthew Williamson's 15th anniversary of his first fashion show for London Fashion Week.
The rain boots comes in two different prints: digital rain and peacock, available at matthewwilliamson.com, and in the US on the Havaianas website in November. The rain boots retail for $125. Perfect for the rainy weather in NYC! Cute!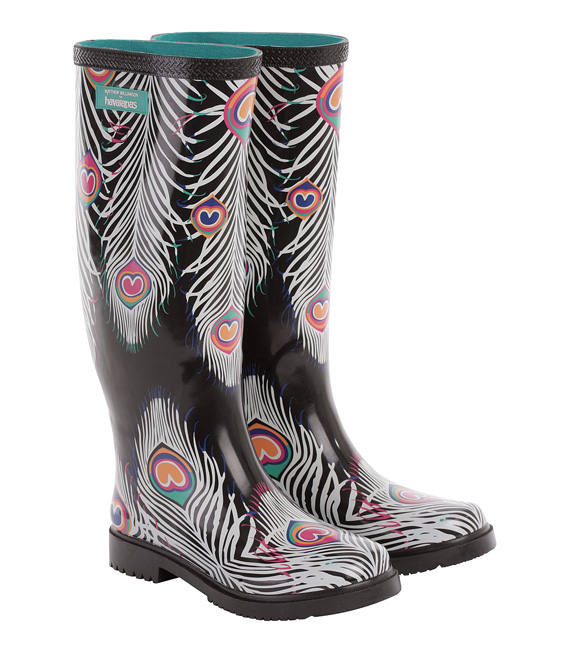 PEACOCK RAIN BOOT: Since its introduction in 2004, Matthew Williamson's peacock feather design has grown to symbolize his brand. For this occasion, it takes on a brand-new color harmony of monochrome with vibrant highlights of fuchsia and jade. The result is a current and refreshing new addition to the Havaianas collection.
DIGITAL RAIN BOOT: Developed for Matthew Williamson's winter 2012 ready-to-wear collection and featured in his show on long voluminous silk gowns, this is characteristic of Matthew's love of graphic pattern. The triangular shards are reminiscent of cascading water, perfect for splashing in puddles in the rain. Made from 100% rubber, both models continue to feature Havaianas signature details – the Greek pattern on the strap and the rice textured pattern on the soles… A perfect combination that is sure to turn both designs into 2012 best-sellers for rainy days.