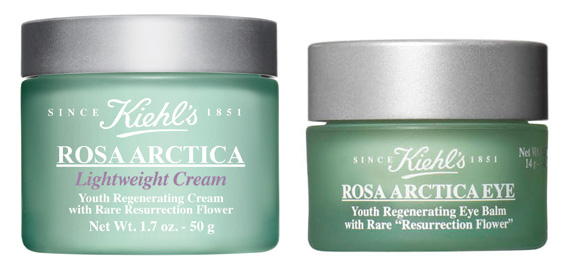 I love Kiehl's products, so whenever there's now products I'm always down to try it. The two newest members of Kiehl's Rosa Arctica family are the Rosa Arctica Lightweight Cream and Rosa Arctica Eye Balm. These two products were inspired by the incredible customer demand for Rosa Arctica Youth Regenerating Cream, introduced in March, 2011. "Like the classic Rosa Arctica, each new product harnesses the power of the rare Resurrection Flower, Haberlea rhodopensis, to 'wake up' skin cells to trigger the physiological reactions resulting in healthier, regenerated, and more youthful skin."
· Rosa Arctica Lightweight $60, features the same benefits of Rosa Arctica Youth Regenerating Cream, in a lighter texture for those with normal to oily skin, or those who simply prefer a lighter texture.
· Rosa Arctica Eye $44, is a unique balm formulation that helps provide instant visible results—thanks to mineral brighteners—instant hydration, and revitalizes the appearance of skin in the eye area over time, smoothing crow's feet and lifting the eye contour area.
I love the simple packaging too, the green color gives it such a "cool" effect just by looking at it. Definitely going to test this out. You can read more about it on the Kiehl's site. Available at Kiehl's stores and kiehls.com now.
$0.99 0 bids 0hr 5mins

$14.99 BUY IT NOW 0hr 20mins

$152.0 BUY IT NOW 0hr 40mins

$16.78 BUY IT NOW 0hr 40mins

$15.8 BUY IT NOW 0hr 40mins

$16.9 BUY IT NOW 0hr 50mins

$53.99 BUY IT NOW 1hr 3mins

$15.0 BUY IT NOW 1hr 12mins
disclaimer
Categories: beauty
Tags: kiehls