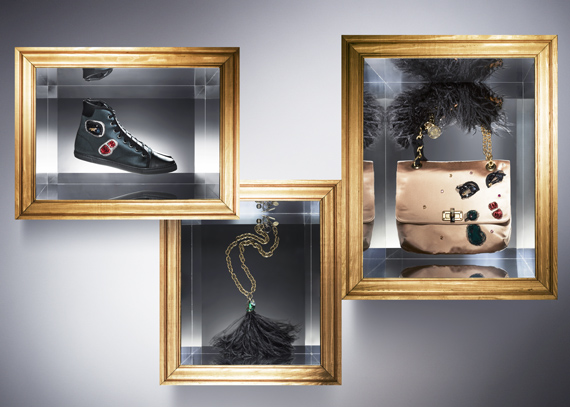 Lanvin celebrates Alber Elbaz's 10-year anniversary with the brand with an accessories collection for Winter 2012. The capsule collection "Happy" Les 10 Ans features 10 key themes, including the house's key Happy bag, a jewel and a shoe, all displaying Alber Elbaz's distinctive codes. The themes included: Les Dessins d'Alber, Lanvin All-Over Embroidered, Lettres JL, crocodile patchwork, Grosgrain, Tulle and Pearls, Matelassage Art, animal print, Diamanté Heart and Bijou. Pretty collection.
Photo above: "Les Dessins d'Alber" (Alber's Drawings) brings together a bag embroidered with one of his signature faces, a trainer with eyes on one side and a mouth on the other, and winking feather-eyes on the jewels.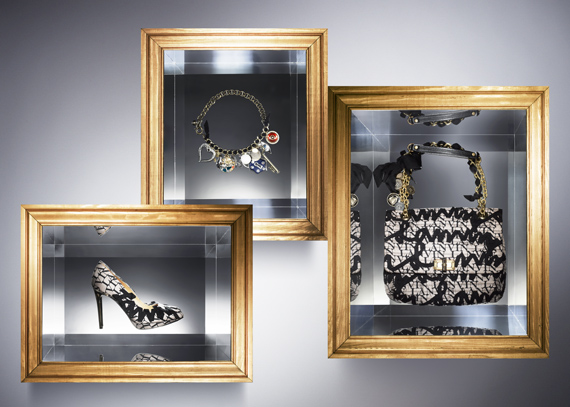 A fabric from the last Summer collection is the basis for "Lanvin All-Over Embroidered", with a series of charm medals on the bag's strap and the necklace, while the pump is covered in the fabric itself.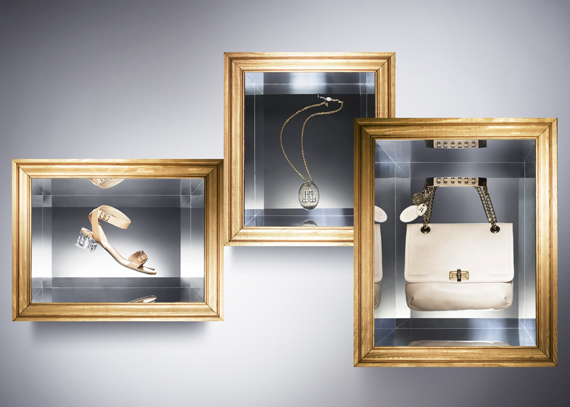 "Lettres JL" echoes the industrial feel of the metal elements and medals on the Happy bag's strap, with a JL-initialled sandal and a large rap-style pendant.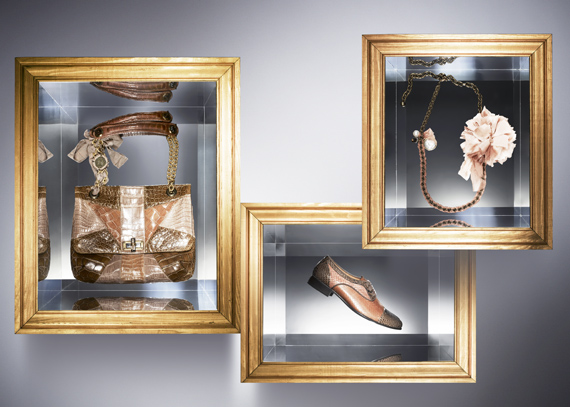 The "crocodile patchwork" theme uses the precious skin in shades of taupe and aged pink on the bag, a pair of loafers and the emblematic pompom necklace.

"Grosgrain" reflects the key trim from every collection with a reworked version of the bag, a ballet slipper with grosgrain bow and a grosgrain-covered necklace reminiscent of Alber's bowtie.

"Tulle and Pearls" is a homage to the house's famous necklace of pearls covered in tulle, translated into a bag covered with tulle strips, a five-row rope of tulle-covered pearls and a ballet slipper with pompoms and diamanté pearls.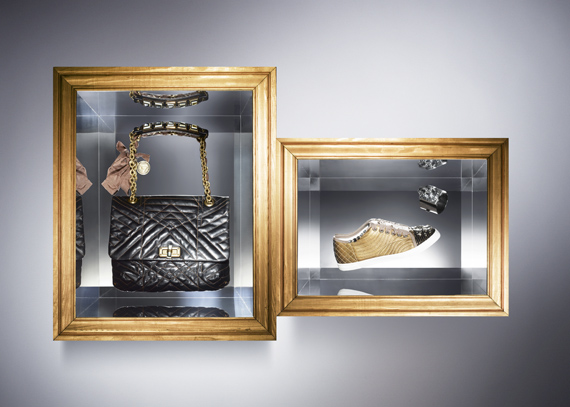 "Matelassage Art" displays a geometric motif with an acetate pyramid on the bag, an Art Deco cuff and a padded trainer embroidered with diamanté, all mixing chic with casual.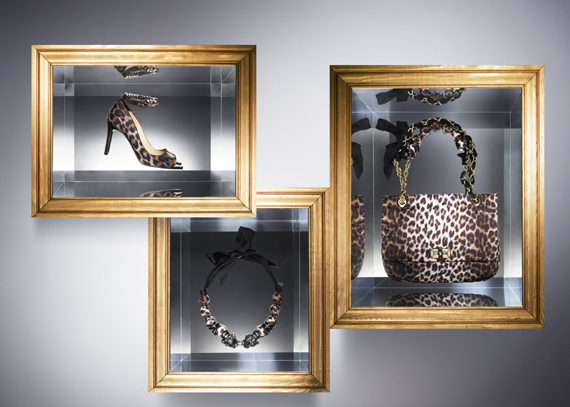 The "animal print" section features the bag with an enamelled clasp and a panther print from the 2010 collection, available also as an open-toe pump, and a necklace covered in leopard print.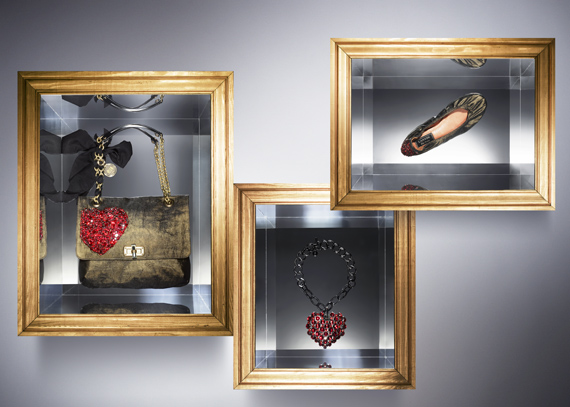 "Diamanté Heart" reflects an element dear to the designer's heart, embroidered in a giant version on the bag, as a discreet version on the back of the ballet pump, and transformed into a giant heart pendant with diamanté cabochons, as worn in red by the lead singer of Pink Martini during the birthday party.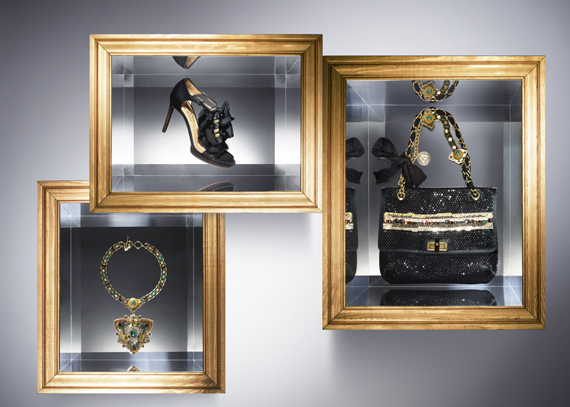 "Bijou" presents a Happy bag embroidered in diamanté and sequins with a malachite effect cabochon strap and a brass floral motif, both reflected in the pendant necklace, and a ballet slipper with a diamanté toe.
Categories: fashion handbags shoes
Tags: