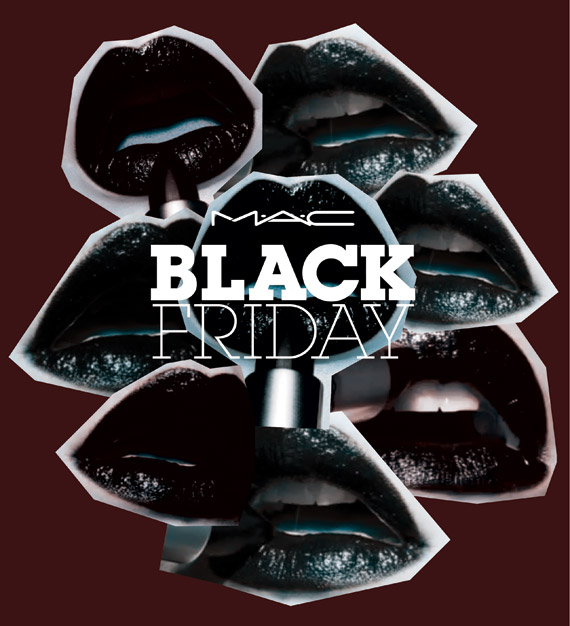 How many of you guys shop on Black Friday and Cyber Monday? I hardly ever because I don't like to wake up at the crack of dawn and it's super duper crowded ha! Call me lazy but I try to avoid the crowds when I'm shopping, except if I must. So if you're a fan of all the shopping deals, I'll be adding to this post. Keep checking back!
First up: On Friday, November 25th M·A·C is bringing back the cult classic Black Knight Lipstick for one day only, exclusively online. Starting today follow M·A·C Senior Artists Keri Blair (@MAC_Keri_B) and Romero Jennings (@MAC_Romero_J) on twitter for tips on how to rock this elegantly ebony Black Knight shade.
Also, LuisaViaRoma.com has a special Black Friday and Cyber Monday Sale. The special promo code is good for 30% off the Fall/Winter 2011 Collections. This exclusive promo code is valid until Monday, November 28, 2011 (midnight GMT+1) and cannot be used in conjunction with other promotions or discounts. The promo code is not valid on fine jewellery. Happy shopping!
– For US, please insert PROMO CODE: BF30US during checkout and click "apply" to receive 30% off.
– For Canada, please insert PROMO CODE: BF30CA during checkout and click "apply" to receive 30% off.
– For Australia, please insert PROMO CODE: BF30AU during checkout and click "apply" to receive 30% off.
More deals after the jump…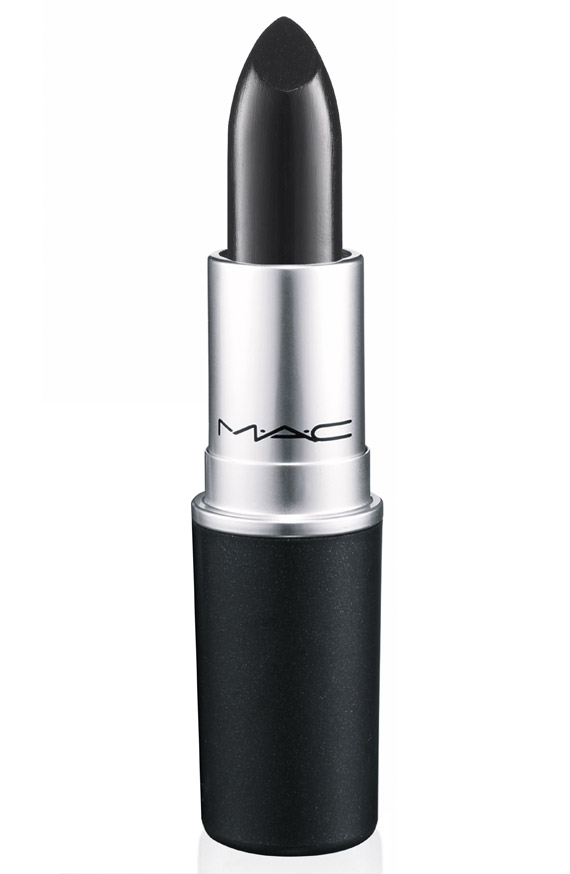 —-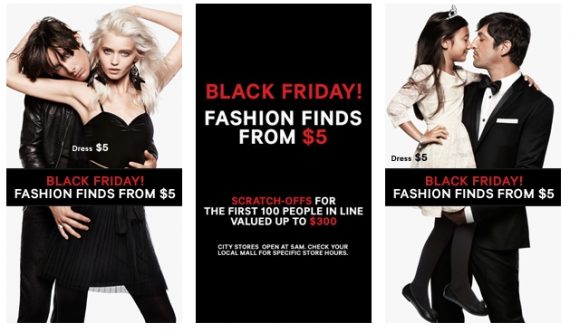 H&M
Set your alarm to shop our great offers. City stores open at 5AM. Check your local mall for specific store hours. For you early birds, we'll have scratch-offs for the first 100 people in line valued up to $300.
—-
UNIQLO
BLACK FRIDAY 11/25
Promotion: Men's and women's printed full zip fleece will be offered for $14.90 (normally $29.90)
SATURDAY 11/26
Promotion: Men's and women's Extra Fine Merino v-neck long sleeve sweaters will be offered for Women: $14.90 (normally $29.90) and for Men: $19.90 (normally $39.90).
SUNDAY 11/27
Promotion: Men's and women's long sleeve oxford shirts will be offered for $14.90 (normally 29.90)
Cashmere items will also go on promotion as well with long sleeve sweaters retailing for $49.90 (normally $89.90) and the final +J collection will go on promotion as well.
—-
HANKY PANKY
· Sale starts 9:00 pm EST on Thursday, November 24th and ends Tuesday, November 29th at 10:00 am EST (or while supplies last)
· Biggest sale of the year! Thongs as low as $11.99
· Boyshorts and panties up to 50% off Camis and tops up to 50% off
· FREE Ground shipping on all orders (no minimum purchase)
—-
OLD NAVY
Black Friday "Lucky-In-Line" – all stores in US and CAN, from 11/25 to 12/24
· When cashwrap lines get long this holiday season, the Lucky-In-Line Host will ask a combo of trivia questions, hold something up and "dares". For example, "the first customer to hold up a tube of chapstick gets to pick out of the bag" or "first person to sing their favorite holiday song gets to pick a discount out of the bag." The loot bag will be full of coupons valid instantly in the following amounts: $1 off, $3 off and $5 off.
—-
PIPERLIME
Piperlime is going to be 20% off site wide for Black Friday through Cyber Monday.
—-
VS PINK
On 11.25, we will have a $25 crew neck hoodie. We will also be doing the PINK Nation Panty free with any purchase from 11.29-12.7.
—-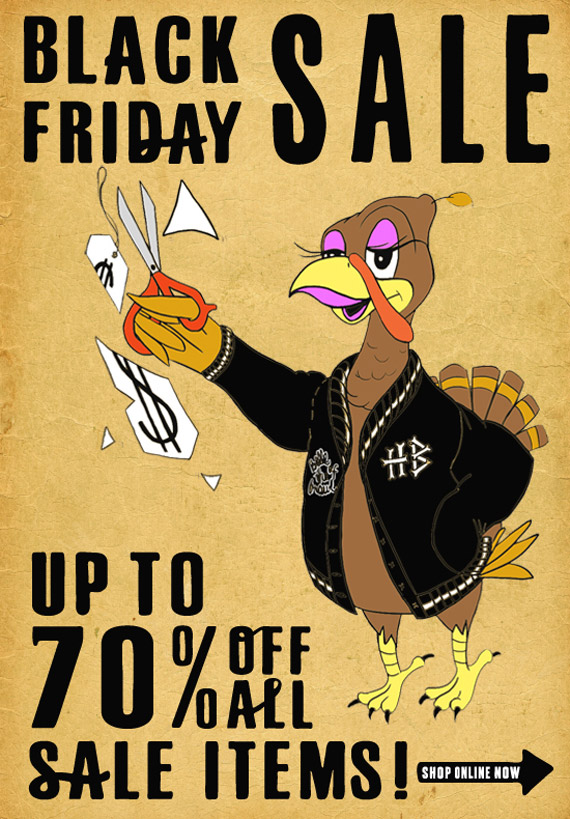 Thanksgiving is almost here – and you know what that means?! Yes, exactly! Some serious online shopping! Isn't it crazy how everyone has switched their 4am standing in-line in front of Walmart sessions for 4am sitting infront of the computer sessions? Crazy times, yo. Crazy times…but we're certainly not against it. Here at HELLZ we're full on believers of online Black Friday sales. So much so I've listed out the websites I'll be sure to hit up this weekend! Number one on that list is the lovely HELLZ store – where we will be releasing some never before seen HOLIDAY exclusives and some styles back from the dead…are you prepared for the madness?! The web store will be opened bright and early November 25th 12:01AM to pave the way for some awesome Christmas presents…or of course a little somethin' somethin' for yourself! Are you ready for the madness? Be sure to mark our online store link for your official Christmas shopping spot!
$24.95 BUY IT NOW 3hr 43mins

$24.95 BUY IT NOW 3hr 45mins

$24.95 BUY IT NOW 3hr 46mins

$24.95 BUY IT NOW 3hr 47mins

$75.0 BUY IT NOW 14hr 19mins

$50.0 BUY IT NOW 5hr 5mins

$69.99 BUY IT NOW 12hr 20mins

$69.5 BUY IT NOW 22hr 47mins
disclaimer
Categories: beauty fashion shopping
Tags: