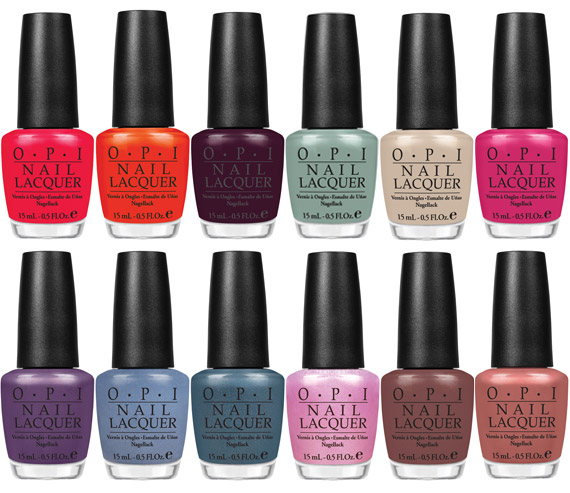 Woo, I love nail polish and love OPI. For Spring/Summer 2012, OPI was inspired by Holland, the range of shades feature colors as seen in "vivid tulips, windmill-dotted hillsides and bustling canals." The Holland Collection consists of 12 shades including (colors are in picture order):
Red Lights Ahead…Where?(This coral-packed red is the hottest in the district)
A Roll in The Hague (Take advantage of this frisky little orange)
Vampsterdam (A deep purple for a divine diva)
Thanks a WindMillion (You totally deserve this breezy sea green)
Did You 'ear About Van Gogh? (Rumor has it…this sandy bisque is a work of art)
Kiss Me on My Tulips (A smooch-worthy shade of hot pink)
Dutch 'Ya Just Love OPI? (All of Holland hollers for this crowd-pleasing plum)
I Don't Give a Rotterdam! (This sassy steal-blue shimmer means business!)
I Have Herring Problem (What's that you say? I need to "sea" this shimmery green-blue?)
Pedal Faster Suzi! (This pink lavender shimmer will have you "wheeling.")
Wooden Shoe Like to Know? (It's no secret…everybody loves this shimmery chocolate-brown)
Gouda Gouda Two Shoes (Take a walk on the wild side with this robust rose).
Holland Collection by OPI will be available February 8, 2012.
Categories: beauty
Tags: