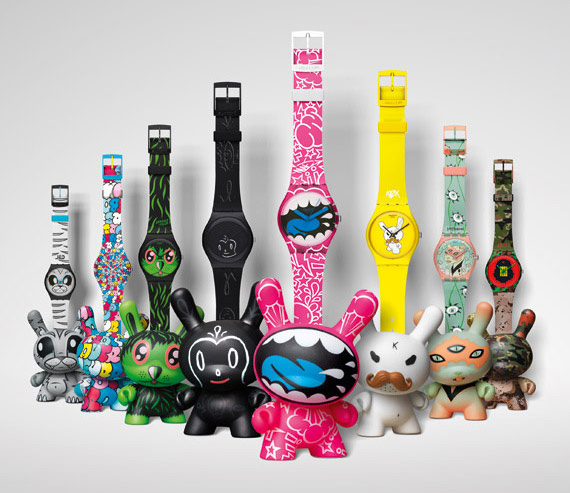 Photos courtesy of Kidrobot
Swatch has teamed up with Kidrobot to create a super cute collection of eight watches in the Gent model. Eight artists have contributed to the new collection, each with a characteristic design for a Gent and its accompanying 3-inch Dunny: Frank Kozik, Jeremyville, MAD, Tilt, Tara McPherson, SSUR, Gary Basmen and Joe Ledbetter. Which is your favorite? I can't even choose, I love them all!
The Kidrobot for Swatch collection is currently available at Swatch stores either separately, in which case each model comes with its complementary Dunny, or as part of a special Kidrobot limited and numbered edition of 300 sets. Each Kidrobot Special Set (GZS48) is comprised of the eight Kidrobot watches in the collection, each watch in the set carries its limited edition number (001/300) and is presented in special packaging together with its corresponding Dunny. Eight of the Dunnys are 3 inches high, while Frank Kozik's mustachio'd white Dunny comes in a special 20-inch high version.

Artists: Frank Kozik (GJ130 SWATCH-SKI INSTRUCTOR), Mad (GP133 SWATCH-SHOUT OUT), Gary Baseman (GB249 SWATCH-MIDNIGHT MAGI)

Artists: Jeremyville (GB252 SWATCH-THE SO FAR AWAY), Tara McPherson (GP132 SWATCH-THE EYES ARE WATCHING), SSUR© (GB251 SWATCH-TIC TIC BOOM)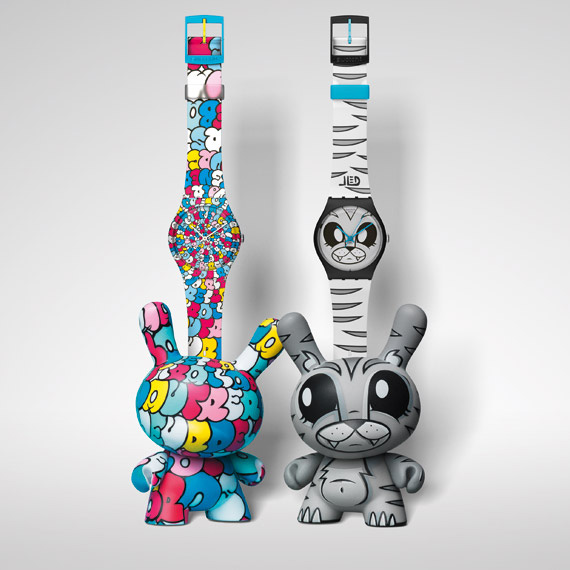 Artists: Tilt (GE232 SWATCH-LOVE SONG), Joe Ledbetter (GB250 SWATCH-BENGALI)
$300.0 0 bids 16hr 27mins

$135.0 BUY IT NOW 11hr 2mins

$99.0 BUY IT NOW 7hr 4mins

$10.0 BUY IT NOW 21hr 46mins

$131.06 BUY IT NOW 2hr 4mins

$120.0 BUY IT NOW 11hr 21mins

$10.0 BUY IT NOW 18hr 18mins

$100.0 BUY IT NOW 23hr 3mins
disclaimer
Categories: fashion jewelry/accessories toys/design
Tags: