The highly anticipated Virgin Mobile FreeFest has finally released their concert date for this year, mark your calendars for September 10th! The lineup was announced by a special video featuring Richard Branson and Virgin Mobile Live fans and the concert will be taking place at the Merriweather Post Pavilion in Columbia, MD. Are you guys excited?
Since Virgin Mobile picks up the cost of tickets, they ask that everyone donate $10 or their time to volunteer for RE*Generation. People who volunteer at the Festival are "FreeIPs" and automatically receive a ticket, a hard to come by commodity as tickets normally "free-out" within 30 minutes. If not, tickets go "On Free" Friday, July 15th at 10AM. Set your alarms early, and "LIKE" Virgin Mobile Live Facebook to get tickets! Good luck!
Who's looking forward to going to FreeFest? Watch the video for the lineup or view after the jump…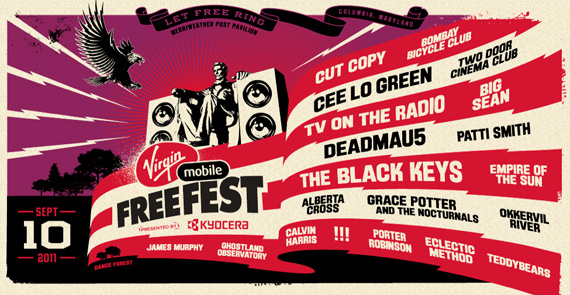 FreeFest has always been about giving back. In 2009, the festival started as a way lighten things up in the face of a rough economy while drawing more attention to The RE*Generation, the company's platform to address youth homelessness. Thanks to festival attendees in the past two years, Festival has raised nearly $300,000 and generated more than 55,000 hours of volunteer time. Virgin Mobile want to continue the tradition this year of raising money and motivate people to give their time to help homeless and at-risk kids.
Categories: celebrities music
Tags: