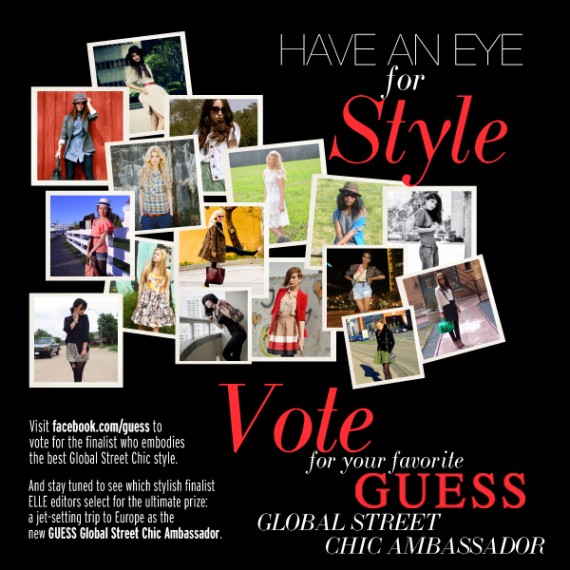 Photo courtesy of ELLE
ADVERTORIAL
Did any of you enter the ELLE Global Street Chic Ambassador casting call presented by GUESS last month? After over one month of accepting submissions for the finalists, 16 are now in the running for the People's Choice award, I hope you are one of them! I'm a big fan of street style photographers, I love checking out all the fashionistas around the globe through their lens.
Starting June 1, 16 finalists will be revealed to the public on the GUESS Facebook page. Here's where you come in, to determine the People's Choice, fans will vote for their favorite finalist from June 1 to July 10, culminating with the person with the most votes winning the People's Choice award (winner will receive a $1000 Guess gift card). To remain in the running, finalists will need to garner the most votes from other Facebook users. The display of finalist photos will be refreshed twice during the six (6) week flight, once every two (2) weeks a smaller grid of the remaining finalists will be revealed: the pool of 16 will be narrowed down to eight (8) in the first reveal on June 14, and four (4) in the final reveal on June 28. On the final reveal – of the four finalist's one (1) will be chosen as the Fan Favorite.
Read the judging criteria after the jump…
Judging Criteria for Editor's Choice Category and Fan Favorite Finalist:
From all eligible entries, Judges from ELLE & GUESS will select the highest scoring entry as the Editor's Choice Category winner, and the next sixteen highest scoring entries will be the 16 finalists in the Fan Favorite Category. Entries will be judged equally on the following criteria: (i) street chic look that best embodies the distinct and unique style of the city/town it is representing; (ii) originality and perceived eye-for-style of the composition of the photo; and (iii), and originality and perceived eye-for-style of the outfit depicted in the photo. The Fan Favorite will be the finalist who receives the most Facebook votes and win a $1000 Guess gift card, and the Editor's Choice will be the next Global Street Chic Ambassador and travel with a friend to Barcelona and Rome for one week to report on street style for ELLE (estimated ARV: $4000). The content from the winner's trip will be featured on the Guess Facebook page starting August 15.
Categories: fashion
Tags: