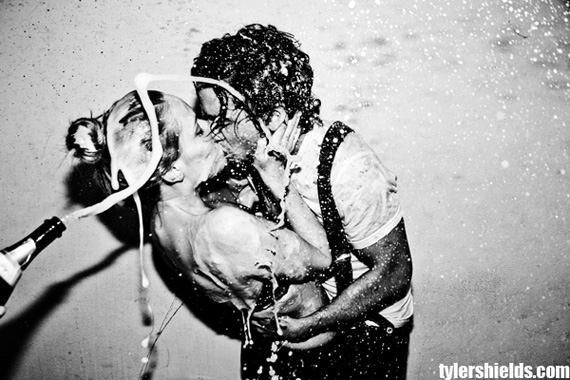 Sponsored Post
To promote its Beyond Talk unlimited data plans, Virgin Mobile is launching a marketing campaign in the form of a pop culture social experiment. With customers using their phones to track their favorite celebrities, Virgin Mobile wanted to take a fresh spin on things. So rather than hire real celebrities for an endorsement deal, they?ve manufactured a celebrity couple from two unknowns. Meet "Sparah," a celebrity couple manufactured entirely by Virgin Mobile. Spencer Falls and Sarah Carroll, two names that mean nothing to you right now. Over the next 6 months they will appear in national TV ads, print ads, on red carpets and online, and Virgin Mobile will document it all.
The couple recently had a photo shoot with famous celebrity photographer, Tyler Shields, known for his controversial gun-wielding and bloody Lindsay Lohan photos, you might remember from last year. Tyler unveiled the Sparah shot at his private gallery opening last Saturday in Hollywood. Pretty amazing right? Did you know that Jenna Ushkowitz from Glee reportedly paid $50,000 for it at the opening event?! For more, you can check out this behind-the-scenes video clip of the shoot here from Sarah's Facebook (whoa pretty cool to see how the pic was shot!).
What's a celebrity couple in the making without a "reality show?" Sparah will have a reality vlog documenting their rise to fame, bookmark this page here for all ads and episodes.
Check out the first ads after the jump…
Tags: sparahvirgin mobile