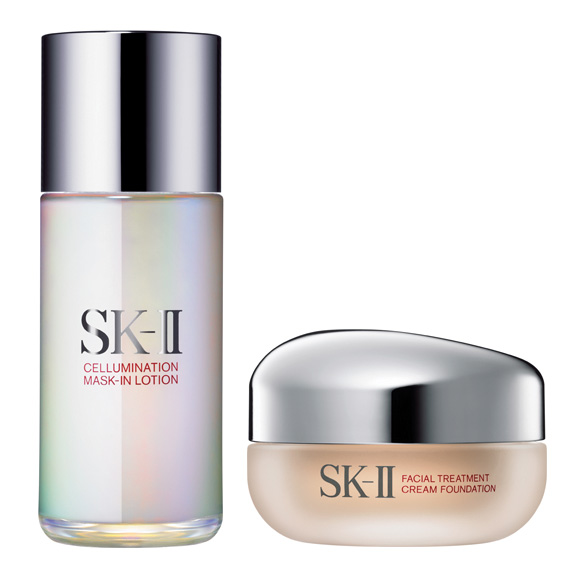 Yesterday was finally a nice day out in NYC despite the humidity, can't ask for too much nowadays. Had a fab gathering at Café Kristall (Swarovski Crystallized's cafe) for SK-II's new product launch, which was the perfect location. I wear minimal makeup and what I care about most is skincare products, if you have great skin then you won't need much makeup/coverup. It's never too early to start taking care of your skin. I love trying new products and finding a good one can be hard.
I personally love SK-II's Facial Treatment Mask but I have to say sometimes it's hard to spend 15 minutes doing a mask when our lives are so busy. I was super excited to hear that this new Cellumination Mask-In Lotion works just like the mask but in just 15 seconds of application!! It delivers the same amount of skin conditioning agents as that of a substrate mask for 15 minutes, it also offers sustained hydration benefits. I've tried it on my hands yesterday and it goes on smoothly and smells good too.
The second product they introduced was the new Facial Treatment Cream Foundation, I personally don't like using foundation because 1) I'm lazy and 2) I don't want to feel like I have a lot of makeup on. But I had the pleasure of having Cate Blanchett's makeup artist, Dotti, try it on me and seriously she used about a dime size of cream foundation and it didn't feel or look like I had anything on my face. It freshened up my face and evened out my skin, I kept it on the whole day and it didn't even bother me. You can also use it as a concealer for the under eyes which I think I'll be using this product for. In case you want to know, Dotti says I'm a #440. Love the two new products, you can read more about it below.
Also, SK-II launched the Clear for Life project, which was inspired by Global Ambassador, Cate Blanchett's donation of 3 million liters of clear, purified drinking water to Asian communities in honor of SK-II's 30th anniversary. For its inaugural year, the SK-II Clear for Life project has pledged a donation of 30 million liters of water through a partnership with Procter & Gamble's Children's Safe Drinking Water (CSDW) Program. US consumers can contribute to the cause by visiting the SK-II Clear for Life website and clicking to 'Share The Word.' For every 'click to share' on social media websites, SK-II will donate 1 liter of water to communities in need; no product purchase necessary.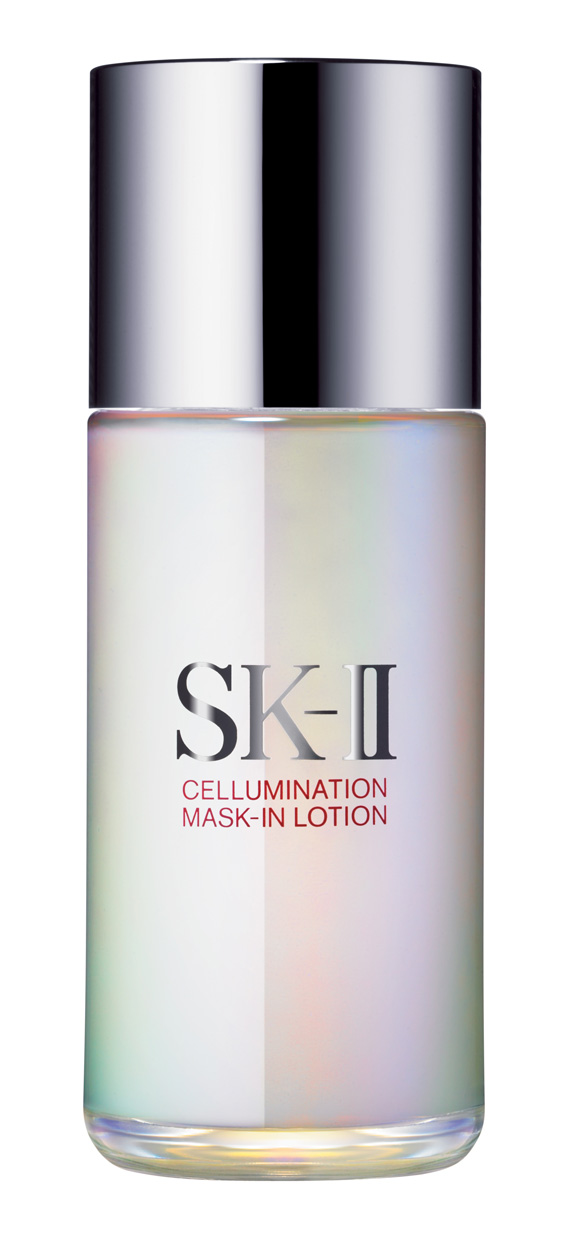 Powerful ingredients
Cellumination Mask-In Lotion contains the powerful Aura Bright Cocktail that is present in the SK-II Cellumination family. Working together with this ingredient complex is the trio of Centella Asiatica extract, Nicotinamide W and concentrated Pitera™, a SK-II exclusive ingredient.
Innovative "See-Through" Mask Technology
Cellumination Mask-In Lotion's innovative "See-Through" Mask Technology is key to its mask-like efficacy. The product forms a virtual mask that holds the ingredients and key moisturizing agents in place, facilitating moisturization of the skin's surface. Upon application, it moisturizes the skin's surface and regular use over two weeks significantly softens the skin's surface.
Pricing: Cellumination Mask-in Lotion 100ml / $75.00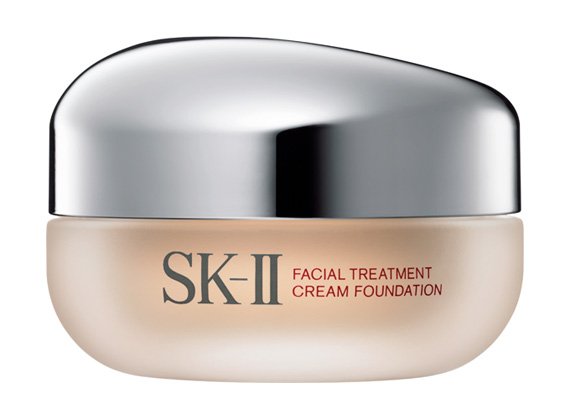 A single application of this new foundation in the morning creates a radiant, translucent look that lasts through the day's activities, and helps skin stay moisturized and supple even after the foundation is removed. Facial Treatment Cream Foundation is available in five shades.
Its key ingredient is concentrated Pitera™, formulated at the same level as that of SK-II skincare products. From the moment of application, until you take it off at the end of the day your skin spends every minute with concentrated Pitera™, which makes Facial Treatment Cream Foundation an option for women who wear foundation for long hours. 24-hour moisturization – that lasts and lasts Thanks to its unique base formula and powerful humectants, Facial Treatment Cream Foundation moisturizes skin all day, keeping it hydrated for 24 hours. After two weeks of continuous usage, women experienced an improvement in the level of skin hydration. In addition to Pitera™, Facial Treatment Cream Foundation is formulated with phytosterols derived from marine seaweed and rice, helping skin to remain soft and supple throughout the day.
Further contributing to the long lasting moisturization is the foundation's carefully selected base formula, which forms a light protective layer against dryness, leaving the skin with a smooth radiant finish. Advanced foundation technology for even coverage and translucency The unique combination of pigment, moisturizer oil and wrinkle smoothing ingredients in the formula create a supple finish while delivering full coverage with enhanced radiance and coverage of fine lines especially around the eye area.
Pricing: Facial Treatment Cream Foundation 25g / $95.00
$160.89 BUY IT NOW 0hr 30mins

$226.92 BUY IT NOW 0hr 30mins

$239.01 BUY IT NOW 0hr 30mins

$231.57 BUY IT NOW 0hr 30mins

$179.9 BUY IT NOW 1hr 30mins

$60.0 BUY IT NOW 1hr 37mins

$50.03 BUY IT NOW 1hr 54mins

$174.9 BUY IT NOW 2hr 8mins
disclaimer
Categories: beauty
Tags: