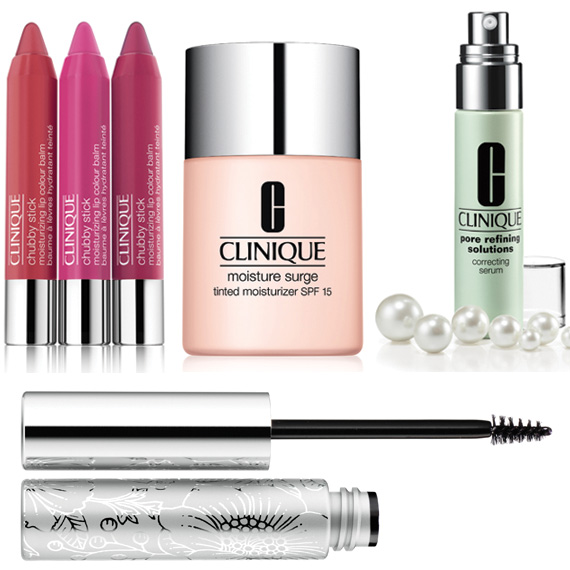 I love Clinique products and use their products daily so I'm excited to try out these four new releases: Chubby Stick Moisturizing Lip Colour Balm, Moisture Surge Tinted Moisturizer SPF 15, Pore Refining Solutions Correcting Serum and Bottom Lash Mascara. I'm all about moisture for my skin because I have dry skin especially in the winter time, even during spring/summer I get dry skin sometimes too. And I'm most excited about the Bottom Lash Mascara, I never do my bottom lash because I always get it all over my skin but this micro-mini brush may do the job! Since spring is FINALLY here, it's all about the juicy and hydrated lips! I'm a fan of Clinique's lip products since it keeps my lips moisturized and it's not super sticky, these cute Chubby Stick Moisturizing Lip Colour Balm are like crayons, infused with Shea Butter, Mango Seed Butter and Jojoba Seed Oil, so yummy. And it's important for the ladies to keep our pores refined for obvious reasons, check out the new releases…

Here's how Bottom Lash works:
• The thermal active formula wears true for up to 24-hours without smudging or smearing,
is flake resistant, and is waterproof in cold water.
• The acrylates copolymer dries after application and immediately provides a film layer that protects the formula from cold water, sweat and humidity.
• The stretchable clay-like ingredient, bentonite, smoothly coats bottom lashes for natural definition while jojoba oil conditions the lashes.
• To remove, simply soak a cotton pad with warm water and gently press on the lashes to loosen the mascara, and then wash the face as usual.
Here's a tip: For those who have short bottom lashes, hold brush tip vertically and wiggle through lashes then hold normally (or horizontally) to even out for a perfect application.
Fun Fact: Clinique's NEW Bottom Lash Mascara is the first micro-mini brush with thermal technology available in the U.S.
Available in Black and Black/Brown. Suggested Retail Price: $10.00, 90-day supply.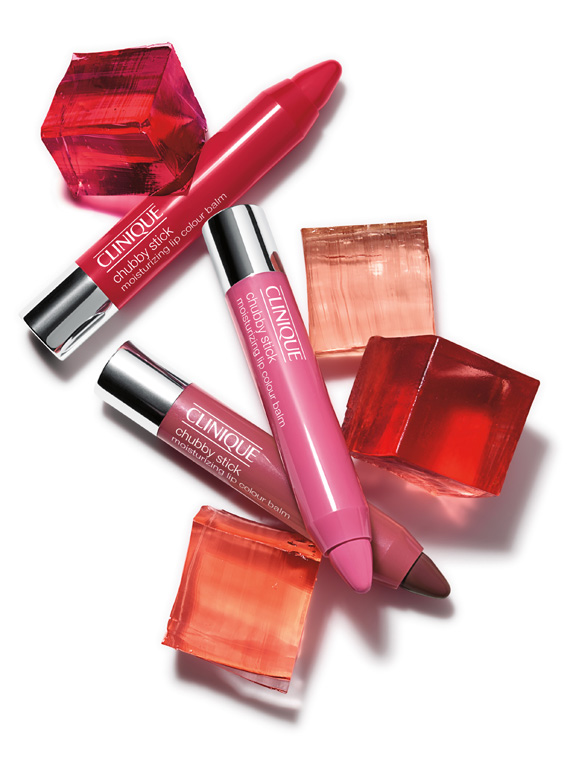 Chubby Stick Moisturizing Lip Colour Balm
Packaged in a playful, shade-matched crayon-esque barrel, the balm-like formula provides stay-true colour and buildable coverage. To apply, simply twist the base to expose more balm and twist back down before replacing the cap. Available in eight mouthwatering shades, ranging from nudes to pretty pinks and deep purples, it's the perfect accoutrement for any occasion. Don't leave home without one of these pout pleasers in: Chunky Cherry, Fuller Fig, Graped-up, Mega Melon, Richer Raisin, Super Strawberry, Whole Lotta Honey and Woppin' Watermelon. suggested retail price of $15.00.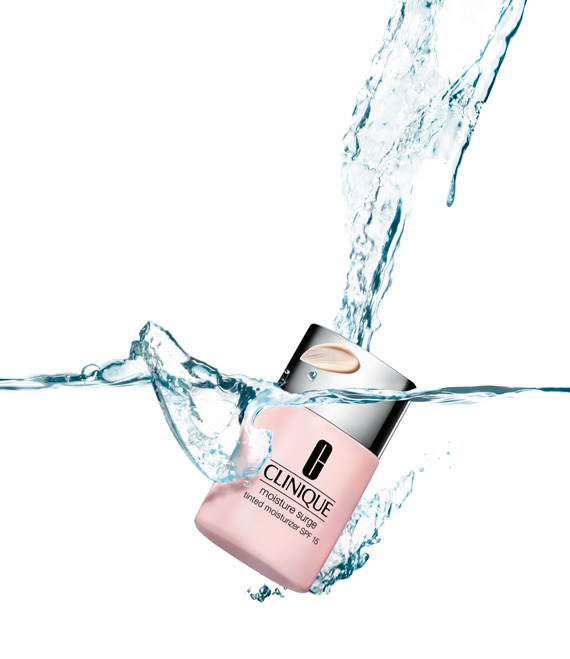 Moisture Surge Tinted Moisturizer SPF 15
Smooth on an instant moisture boost with SPF protection and a hint of skin-perfecting colour. Refreshingly lightweight formula provides a no-makeup look and feel, yet covers imperfections with a natural, hydrating touch. Oil-free. suggested retail price of $24.50.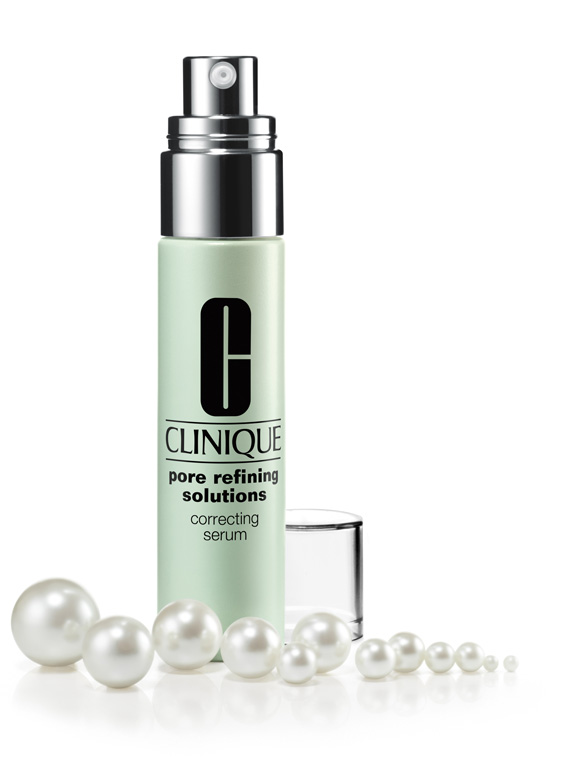 Pore Refining Solutions Correcting Serum
Clinique's unique Pore Resurfacing Complex works in three ways to help minimize pores, giving skin a more polished look.
• Supports cell maturation: Uses Padina Pavonica Extract to activate a natural skin enzyme that helps ensure cells are healthy and fully developed when they reach skin's surface, preventing rough texture, a weak skin barrier and large pores.
• Balance oil production using "Smart" Technology: First, Laminaria Saccharina Extract minimizes sebum production. Then Hydrolyzed Soy Proteins and Coconut Acid work to "seek out" areas with excess sebum and balance production so skin is never too oily or too dry. Better sebum balance means less clogged and distended pores and a more youthful appearance.
• Keep skin smooth: Salicylic Acid and Acetyl Glucosamine gently clear out dead or dulling skin cells that build up around the edges of pores, keeping pores clear so they don't stretch out and appear larger than they really are.
suggested retail price of $39.50.
$22.84 BUY IT NOW 0hr 0mins

$55.99 BUY IT NOW 0hr 3mins

$9.38 BUY IT NOW 0hr 3mins

$28.96 BUY IT NOW 0hr 4mins

$35.78 BUY IT NOW 0hr 4mins

$56.0 BUY IT NOW 0hr 4mins

$28.88 BUY IT NOW 0hr 4mins

$37.28 BUY IT NOW 0hr 4mins
disclaimer
Categories: beauty
Tags: