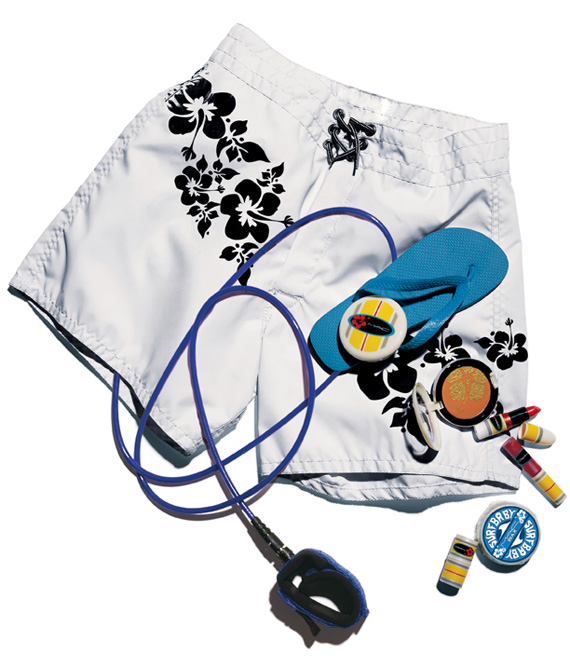 Who's ready for summer? I am so ready, been ready and dying to get some sun! I'm always super excited with new MAC Cosmetics launches, coming in May a new collection called Surf, Baby! will get you excited! I'm a big fan of special packaging, this collection's packaging is so bright and makes me think of Hawaii! I like. The Surf, Baby! collection will be available from May 26, 2011 through July 7, 2011.
Grab the board, hop in the Jeep, quench your lips in Krazy Kahuna, cruise the Pacific Coast Highway…Surf's up! The lure of the endless summer starts here with a Colour Collection that captures the spirit of a subculture obsessed by wild encounters with waves: Freedom, escapism and individual expression…where stylish survival meets grace under pressure and artistic invention. Surf Baby! Beaded and bearded beach boys strum their love in surf shacks and bikini-babes bring commotion to the ocean with My Paradise cheek powder, a Summer Stash of Crushed Metallic Pigments, Hibiscus Lipstick and ride the curl in Splashproof Lash Mascara that won't smudge in the surf. Colourful lustrous, and full of life…journey to a world where feeling the rush means taking a risk. Hang Ten!

Surf, Baby! Bronzing for every dude and dudette looking to hit the half-pipe with a killer (but totally harmless) tan. In between surf sessions, live barefoot and sand-caked, your skin sun-kissed by Solar Riche Bronzing Powder and brushed in Gold-go-Lightly with our NEW Studio Careblend/Pressed Powder. Capture the surf spirit with the NEW Skinsheen Bronzer Stick, sculpting and contour-creating, adding dimension in a way that a flat-out tan can't! Defy sun-and-sea blasted lips with Full of Grace, Pink Tinge and Lilt of Lily, three Suntints SPF 20 Liquid Lip Balms. A LIMITED- EDITION, way epic collection for beach bums and babes of all ages, all races and all sexes.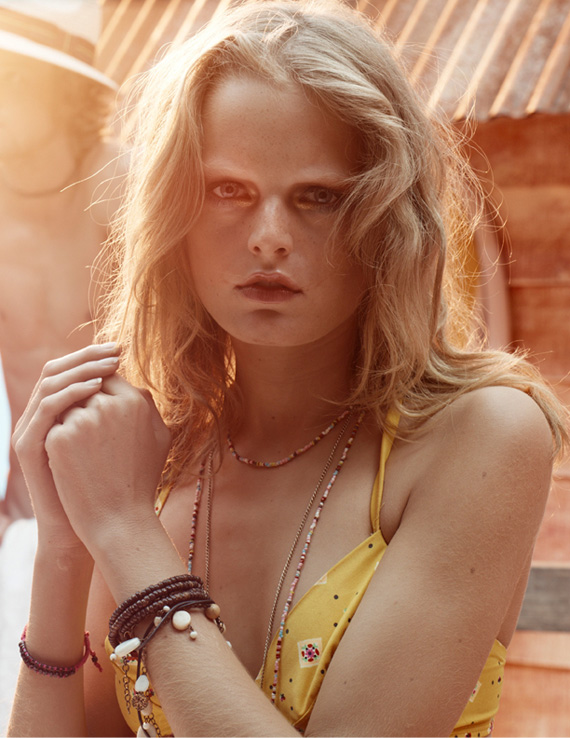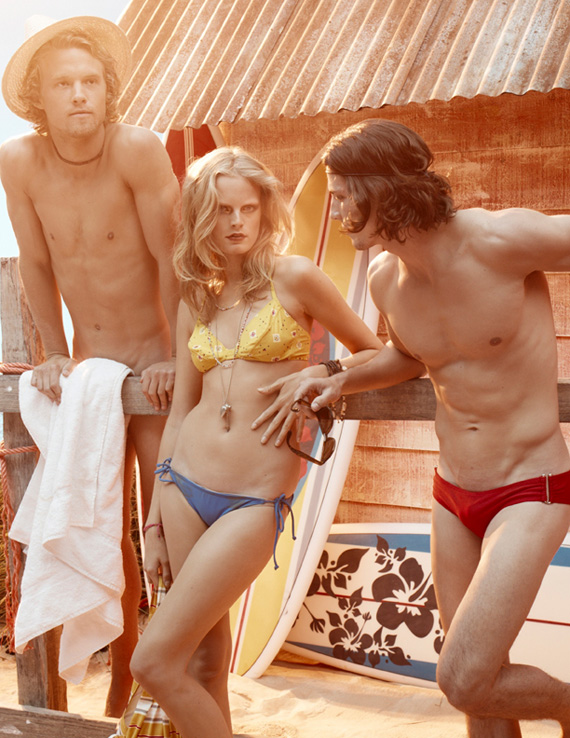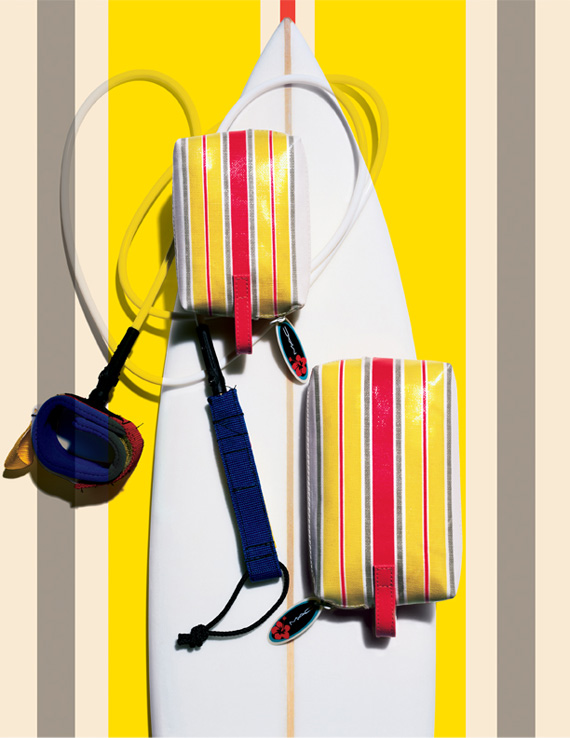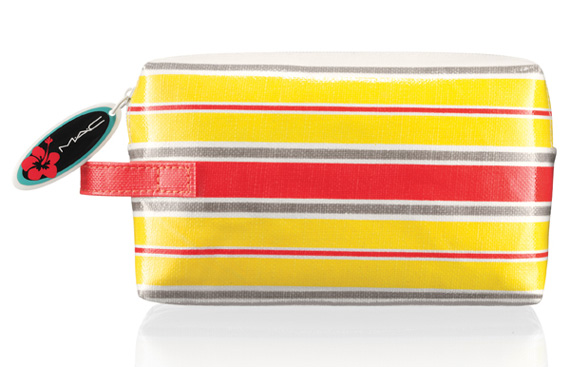 Surf, Baby! 1 at M·A·C stores only | Suggested Retail Price $28.00 U.S./$33.50 CDN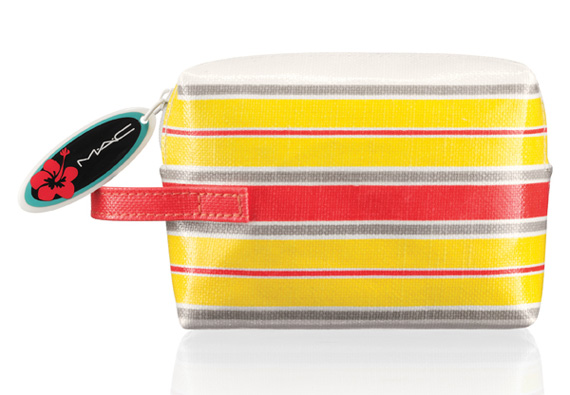 Surf, Baby! 2 at M·A·C stores only | Suggested Retail Price $32.00 U.S./$38.50 CDN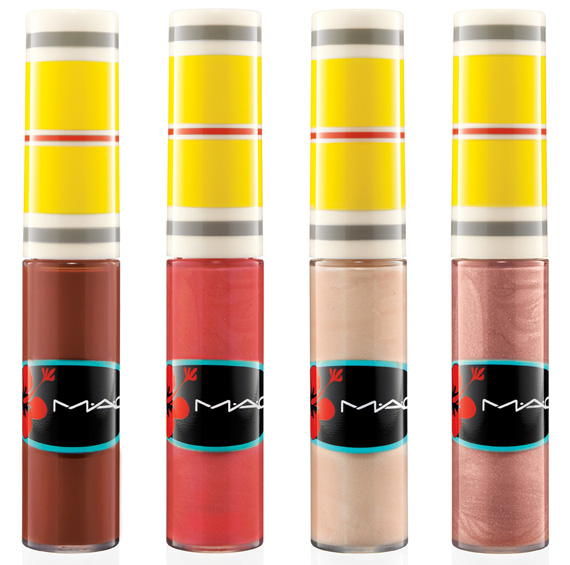 LIPGLASS Suggested Retail Price $15.50 U.S./$18.50 CDN
Girl On Board Pale white gold
Good Lovin ' Soft peachy pink
Strange Potion Soft coral pink
Krazy Kahuna Warm mid-tone brown

SUNTINTS SPF20 LIQUID LIP BALM Suggested Retail Price $15.50 U.S./$18.50 CDN
Full of Grace Soft sheer rose
Pink Tinge Clean bright yellow pink with gold pearl
Lilt of Lily Soft creamy pale pink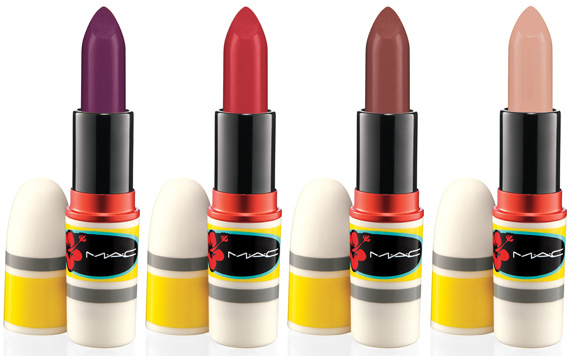 LIPSTICK Suggested Retail Price $15.50 U.S./$18.50 CDN
Naturally Eccentric Creamy white nude (Lustre)
Hibiscus Bright orange coral (Cremesheen)
Bust Out! Dirty mid-tone violet (Lustre)
Mocha Peachy yellow-brown (Satin)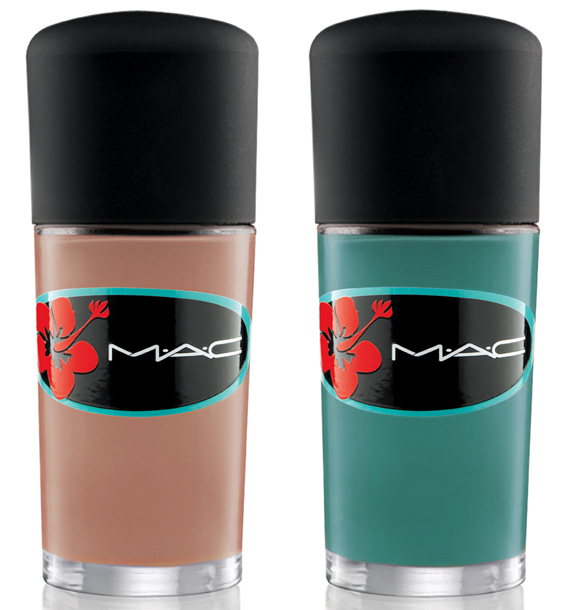 NAIL LACQUER Suggested Retail Price $15.00 U.S./$18.00 CDN
Hangin' Loose Dirty pink nude
Ocean Dip Mid-tone creamy aqua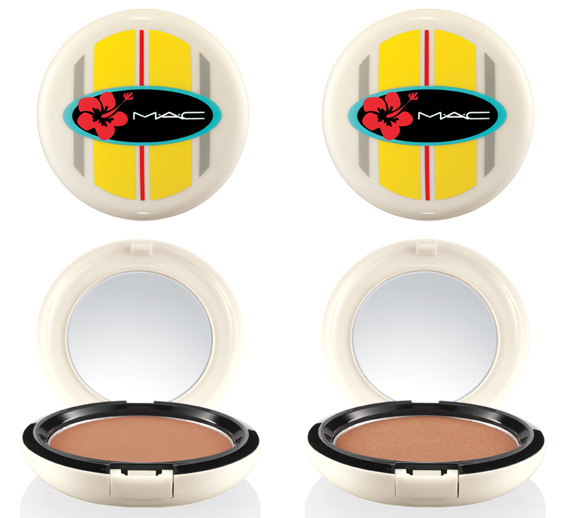 BRONZING POWDER Suggested Retail Price $24.00 U.S./$29.00 CDN
Refined Golden Finely spun golden with soft pearl finish
Solar Riche Mid-tone deep orange brown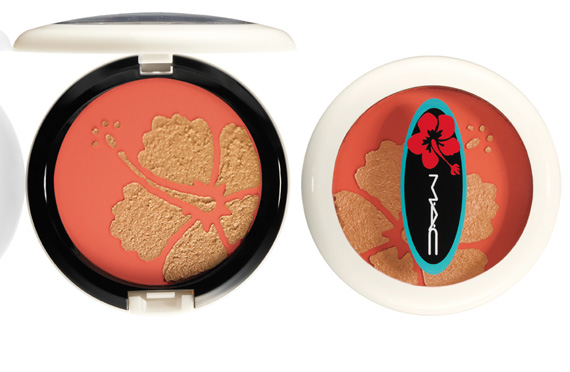 SURF, BABY! CHEEK POWDER Suggested Retail Price $28.00 U.S./$32.00 CDN
My Paradise Peach pressed powder with gold hibiscus flower overspray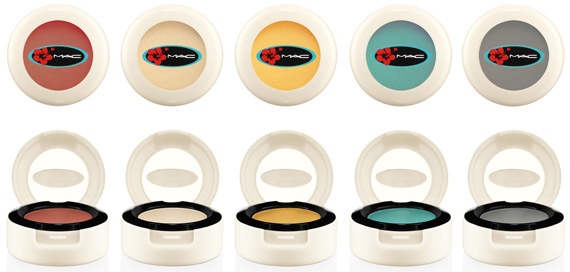 EYE SHADOW Suggested Retail Price $15.50 U.S./$18.50 CDN
Short Shorts Frosty white champagne (Frost)
Sun Blonde Dirty yellow gold (Frost)
Saffron Deep coral caramel (Satin)
Surf USA Frosted teal (Frost)
Swell Baby Mid-tone grey (Satin)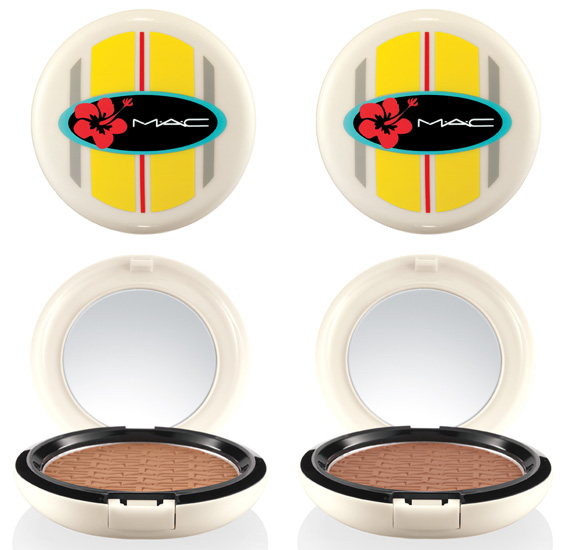 STUDIO CAREBLEND/PRESSED Suggested Retail Price $28.00 U.S./$33.50 CDN
Gold-Go-Lightly Mid-tone golden tan brown
Lush-Light Bronze Mid-tone rosy pink brown

POWERPOINT EYE PENCIL Suggested Retail Price $15.50 U.S./$18.50 CDN
Gilded White Yellow white frost
Blue Noon Teal with gold pearl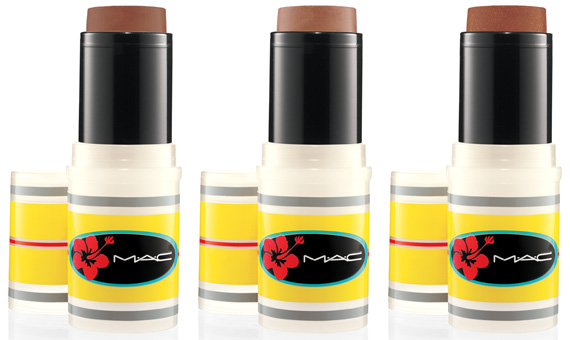 M·A·C SKINSHEEN BRONZER STICK Suggested Retail Price $29.50 U.S./$35.50 CDN
Tan-Tint Soft suntan bronze
Billionaire Bronze Warm golden tan
Gilty Bronze Coppery bronze with gold shimmer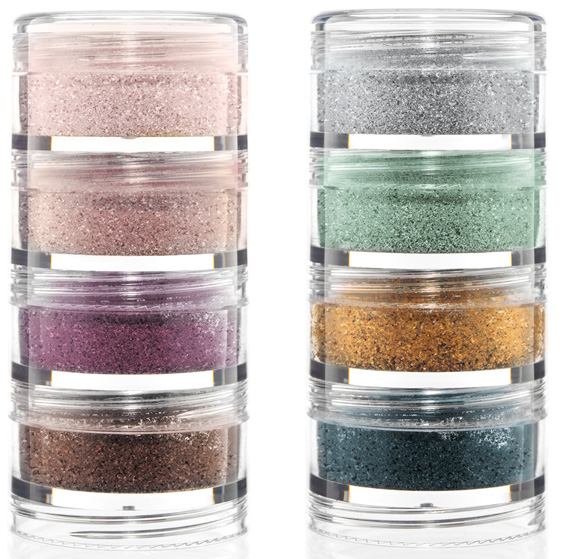 CRUSHED METALLIC PIGMENT Suggested Retail Price $32.50 U.S./$38.50 CDN
Summer Stash
Light pink champagne (Frost)
Light white pearl (Frost)
Light violet with silver pearl (Frost)
Brown bronze with gold pearl (Frost)
Surf The Ocean
Frosty platinum (Frost)
Light yellow green (Frost)
Gold bronze (Frost)
Dirty graphite with silver pearl (Frost)

PIGMENT Suggested Retail Price $19.50 U.S./$23.50 CDN
NAKED Fleshy beige with golden copper pearl
MELON Soft bright golden peach

SPLASHPROOF LASH MASCARA Suggested Retail Price $14.00 U.S./$17.00 CDN
Blacksplash Black
BRUSH Suggested Retail Price $34.00 U.S./$41.00 CDN
129SH Powder/Blush Brush
$12.99 BUY IT NOW 0hr 1mins

$22.49 BUY IT NOW 0hr 1mins

$23.0 BUY IT NOW 0hr 2mins

$10.19 BUY IT NOW 0hr 2mins

$60.0 BUY IT NOW 0hr 2mins

$47.99 BUY IT NOW 0hr 2mins

$62.99 BUY IT NOW 0hr 2mins

$73.99 BUY IT NOW 0hr 2mins
disclaimer
Tags: