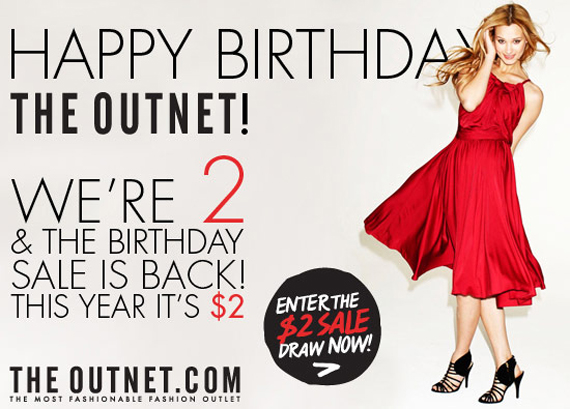 Remember when TheOutnet turned 1 with a celebration of a $1 designer goods sale? That was seriously amazing, too bad I wasn't one of the lucky ones to get my hands on a designer piece for just $1! No worries if you missed out, the sale is back because they're celebrating their 2nd birthday with a $2 designer goods sale!! The $2 sale will be on April 16th but follow the rules below to win a sale ticket! Good luck!
To win a $2 sale ticket, you'll need to ENTER THE DRAW between April 4th and April 12th.
– Enter the $2 sale draw and every day 200 winners will be picked at random to win a ticket to the sale on April 15th.
– You only need to enter once to be included in every daily draw.
– There are more chances to win! Get your friends to enter and you could win a ticket – the top 200 sharers will automatically receive a ticket.
– They're also giving away 20 prizes of $200 store credit and all those who enter the draw will receive free shipping. Everyone's a winner!
There are only 2,000 tickets and with over 2,400 designer items priced at just $2 each, here's a sneak peek of what to expect…
$105.0 BUY IT NOW 0hr 7mins

$48.0 BUY IT NOW 0hr 19mins

$43.99 BUY IT NOW 0hr 20mins

$46.99 BUY IT NOW 0hr 22mins

$46.99 BUY IT NOW 0hr 24mins

$37.99 BUY IT NOW 0hr 24mins

$100.0 BUY IT NOW 0hr 29mins

$25.0 BUY IT NOW 0hr 34mins
disclaimer
Tags: