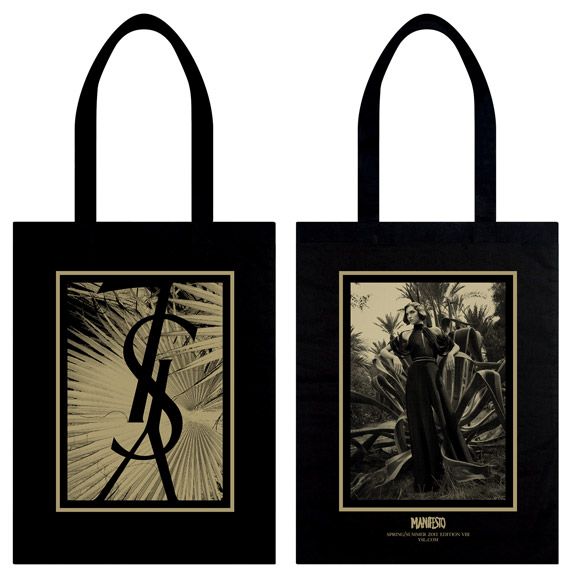 Photos courtesy of Yves Saint Laurent
I know a lot of you guys have been waiting for the announcement of the new YSL Manifesto plus free tote, I was surprised myself that it wasn't released during NYFW. But whatever the reason is, the eighth edition of the publication, conceived by Creative Director Stefano Pilati and produced and distributed by the brand will hit the streets and YSL.com on March 5th.
YSL's launch of 'La Manifesto' for SS 2011 will circulate the publication on the streets of Paris, New York, London, Milan, Tokyo, Hong Kong and, for the first time, Los Angeles. The publication will be distributed to the first 2,000 passerby in each city listed above in a special tote bag crafted especially for The Manifesto. The SS11 issue of The Manifesto features model Arizona Muse, shot by Inez van Lamsweerde and Vindooh Matadin under Pilati's creative direction. Who's excited?
"I offer another perspective of a luxury brand to a broad demographic that doesn't necessarily relate to fashion in the way that a more privileged layer of people do. I want to create a wider influence for the message that is being sent from the catwalk, by taking imagery of the collection and giving it to people on environmentally friendly paper in the street without targeting a specific demographic." ~ Setfano Pilati
UPDATE 03.05.2011: Just got the list of the NYC locations from the YSL PR, peep it after the jump!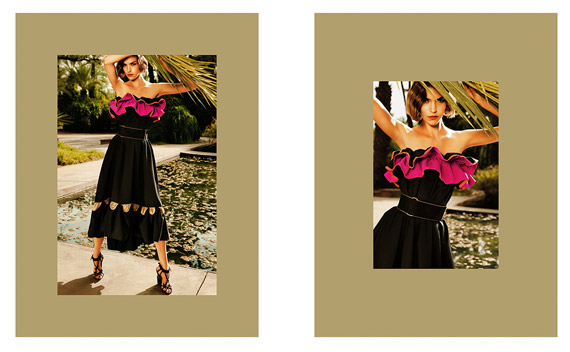 UPDATE 03.05.2011:
FROM YSL PR ~
NEW YORK
10:30am – 11:30am
Standard Hotel/Highline – 13th and Washington
Columbus Circle – 58th and 8th Avenue
5th Avenue – Between 16th and 21 Street
Nolita – Mulberry and Mott
 
12:00pm – 1:30pm
Chelsea Market – 9th Avenue between 15th and 16th
MOMA – 53rd between 5th and 6th Avenue
Union Square – West 14th and University Place
Lower East Side – Rivington between Prince & Broome
 
2:00pm – 3:30pm
West Village – Bleeker between West 11th and Christopher
YSL Boutique – 3 East 57th Street
Cooper Square – Cooper Square and East 6th
Carroll Gardens – Smith Street and Atlantic in Brooklyn
 
4:00pm – 5:30pm
Washington Square Park – Laguardia Place and West 4th Street
Grand Central Station – 42nd and Park Avenue
Broadway between Prince and Broome
Williamsburg – Bedford and North 7th
$115.86 BUY IT NOW 6hr 3mins

$183.86 BUY IT NOW 6hr 6mins

$2.85 BUY IT NOW 0hr 18mins

$389.0 BUY IT NOW 0hr 19mins

$389.0 BUY IT NOW 0hr 20mins

$2.55 BUY IT NOW 0hr 20mins

$2.55 BUY IT NOW 0hr 24mins

$2.55 BUY IT NOW 0hr 26mins
disclaimer
Tags: