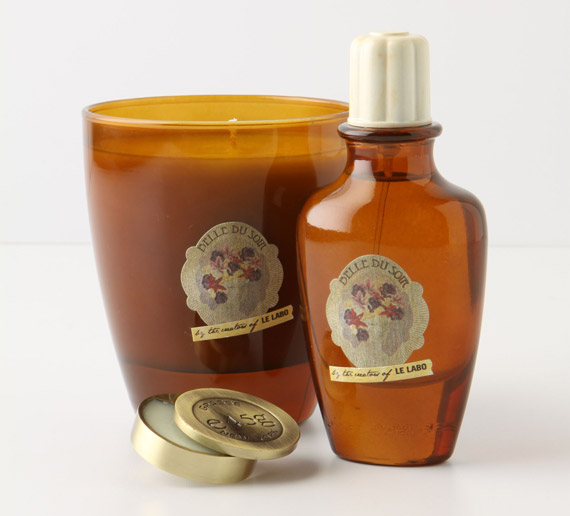 Last night was a busy night, I made my rounds in the Meatpacking area for events and one stop was to the launch event at Anthropologie for the "By The Creators of Le Labo," the exclusive collection of fragrances and candles between Anthropologie and Fabrice Penot and Edouard Roschi, founders of New York cult fragrance house Le Labo. I'm super picky when it comes to candles and fragrances, but I'm absolutely in love with this collection.
Created exclusively for Anthropologie, the line is a collection of five unique and historically inspired scents formulated by Le Labo founders Fabrice Penot and Edouard Roschi. The collection consists of Chant de Bois (a feminine wood), Belle Du Soir (a musky chypre), Orange Discrète (a clean citrus), Poudre D'Orient (an oriental blend) and Bouquet Blanc (a decadent floral). My favorite of all is Bouquet Blanc.
In the spirit of traditional French perfume guild practices, each scent is made of natural, high-quality ingredients. Protective amber glass vessels—including a replica of an 18th century poison bottle—house the eau de parfum, wood block diffuser and candle, while a sliding metal compact fashioned after turn-of-the-century measuring tins encases the solid perfume. Vintage stamp designs further enhance the distinct charm of each fragrance. I love love love the vintage look of the bottle and stamp designs, so different from what I have in my collection.
The collection is available in Eau de parfum 50 ml $62, Solid perfume 4.5 g $28 and Candle 12 oz $32, available at Anthropologie stores and anthropologie.com.
More info about each fragrance after the jump…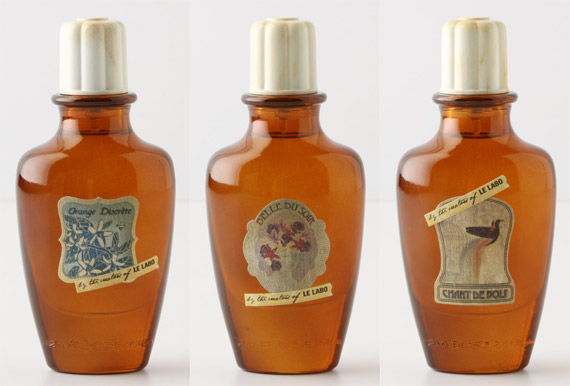 Chant de Bois
Top notes: bergamot, grapefruit, hint of aldehyde
Middle notes: hedione, pink pepper
Base notes: patchouli, cedarwood, ambrox
Belle Du Soir
Top notes: neroli, galbanum, waterlily
Middle notes: jasmine blossom, rose petals, gardenia
Base notes: patchouli, cedar, sandalwood, musk captives
Orange Discrète
Top notes: galbanum, petigrain, bergamot, mandarin zest
Middle notes: cyclamen, jasmine sambac, orange blossom
Base notes: vetiver, cedarwood, sandalwood, musk captives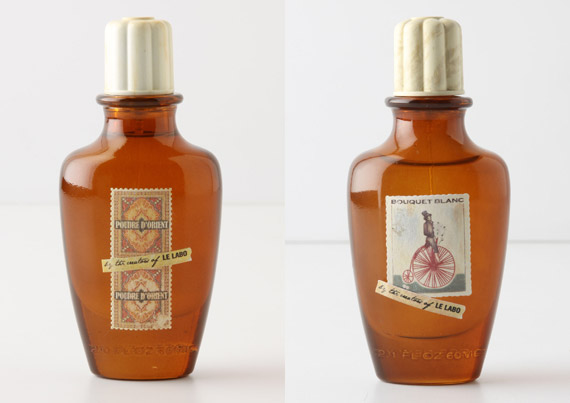 Poudre D'Orient
Top notes: violet leaves
Middle notes: patchouli, iris flower
Base notes: cashmere woods, vanilla, suede musk, cedarwood
Bouquet Blanc
Top notes: cassis buds, bergamot
Middle notes: ylang ylang, jasmine, tuberose, orange flower
Base notes: musk, sandalwood, vetiver
$29.99 BUY IT NOW 0hr 53mins

$27.0 BUY IT NOW 5hr 8mins

$27.5 BUY IT NOW 5hr 12mins

$51.0 BUY IT NOW 5hr 17mins

$14.99 0 bids 5hr 21mins

$51.04 BUY IT NOW 5hr 23mins

$50.0 BUY IT NOW 5hr 27mins

$50.4 BUY IT NOW 5hr 28mins
disclaimer
Categories: beauty
Tags: