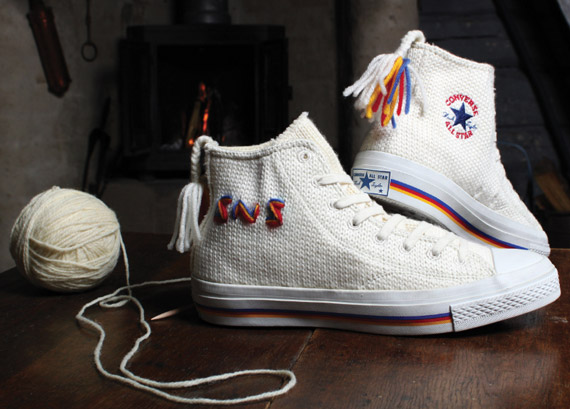 Photos courtesy of Converse
Loving this new collaboration between The Sneakersnstuff and Converse which pays tribute to Erika Aittamaa, a Lovikka villager (a small village in Sweden) who began knitting mittens to help support her family. Crafted to withstand the extreme cold of the north, the mittens were knitted with local yarn, pre-washed for softness and spun to be twice as thick for added warmth. Today, over a century later, the Lovikka mitten has become an iconic staple of Swedish mountain culture and a true reflection of craft, culture and community.
The Sneakersnstuff x Converse Lovikka All Star sneaker features the iconic mitten design on the Chuck Taylor model featuring an off-white wool upper with accent embroidery and crafted details. The knitted sneaker references the signature Lovikka tassel on the heel-stay and replicates the iconic red, yellow and blue color pops on the midsole with a tri-color printed pinstripe. These drop on December 3rd and will be available exclusively at Converse First String retail destinations. Offered in unisex sizing 4 – 12, the shoes will retail for $90 and be available at Bodega (Boston), Colette (Paris), Hanon (Aberdeen), Sneakersnstuff (Stockholm and Malmö) and at Undefeated (Los Angeles).
LOVE the shoes, they're so cute- too perfect for the holiday season!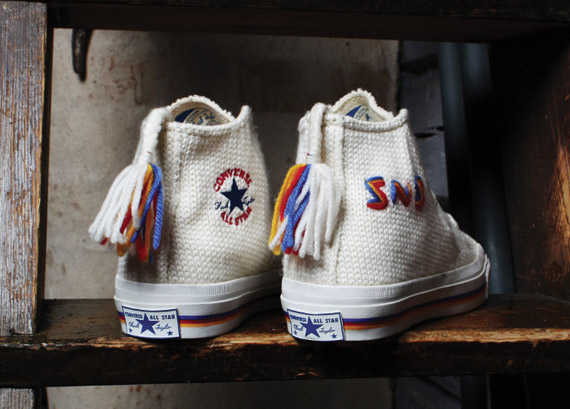 $40.0 BUY IT NOW 2hr 41mins

$24.99 0 bids 8hr 55mins

$49.0 BUY IT NOW 10hr 35mins

$24.99 BUY IT NOW 14hr 37mins

$28.0 BUY IT NOW 0hr 48mins

$65.0 BUY IT NOW 9hr 46mins

$37.5 BUY IT NOW 10hr 25mins

$67.99 BUY IT NOW 10hr 39mins
disclaimer
Categories: fashion kicks mens
Tags: