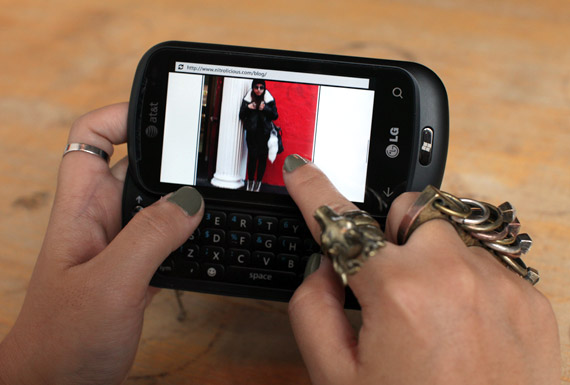 For my friends and long time followers, I'm sure by now you guys already know that I'm a gadget freak. I especially love trying out new phones and last month I was happy to receive Microsoft's newest smartphone, Windows Phone 7. I chose the AT&T LG Quantum because it has a full QWERTY slide-out keyboard since I'm not too used to touch screen but I must say the touch screen keyboard is pretty accurate. I can type an email with the touch screen keyboard and not complain, that means a lot ha! The phone may be a bit on the heavy side because of the keyboard but I like my options and don't mind it. Love the crisp large screen to browse the web and view pictures. The homepage is made up of "tiles," a list of  live updates, favorite apps (you can pin as much as u want and reorder them), people, emails, etc; scroll to the right and there's the application list; and the "hub" pages.
Being this is a new operating system, it is also one of the more unique I've used. As I've mentioned, the homepage is made up of "tiles" which has a simple yet elegant design and immediately there is a sense of relief, there's no clutter or no wondering where to go. Navigation is a basic up and down or left and right, scroll down and the rest of the tiles are a number of standard apps. To customize, you'd just scroll to the right where the rest of the apps are located, from here you can click-hold and you can 'pin' an app to the home screen. And to remove from the home screen, click-hold and select remove. The OS is not perfect, there's a slight lag when going from vertical to horizontal and also in the marketplace (where you download apps). When I first got my phone last month there wasn't a lot of free apps but everyday since new ones have been added, I'm quite enjoying all the fun apps. Microsoft also brought together Xbox LIVE games, Zune music and video experience, and office all-in-one mobile phone, this is quite impressive.
The camera on the phone is one very important aspect for me, especially if you're a blogger. Ever get stuck in a situation where you're trying to snap a photo with your phone but miss it because your phone was locked or takes too long to load? Well, this phone not only has great image quality (5 megapixels), but it's fast too (about 2 secs between shots)! Also while the phone is locked, you can still enter the camera without unlocking your phone by holding down the camera button (on the side of the phone) and it will bring you to the camera so you can start snapping. You can also shoot videos in HD which is a must nowadays! But one annoying thing I found with the camera is that the camera settings don't save, so if you want a certain setting that's not default you'll have to go in there and set it before you snap your photos. That needs a fix asap!
Did you know that 24% of females between the ages of 18 and 34 said they've used their phone to answer a call, text or email during an intimate encounter, twice as many as males in the same age category. Technology has its ups and downs haha, just saying. I'm not going to go all techy on you so if you want to learn more, click here.
To celebrate the launch of the Windows Phone 7 released today, November 8th, Microsoft and AT&T are throwing free concerts featuring Katy Perry in NYC and Maroon 5 in San Francisco tonight. Tickets to these events are free while supplies last, and can be picked up at participating AT&T stores in San Francisco and New York City today, check out the locations below. I'll be attending the Katy Perry concert tonight so if you see me, come say hi! More info after the jump…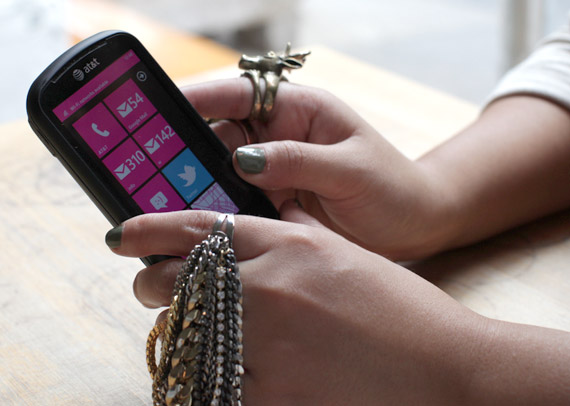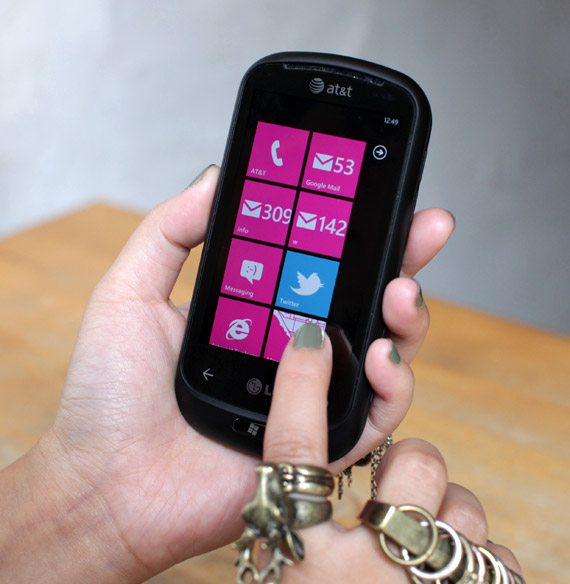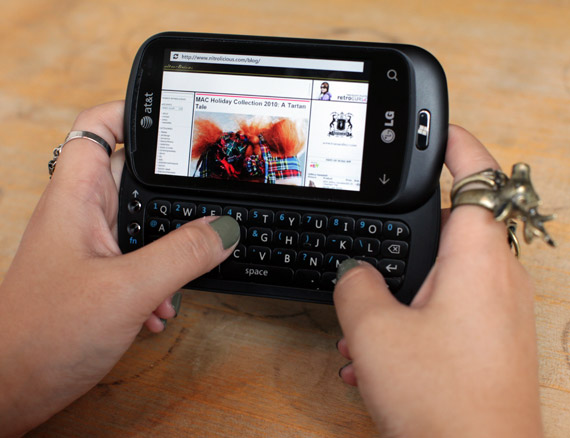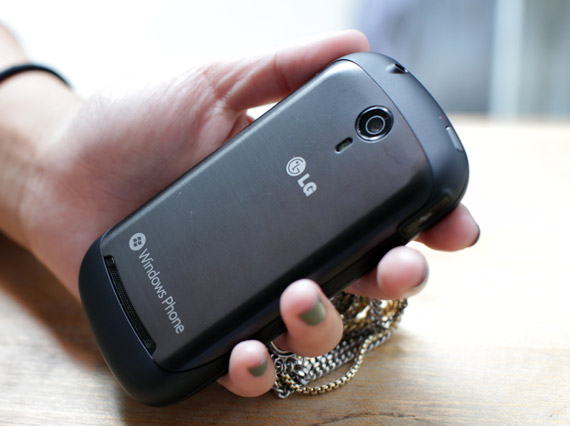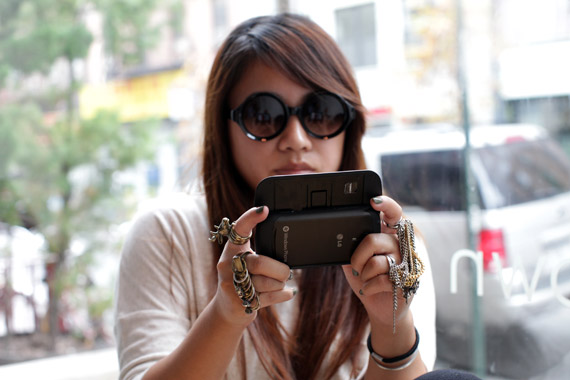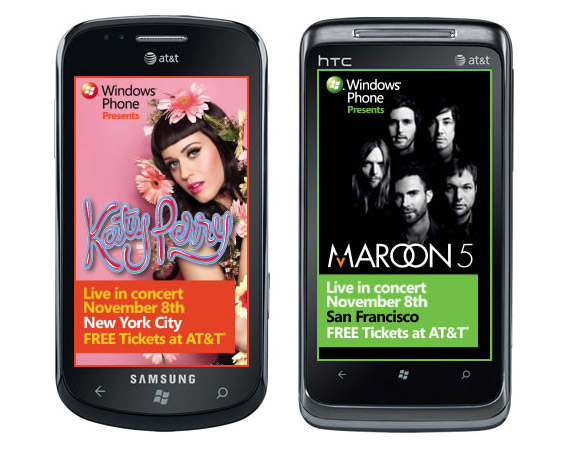 Katy Perry will be playing at the Roseland Ballroom in NYC, doors at 7pm and tickets can be obtained at the below AT&T retail locations:
209 West 34th Street
381 Madison Avenue
82 Wall Street
3 Times Square***
East 17th Street (Union Square)
745 Broadway
773 Lexington Avenue
Maroon 5 will be performing their free concert at the Fillmore in San Francisco and tickets can be obtained at the below ATT&T retail locations.
425 Market Street
701 Market Street
San Francisco Westfield Mall
Stonestown Galleria
2410 Mission Street
2135 Union Street
236 King Street
3555 Geary Boulevard
325 Gellert Boulevard, Daly City
5691 Bay Street, Emeryville
305 Corte Madera Town Center, Corte Madera
*** Also beginning today, Rob Dyrdek and Minka Kielly will be taking part in the launch celebration by embarking on a whirlwind cross country trip, dubbed the Really Rally Road Trip. Rob and Minka will begin their journey in NYC on Monday morning, and a film crew will document their adventure as they spend the day launching across the US, ending up at the Maroon 5 show in SF. Follow their journey online at www.windowsphone.com and check out the preview below:
$19.95 BUY IT NOW 0hr 30mins

$5.0 BUY IT NOW 2hr 56mins

$5.0 BUY IT NOW 3hr 1mins

$5.0 BUY IT NOW 3hr 25mins

$29.99 BUY IT NOW 4hr 22mins

$5.0 BUY IT NOW 5hr 32mins

$7.99 BUY IT NOW 6hr 2mins

$5.0 BUY IT NOW 6hr 3mins
disclaimer
Categories: celebrities fashion gadgets music
Tags: