Sponsored Post
I'm all about the eyes, if you've been following my blog long enough you know I'm one of the lowest maintenance gurl you'll ever meet when it comes to makeup…well at least compared to most people I know. Most of the time I don't wear makeup but if I do, it's all about the mascara and lip gloss. Earlier this month I decided to try something new, I had a gift certificate a spa to try false eyelash extensions. I had high hopes since a lot of my friends had it done before and it looked amazing on them (not at the spa I tried it at), I've never really wanted to try it because it takes 1-2 hours to put them on. But my gc was about to expire and I wanted to do as little as possible during New York Fashion Week, so I decided to give it a try! The results at the first spa I tried was not as expected, the extensions were long but not curly, full or luscious, and it took 2 hours to have them put on! I'm very impatient when it comes to getting dolled up, so I was a bit annoyed already. It also got messed up pretty quickly in the first week and they're suppose to last at least 3-6 weeks!
Then at a Hennessy event I saw my friend Jennifer Yu's lashes and she told me she got them done at Browhaus. They were long, curly and full, just like how I want them. Jen told Browhaus about me and last Friday, I was invited to Browhaus for a complimentary full set of false eyelash extensions at their newly opened store in Soho. The spa was really cute, I had a quick tour and later was introduced to my technician Krystal. She asked me how I wanted my lashes to look and removed my remaining false lashes from the previous spa. Remember not to remove your false lashes at home yourself because you'll yank out your own lashes while you're at it! She was nice enough to take pics for me too haha, I told her I wanted to show my blog readers the transformation. The individual synthetic lashes are attached to your real lashes one by one until they're full and luscious, it's about 80 lashes customized to your eyes, depending on your own lashes, and takes about 1 hour. These false eyelash extensions typically lasts 3-6 weeks depending on each person and can be refilled anytime you feel you need them. I loved the outcome of this new set, looks very natural and not "drag queenish" at all, you know sometimes you can go OD on that. I wanted to wait until I was happy with mine until I wrote about it on my blog, I think I may need to continue doing this!
I have to admit that maintaining false eyelash extensions can be a pain at times, especially when it comes to washing your face and taking a shower. You have to be very careful not to wet it too much or rub your eyes too hard because if you're super rough the lashes will fall off, they are glued on to your lashes only. Having excessive water running down your lashes is not good too, it loosens the glue and I've been told that some gurls go as far as wearing swimming goggles when they shower to protect the lashes haha, I am not that dedicated yet! But it's totally worth it and I'm addicted now! I just wake up wash my face, put on face lotion and I'm good to go!
Also, Browhaus is offering 20% off lash treatments and body waxing for first time visitors through October, so check it out if you want to try any of those services. Have any of you guys tried false eyelash extensions?
Browhaus
56 Spring Street
New York, NY, 10012
212.431.1124
www.browhaus.com/us
UPDATE 10.02.2010: For those that asked for pics of me looking forward, here's two posts ~ here and here. Note that I am not wearing any makeup except lip gloss.
Check out my pics after the jump…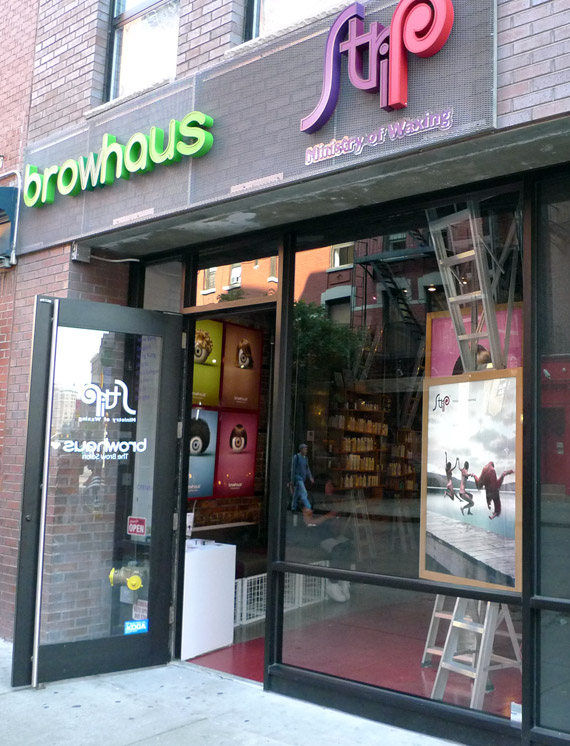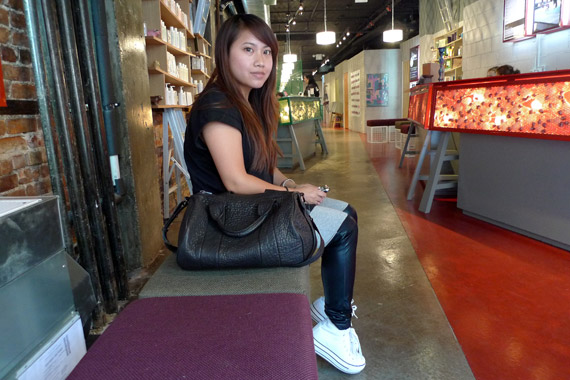 Outfit: 9am black top (bought from HK), Two-tone leggings (bought from HK), Alexander Wang x CFDA Swarovski Rocco Duffel (Gilt), iiJin Faux Croc Sneakers (courtesy of iiJin)


The left lashes were just started but the right lashes were fully done, see a big difference?


Both lashes are fully done, OMG amazing!
$24.99 BUY IT NOW 0hr 2mins

$399.0 BUY IT NOW 4hr 39mins

$800.0 BUY IT NOW 4hr 55mins

$155.99 BUY IT NOW 6hr 4mins

$250.0 BUY IT NOW 7hr 59mins

$325.0 BUY IT NOW 9hr 8mins

$395.0 BUY IT NOW 9hr 12mins

$300.0 BUY IT NOW 11hr 1mins
disclaimer
Categories: beauty fashion outfits
Tags: