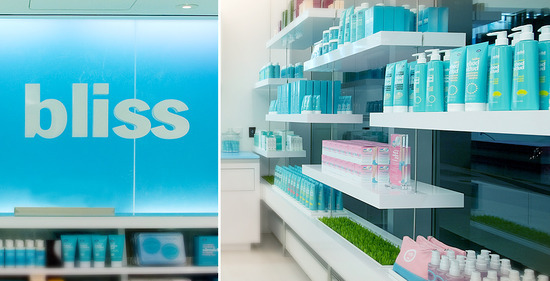 Today is the last day of New York Fashion Week, it was a fun week and all but I definitely need a massage. The Bliss Spa sale on Gilt.com couldn't of been scheduled at a better time, time to get some spa packages and relax! You deserve it, starting today at 12PM EST through Saturday, September 19th you'll be able to buy spa packages and products for up to 60% off. You'll be able to choose from its popular Triple Oxygen Treatment, a three-step complexion-reviving facial; the Blissage 75, a heavenly full-body rubdown; and the Homme Improvement Facial, a must for any well-groomed guy;  to name a few. Or, bring home the spa-quality treatment with Zest to Thrill, a citrus-scented bath set; Peeling Groovy, a gentle exfoliating formula; Hot Salt Scrub, a luxurious DIY skin-soother, and more! I'm counting down the minutes to shop…
SPA SERVICES OFFERED BY BLISS ON GILT GROUPE:
Triple Oxygen Treatment(tm)
Bliss' signature (and most popular) all-around complexion reviver starts with a skin-type-specific gentle peel, which is then followed by a warm pre-extraction oxygen wrap to help loosen debris and dirt before the necessary extractions. Next, layered applications of the Bliss Triple Oxygen + C Energizing Cream and Instant Energizing mask work to revive fatigued skin and brighten. Finally, a hydrating enzyme pack and a vitaminized oxygen spray top off this incredible service. It's like a breath of fresh air for your face, literally.
Blissage(tm) 75
Bliss' signature full body massage is designed to loosen you up and target your most 'troubled' muscles.  This service begins with an amazing warm wax foot wrap and then your technician uses a combination of Swedish and Shiatsu techniques to work through every knot from your head to your toe.
Homme Improvement Facial
This very virile, absolutely masculine version of our Triple Oxygen Treatment facial is performed with lots of hot towels, a series of scrubs and an anti-ingrown hair follicle calming mask.  Layered applications of the Bliss Triple Oxygen + C Energizing Cream and Instant Energizing mask work to revive fatigued skin and brighten skin tone. A hydrating enzyme pack and a vitaminized oxygen spray top off this incredible service. This facial is a must for any well-groomed guy.
Men's Full Back Wax
Leave nothing to grab on to with a quick, expert and as 'painless-as-possible' back wax. Bliss' high tech wax as well as pre and post wax solutions help to prevent breakouts and ingrown hairs — leaving you nothing but super smooth.
The 'About Face' Waxing Package
A must for any well-groomed guy, this waxing package will clean up unruly brows, errant ear hairs, and not-so-welcome nose hairs.
BLISS PRODUCTS AVAILABLE DURING GILT GROUPE SALE:
Fat Girl Three
Recreate Bliss' famous FatGirlSlim  body treatment with these spa-at-home essentials!  This body-toning trio features all of Bliss' famous 'Fatgirl' favorites for 24/7 DIY dimple dashing.
Includes full sizes of:
* 6 oz bliss fatgirlslim, for caffeine-powered daytime firming
* 8 oz bliss fatgirlscrub, for circulation-stimulating skin smoothing
* 6 oz bliss fatgirlsleep, for soothing overnight blub-busting
Zest to thrill
For the ultimate fan of Bliss' Lemon+Sage classic and refreshing scent, this trio is great for scent layering
You'll receive :
-12 oz lemon+sage body scrub. Made to be massaged on pre-shower, its circular scrubbing grains lift away dead cells, leaving your skin smooth, supple and silky.
– 6.7 oz lemon+sage body butter. Marvelously moisturizing, this fresh-citrus scented body butter is so incredibly effective that a single squeeze can make rough and scaly skin 'history'.
– 16 oz lemon+sage soapy suds . This citrus-scented liquid soap whips up a luxe lather that cleans and conditions for supremely soft skin.
Peeling groovy
Like a 1-step liquid microdermabrasion, this gently exfoliating dermatologist-developed formula is a triple threat against aging: it simultaneously perfects skin's texture, lightens dark spots (from sun, breakouts or other complexion-related mishaps) and lessens the look of lines and large pores.
Hot Salt Scrub
This super-softening, spa-strength provides skin smoothing action!  The all-over sea salt body scrub is oil-free, super-softening, self-heating and spiked with eucalyptus and rosemary oils. It's the ultimate do-it-yourself spa-strength skin smoother.
Problem Salved Duo
The Problem  Salved 20-in-1 wonderbalm is a one-stick wonder for your myriad of beauty mishaps. In a single swipe, Problem Salved can:
* soothe sunburn and windburn
* soothe just-waxed skin
* soothe stressed post-treatment skin
* soothe stinging and itching from insect bites
* moisturize chapped heels, elbows, knees
* moisturize chapped noses
* prevent runner's chafing
* prevent shoe blisters
* nourish cuticles
* tame hair flyaways
* groom eyebrows
* fix make-up mistakes
Get out of Hair
Want to keep visible fuzz and skin irritation at a 'bare' minimum between shaving or waxing? Leave it to Bliss' Get Out of Hair!, a targeted 3-in-1 body lotion to minimize hair re-growth, while exfoliating and hydrating the skin. Massage onto waxed or shaved body areas below the neck after hair removal, and then 1-2x daily. AND MORE!
$29.99 BUY IT NOW 0hr 15mins

$15.0 BUY IT NOW 2hr 21mins

$15.0 BUY IT NOW 10hr 56mins

$60.18 BUY IT NOW 11hr 37mins

$18.99 BUY IT NOW 13hr 56mins

$199.99 BUY IT NOW 14hr 42mins

$14.99 BUY IT NOW 15hr 32mins

$15.0 BUY IT NOW 15hr 42mins
disclaimer
Categories: beauty fashion gilt shopping
Tags: