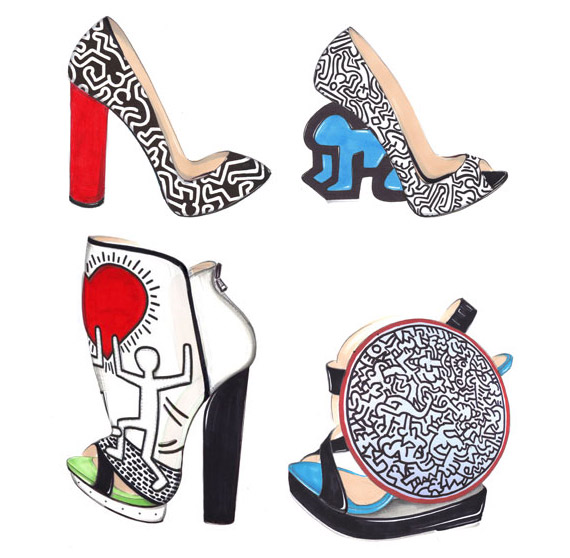 OMG, just spotted these super amazing Keith Haring by Nicholas Kirkwood shoes on Style File, so DOPE (*changed my word, people were seriously getting too worked up on ONE word*)! The collection consists of 12 footwear styles slated to release in February 2011. How sick are the designs? Love the first 4 pairs already, especially the peep-toe pumps with the baby heel!! Can't wait to see the full collection, hopefully the prices will not be too extreme (who am I kidding?).
"I watched this documentary called The Universe of Keith Haring, and though I know his style, I hadn't seen the breadth of his work. I couldn't stop thinking about how amazing and prolific he was and how great it would be to incorporate his graphics into my designs," Kirkwood explained. "So I ended up approaching the Keith Haring Foundation. I had to really sell them the product, but I think they're pretty happy with the end result."
On a side note, Nicholas Kirkwood will be launching a 8-day pop-up shop online featuring his collaborations for pre-sale with Rodarte, Erdem and Peter Pilotto will be available for pre-sale. Oh boy, gotta start saving up!

$206.25 BUY IT NOW 0hr 2mins

$112.5 BUY IT NOW 0hr 5mins

$112.5 BUY IT NOW 0hr 7mins

$112.5 BUY IT NOW 0hr 11mins

$112.5 BUY IT NOW 0hr 13mins

$112.5 BUY IT NOW 0hr 16mins

$225.0 BUY IT NOW 1hr 6mins

$69.99 BUY IT NOW 1hr 46mins
disclaimer
Categories: art/design fashion shoes
Tags: