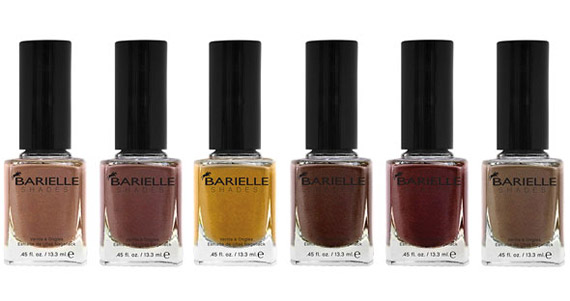 Is it fall yet? It felt like it earlier this week but now the temperature seems to be rising again. Although it's not fall yet, I'm ready to paint my nails in fall colors. Barielle launches six new hues for fall 2010 called Style in Argyle featuring an apparel-inspired rich color palette to keep you as warm as your favorite sweater. Loves it!
The six new hues consists of: Cashmere or Lose Me (a soft brown with copper pearl), Tight Knit (a purple brown creme), Aura Angora (a royal gold creme), Unraveled Rust (a burnt rust creme), Wool you Marry Me? (a plum brown creme) and Cowl of the Wild (a mushroom taupe creme).
Formulated to provide nails with safe, healthy and long-lasting glossy color coverage, Shades by Barielle is free of formaldehyde, toluene and dibutyl-phthalate. Women can also safely use Barielle products throughout pregnancy. Each bottle retail for $6.00 and is available at barielle.com.
Tags: