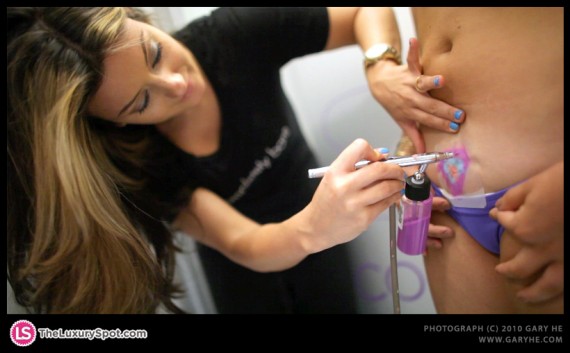 Last month when I met up with Bryce Gruber for lunch, she told me that she was working on a new video with Completely Bare featuring a new service called Vatooing. What's Vatooing?
An airbrush tattoo applied directly after a completely bare bikini wax, Vatooing lets you live dangerously temporarily. Get "inked" with your beau's initials, or go for a flirty design—the tattoo you choose is up to you. Get a flower, butterfly, sun, or letters inked in your favorite color. A trained technician applies an exclusive stencil and airbrushes the ink directly onto the area, giving you a coy secret to hide—or reveal—as you choose. The ink lasts up to five days for commitment-free, flirtatious fun. Regular price: $115 includes the bikini wax.
Personally this is not my thing but the video is kinda funny, especially the chick that got the spider with cobweb lol! Would you Vatoo?
Check out the video (NSFW) after the jump…
$341.71 BUY IT NOW 0hr 0mins

$2384.0 BUY IT NOW 0hr 0mins

$150.0 BUY IT NOW 0hr 0mins

$596.41 BUY IT NOW 0hr 0mins

$39.99 BUY IT NOW 0hr 0mins

$149.0 BUY IT NOW 0hr 0mins

$2741.61 BUY IT NOW 0hr 1mins

$880.0 BUY IT NOW 0hr 1mins
disclaimer
Tags: