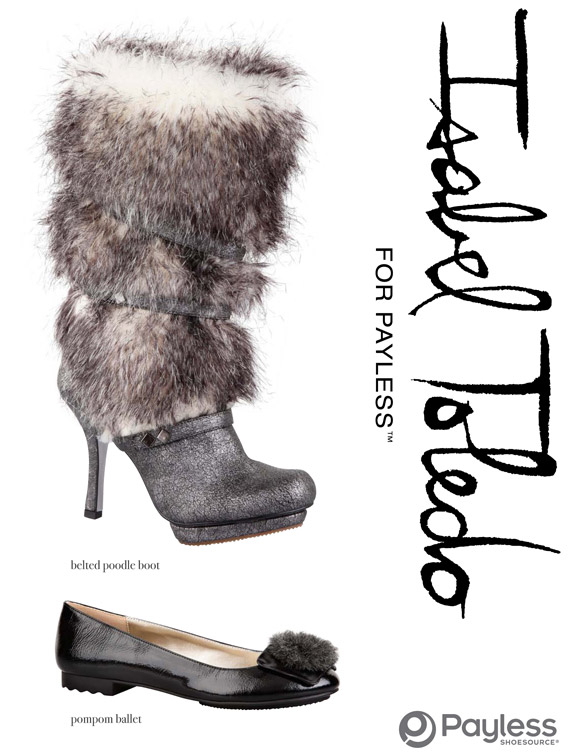 Photos courtesy of Payless
Back in April you've got a sneak peek of the Isabel Toledo for Payless collection, in case you forgot about it some styles just launched on Payless.com. Her first Payless collection includes a range of tall boots and ankle booties, pumps, heeled wedges and flats, prices range from $35 to $60. The line also includes three coordinating bags: the Matadore tote, with a similar sliver design as the Sliver Bootie, the Companion satchel, a perfectly sized bag featuring patent and a large mesh overlay detail and the Silver Moon clutch with its distressed silver fabric and slight balloon bottom design.
Isabel and Ruben Toledo were in Paris this week and celebrated the launch of the Isabel Toledo for Payless collection, which is first being made available at Colette. Colette is now carrying the High Ghillie, a focal style in Toledo's first-ever Payless collection, in exclusive colors, as well as other styles including the Ghillie flat and d'Orsay pump. The styles were displayed at Colette on paper dolls that appear to be climbing the store's walls. Payless will offer the collection beginning September 7th in select stores, although some styles are already available now online at Payless.com.
"Isabel's first collection for Payless channels her unique design focus, melding fashion, art and invention through an amazing line up of wardrobe essentials that are graphically strong, chic, inventive, wearable and fun," said LuAnn Via, CEO of Payless. "With its practical elegance aesthetic and international flavor, we expect this line to have broad appeal across the globe — in our U.S. and many of our international Payless stores, and at colette, where the Payless designer label is first being launched."
"The main inspiration for my first Payless collection was to create a line of shoes that I could wear on a daily basis and that would make a bold fashion statement, but also be very functional too," said Toledo. "I am a New Yorker and I walk all over the city and in the fall that means all sorts of bad weather. These shoes have a strong graphical tone, are fresh new essentials for every woman's fall closet, and are an affordable way to make a strong statement from the ground up."
Two key styles in the line are the High Ghillie and a Ballet Flat Ghillie, both featuring a Ghillie upper with its half-circle cut-outs and loop lace design. The High Ghillie features a faux patent upper with a contrasting all-yellow heeled wedge sole with a zig-zag ripple treatment — a signature design element in Toledo's fall Payless footwear collection. The Ballet Flat Ghillie comes in both a black and silver version featuring a ruched toe design and a skimmer sole and half-inch heel – also featuring the zig-zag ripple treatment.
"The Ghillie shoe is an important design originating from Scotland as a smart shoe for walking the wet and muddy countryside. I love the Ghillie because it's unique and practical. My Ghillies explore the allure of high style at a comfortable price. They complement the daring urban gladiator leg or a discreet workers' pant."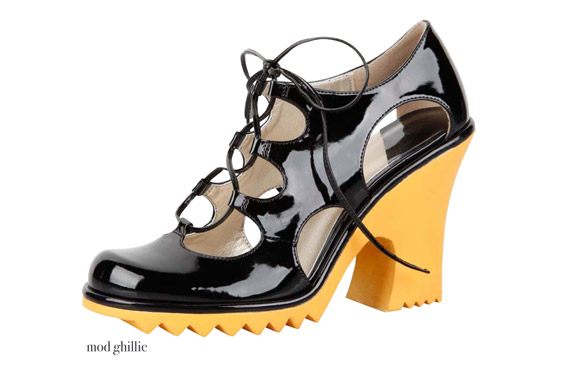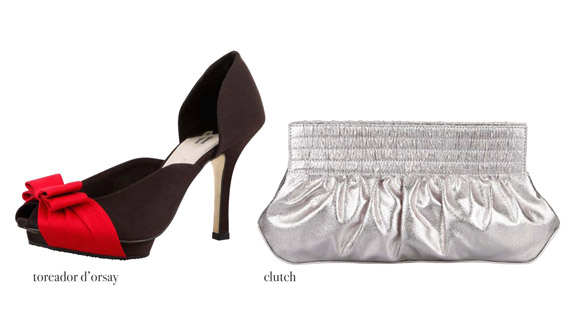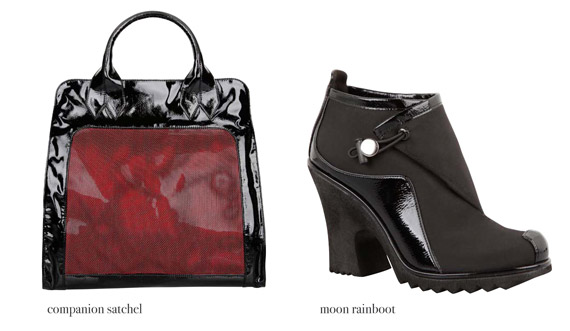 The tall Poodle Belted Boot featuring a gunmetal distressed faux leather upper topped off by a full shaft of faux fur and a strap belted design with pyramid stud detailing. The boot has a platform sole with the zig-zag ripple detail and about a three-and-one-half-inch heel.
The Pom Pom is a ballet flat that features a skimmer sole and one-half inch heel both featuring the zig-zag rippled treatment and a slightly crinkled patent upper punctuated with a Pom Pom tuft of faux fur at the toe.
The Front-Fold Bootie is an ankle boot featuring a black nylon upper with abstract-shaped faux patent detailing and a large front-fold design with a bungee-cord strap, making it adjustable for a snug fit to a range of foot widths. The bootie has a heeled platform sole with a matte black finish and the zig-zag ripple detail.
The Sliver Bootie is also an ankle boot with a black elastic gore fabric upper featuring three cut-out sliver designs along both sides exposing inlaid pops of brightly colored striped fabric. The Sliver style also has a patent-covered snipped toe detail with a full front hidden zipper, a substantial straight three-inch heel and a platform sole with the zig-zag ripple detail.
The Toreador is a d'orsay style pump done in graphic black and red satin with a large bow detail at the toe and the zig-zag rippled platform sole.
Categories: fashion handbags shoes
Tags: