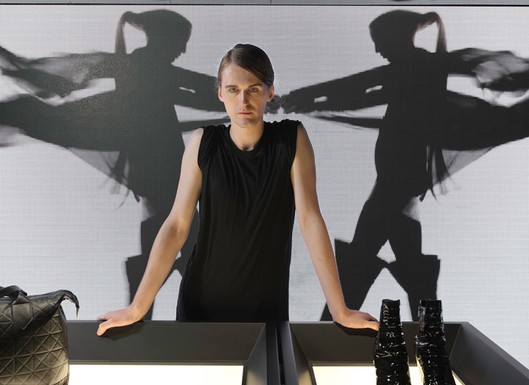 I seriously wished Gareth Pugh had his store opening party while I was still in Hong Kong, it would of been awesome to attend and check out his first store. According to WWD, the Hong Kong store is located on Ice House Street in the Central area, neighbors with other avant-garde peers like Commes des Garçons, Ann Demeulemeester and Martin Margiela. Pugh opened his first store in HK because he was approached by Hong Kong-based retailer I.T. Group last year and will now be selling exclusively through I.T. Group and will no longer be available at other retailers in Hong Kong. I.T. Group is huge, they seriously fund (or own?) a lot of big branded stores in HK and their stores are everywhere in HK.
The store is 658-square-foot and "masked in British-imported jet black rubber paint while glossy black tiles line the floor and walls to create a grid-line effect. The clothing racks are set into the wall, with a matte rubber inset that juxtaposes against the shiny surface of the tiles." I can't wait to visit on my next trip to HK!
"Because it was my first store, I knew I had to do something that was very me. So I went back to my runway shows and thought, What could be more me than a black box? But instead of doing something very one-dimensional, I decided to play around with a lot of optical illusions that will change the space according to reflections. Contrasting themes such as shiny and matte, black and white, hard and soft are also an important part of my style. I wanted to take these ideas and create something that would make sense in a retail environment," Pugh said.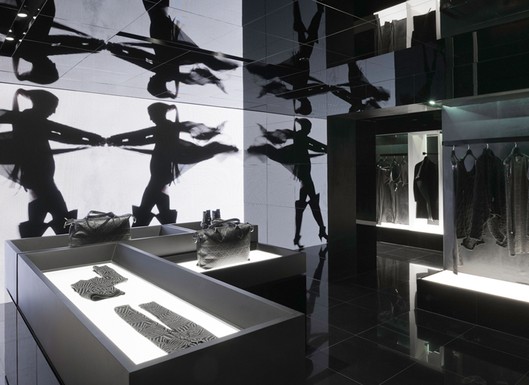 Categories: celebrities fashion hong kong
Tags: