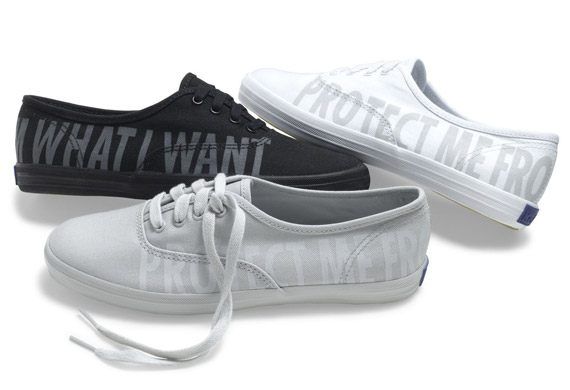 Keds is seriously on a roll with collaborations, next up they've tapped conceptual artist Jenny Holzer, who uses words in a range of media such as LED signs, stone benches, and T-shirts, to launch a collection for their KedsWhitney Collection (a partnership between Keds and Whitney Museum of American Art).
The collection, which features both the classic Champion and hi-top styles, feature a phrase from one of Holzer's signature text series, Survival. PROTECT ME FROM WHAT I WANT. All Keds' profits from Jenny Holzer's line will benefit the Whitney Museum of American Art.
The collection will debut July 8th at select Bloomindales's stores nationwide as well as Bloomindales.com and Keds.com for $70 and $75 respectively.
I like these!
$9.95 BUY IT NOW 0hr 55mins

$29.87 BUY IT NOW 0hr 59mins

$28.79 BUY IT NOW 1hr 15mins

$15.0 BUY IT NOW 1hr 58mins

$22.09 BUY IT NOW 2hr 1mins

$24.99 BUY IT NOW 2hr 3mins

$15.99 BUY IT NOW 2hr 11mins

$43.0 BUY IT NOW 3hr 2mins
disclaimer
Tags: