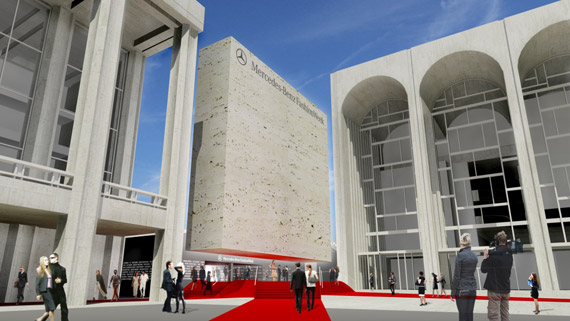 On Wednesday, WWD reports that IMG Fashion's global ambassador and the official face of Mercedes-Benz Fashion Week, Fern Mallis is stepping down to start her own consulting and advisory firm, Fern Mallis LLC. Yesterday, IMG announced plans for its first season of Mercedes-Benz Fashion Week in Lincoln Center.
According to the press release, the move to Lincoln Center has allowed IMG Fashion to unveil event upgrades such as modernized production capabilities for designers, digital services concurrent with the advanced needs of the 21st Century, better accessibility for attendees through both public and private transportation and great resources/facilities on-site and in the surrounding areas.
Mercedes-Benz Fashion Week at Lincoln Center, which will be held from September 9 to 16, will feature upgraded venues, online experience, and press room and facilities for media. These upgrades include: modified runway theaters and modular designer spaces that support advanced production capabilities; new décor and increased venue/runway sizes and seating enhancements. The event will continue to host three runway venues (The Theatre, The Stage and The Studio), and has added a fourth presentation space (The Box Presentation Space) for designer presentations, industry forums, press conferences and other activities.
Sounds promising so far, let's just hope everything works out the way they planned it to be. Hopefully getting seating assignments will be a lot smoother. Are you excited for the new move?
$19.99 BUY IT NOW 0hr 0mins

$69.87 BUY IT NOW 0hr 0mins

$150.0 BUY IT NOW 0hr 0mins

$42.57 BUY IT NOW 0hr 2mins

$19.95 BUY IT NOW 0hr 2mins

$215.0 BUY IT NOW 0hr 2mins

$149.99 BUY IT NOW 0hr 5mins

$59.0 BUY IT NOW 0hr 5mins
disclaimer
Categories: fashion fashion week new york fashion week nyfw
Tags: