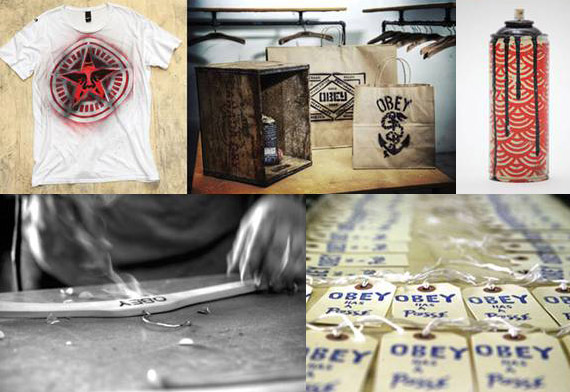 Some of you may already know that Shepard Fairey is having his May Day exhibition at Deitch Projects, which opens May 01, 2010 — May 29, 2010. Coinciding with the opening of the exhibition, OBEY Clothing launches its May Day Pop-Up Shop set to open Friday, April 30, 2010. The pop-up will be located at 151 Orchard Street in Manhattan and runs through Sunday, May 16th.
The pop-up shop serves as both a clothing store and a visual narration of Fairey's work to-date. Capturing the raw and rustic aesthetic of the OBEY brand, the shop is designed to evoke a sense of nostalgia. Hand-stenciled vintage military jackets housed in shadow boxes and wood frame silk screens line the walls of the store. There is a collection of custom spray paint cans, showcasing some of OBEY's most famous iconography. A collage installation of black and white photos displaying plastered OBEY images from around the world is featured along one wall; transporting viewers to the time of a first OBEY sighting.
The store features a selection of 30 hand-stenciled (at Shepard Fairey's studio) one-of-a-kind T-shirts, limited edition Pop-up Shop T-shirts and commemorative Shepard Fairey May Day T-shirts based on a fine art piece from his exhibition. The May Day T-shirt will also be available at shop.obeyclothing.com and at the ACE Hotel NYC.
Additionally, the store holds a hand-selected array of men's and women's OBEY clothing. The curated OBEY collection ranges from clean and classic styles to more forward design, including slouchy tanks, tie-dyes, light-weight double wovens, military inspired jackets, and a wide variety of denim.
Other notable products include OBEY Posse shirts and artist series shirts by poster artist Alan Forbes. More surprises are to be unveiled at the opening of the store.
OBEY May Day Pop-Up Shop
Dates/Times: April 30th through May 16th, 2010
Weekdays from 1 p.m. to 7 p.m. and weekends 12 p.m. to 7 p.m.
Location: 151 Orchard Street, NYC
Categories: art/design fashion mens shopping streetwear
Tags: