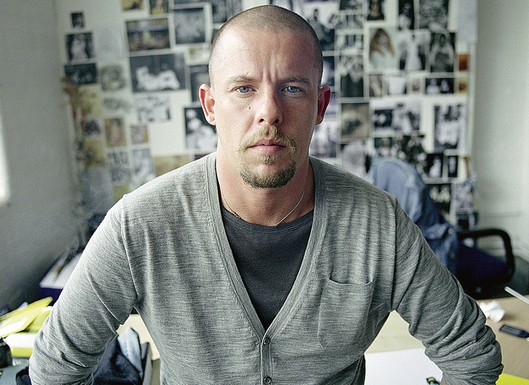 Today is the official start of New York Fashion Week, and early this morning we got hit with shocking news from WWD that Alexander McQueen has committed suicide at his apartment in London. Truly sad news. McQ's presentation was scheduled to be held from 3-5pm today at MAC & Milk but just received an email from his PR agency that it has been canceled.
May he R.I.P., he will never be forgotten.
Click below for continual updates…
4:18pm est
The Alexander McQueen website has released this statement:
"On behalf of Lee McQueen's family, Alexander McQueen today announces the tragic news that Lee McQueen, the founder and designer of the Alexander McQueen brand has been found dead at his home. At this stage it is inappropriate to comment on this tragic news beyond saying that we are devastated and are sharing a sense of shock and grief with Lee's family.
Lee's family has asked for privacy in order to come to terms with this terrible news and we hope the media will respect this."
–
3:14pm est
The fashion industry is completely devastated by the death of McQueen many have made official statements and most on twitter:
• Anna Wintour, editor-in-chief, Vogue: "We are devastated to learn of the death of Alexander McQueen, one of the greatest talents of his generation. He brought a uniquely British sense of daring and aesthetic fearlessness to the global stage of fashion. In such a short career, Alexander McQueen's influence was astonishing—from street style to music culture and the world's museums. His passing marks an insurmountable loss."
• Kate Moss, via her rep: "Kate is shocked and devastated at the tragic loss of her dear friend Lee McQueen. Her thoughts are with his family at this sad time. We would also ask that Kate's privacy is respected."
• Heidi Klum: "I have never worked with him, but what a talented man. To me, he is one of the most talented men. It's really sad. One of the biggest lost in the fashion world. A lot of people make basic things that are beautiful…but he was out of the box. Extraordinary designer."
• Naomi Campbell: "I am truly devastated to lose my close friend. His talent had no boundaries and he was an inspiration to everyone who worked with him and knew him. This is a sad day to all who loved him around the world and my condolences are with his family. I will miss him so much, he will never be forgotten."
• Victoria Beckham: "Today, the fashion industry has lost a true great. An icon of all time. He made all he touched beautiful and will be desperately missed. My heart is very much with his family and friends at this very sad time."
• Karl Lagerfeld, Chanel designer: "I found his work very interesting and never banal. There was always some attraction to death, his designs were sometimes dehumanized. Who knows, perhaps after flirting with death too often, death attracts you."
• Kristen Johnston: "I just think he's brilliant. He's like Vivienne Westwood. I think his vision will be re-created and redone year after year after year for like 40 years. I just think he was ahead of his time, I really do. The cut and the structure. [His death] is really just terrible."
• Camilla Belle: "This is a devastating loss for both the fashion industry and art world. Alexander McQueen's designs were consistently unique and pushed boundaries. I always felt extremely special when wearing his creations, and am deeply saddened that we have lost this artistic genius too soon."
• Daniel Vosovic, designer and former Project Runway contestant: "A stone dropped in my throat when I heard this morning. I just think it's so tragic. He's such an artist. It's a huge loss."
Meanwhile, in the Twitterverse:
• tyrabanks: "RIP Alexander McQueen. so so sad. Such a huge loss. He was one of my favorite designers. He will be missed."
• katyperry: "Rest in Peace Alexander McQueen. Just woke up, so sad. :("
• rzrachelzoe: "I cant describe the tragic loss of such a brilliant man and designer Alexander McQueen…R.I.P. xo RZ"
• kirstiealley: "ALEXANDER MCQUEEN…you made big bottomed and not so big bottomed girls all over the world look stunning..come back soon..give it another go."
• KimKardashian: "I just found out Alexander McQueen died!!! I'm in shock! So sad! I'm wearing one of his dresses now! He was such a talented designer."
• MrJayManuel: "I'm just stunned and devastated at the huge loss the fashion industry took today. Alexander McQueen was a genius!! RIP. Remembering the good times…me, Lee (McQueen), & Miss J—He was so creative & full of life!! RIP."
• DitaVonTeese: "Rest in peace, Mr. McQueen."
• MissKellyO (Kelly Osbourne): "I am so so sad to hear the news of Lee (Alexander) McQueen! I really just don't know what to say I'm really in shock. I can't stop thinking about Lee I am just devastated my heart goes out to Annabelle Nelson who is his best friend!"
• JoelMadden: "R.I.P. Alexander McQueen. You were one of the best man. Always hoped to meet you."
• TheRealJordin (Jordin Sparks): "Oh man. RIP Alexander McQueen. :/"
• michaelurie: "Very sad news. A great talent."
• omarepps: "RIP Alexander McQueen."
• LTLline (Jermaine Dupri): "rip Alexander mcqueen Damn!!!!!!!!!!"
• jennaonpurpose (Jenna Elfman): "SOOOOOOO sad that Alexander McQueen has passed. 40 years old, a brilliant designer. Thank you for all you created…"
• EstelleDarlings (Estelle): "rip. alexander mcqueen. truly creative genius. super dope. wow."
• henryholland (Henry Holland, British designer): "In shock. So sad."
• robertcduffy (Robert Duffy, president of Marc Jacobs): "Very sad day for all. Yes we both knew him. Worked at LVMH together. Marc and I were crying earlierTolde ach other how much we love each other."
• MrJoeZee (Joe Zee, creative director, Elle): "R.I.P. Alexander McQueen, a kind soul and brilliant creative genius. Sad and shocking. You've touched us all."
via eonline
—
12:38pm est
After his death, twitter turned off his twitter account, his last message message was on February 7th "I'm here with my girl Annie Tinkerbell wishing Kerry the slag, happy birthday in NY, your [sic] 40 now girl time to slow it down we think."
11:50am est
At the moment, no information "in terms of circumstances" has been reported according to McQ spokeswoman Samatha Garrett. London Police did not comment on the cause of death but did say the death was not being treated as suspicious.
11:23am est
KCD who is handling McQ's Presentation at MAC & Milk from 3-5pm today sent out a simple message "Today's McQ Presentation has been canceled."
Some photos of McQueen below…
Categories: fashion fashion week new york fashion week nyfw
Tags: