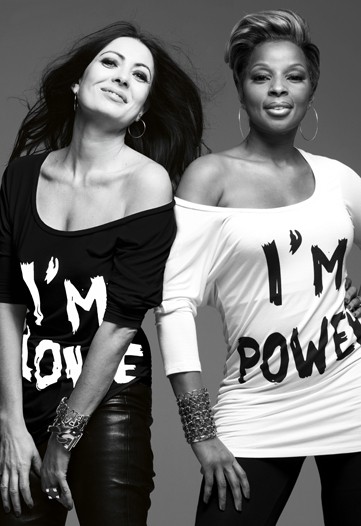 Catherine Malandrino has teamed up with her friend Mary J. Blige to cobrand a T-shirt collection called FFAWN + Catherine Malandrino launching in stores next week. FFAWN, Foundation for the Achievement of Women Now, is the charity MJB started in 2008. According to WWD, the collection features tunics with hand-painted messages such as "I'm Free" and "I'm Power." The off-the-shoulder tops pictured on them retails starting for $39, will also be sold in the designer's freestanding stores, and a percentage of all sales will benefit FFAWN. Additional styles will play up an abstract illustration of a phoenix and the FFAWN logo. If you want to meet them both, they will be greeting shoppers at Bloomingdale's new 350-square-foot Catherine Malandrino concept shop in Manhattan on February 17th.
"As a designer, I feel I have a role to play. What I want is to free women," Malandrino said. "Femininity is a strength and not a weakness."

"Catherine has been a dear friend of mine for years and, after she learned about FFAWN and our mission, she offered to create a T-shirt collection that would celebrate being women, being strong and being free. These are not your average T-shirts," she said.
Categories: celebrities fashion
Tags: